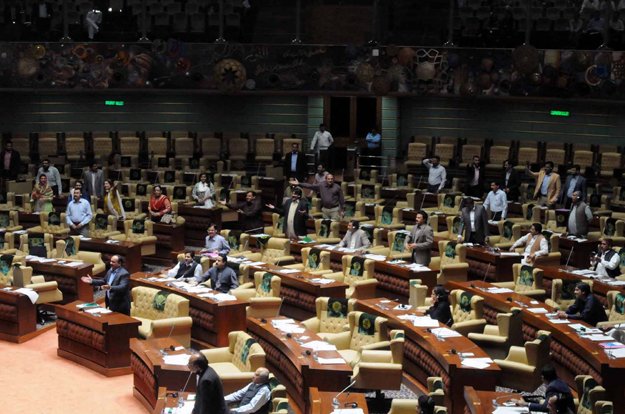 ---
KARACHI:
The provincial government of Pakistan Peoples Party (PPP) has failed to convince people with its performance and left with nothing but 'Sindh card' to gain sympathies of people, said Sindh Assembly Opposition Leader Haleem Adil Sheikh at a press conference on Wednesday.
"PPP cannot play bluff with Sindh card anymore," he told the media at Sindh Assembly Committee Room. PTI Senator Saifullah Abro, parliamentarians Arsalan Taj, Shah Nawaz Jadoon, PTI leaders Abdul Wahab Baloch, Mumtaz Gopang, Jansher Junejo, and several other leaders.
Commenting on the Chief Minister Murad Ali Shah speech about the federal government treating Sindh like East India Company, Sheikh reminded that the CM's assertions were misleading. "People of Sindh know who the enemy of the province is."
Sheikh, who is also the PTI Sindh vice president, said that Nawaz Sharif and former Sindh CM Qaim Ali Shah inaugurated the Karachi Infrastructure Development Company Limited (KIDCL) in 2016. If this company is East India Company, so Murad Ali Shah and Qaim Ali Shah are the viceroys.
Regarding, the chief minister's comments about cut in development funds, Sheikh said the budget allocations increase every year and so does the weight of the book of PPP corruption.
Read more: Centre works for people of Sindh not for its govt: Asad Umar
This is the money of the poor masses of Sindh, which a single party is spending as per its whims and wishes.
The opposition leader in Sindh Assembly claimed that PPP did corruption of Rs1,461 billion which was higher amount than its share in PSDP.
People of Sindh have more sense of deprivation due to alienation by the ruling elite, he said pointing out that the provincial rulers put every responsibility on the federal government's head. The federal government provided anti-Covid vaccines to Sindh even though the health affairs fall under the jurisdiction of the province after the 18th Constitutional Amendment.
He further reminded that PPP has usurped the salaries of frontline health workers, whereas the Centre gave Rs65 billion to people of Sindh via Ehsaas programme.
The federal government gave Rs65 billion to Sindh via the Ehsaas programme whereas the chairman of Benazir Income Support Programme (BISP) is absconding in corruption case of gobbling money meant for the poor people.
Published in The Express Tribune, June 10h, 2021.