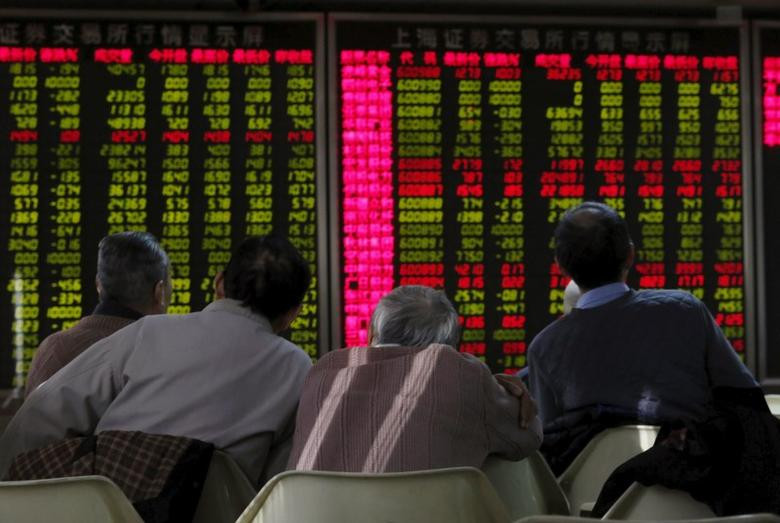 ---
KARACHI:
Selling pressure gripped the Pakistan Stock Exchange on Tuesday following a two-day rally and pushed the KSE-100 index down by 155 points as the levy of global minimum tax on technology giants weighed on investors' sentiment.
In a recent meeting, the Group of Seven (G7) countries reached a landmark deal, requiring the global technology companies to pay a minimum 15% tax. The announcement dampened investor spirits at the Pakistan bourse because it was expected to hurt some local tech companies having international operations.
In addition, the upcoming budget announcement kept playing on investors' mind and they treaded cautiously while making investment decisions.
An overnight dip in global crude oil prices hit the two local oil sectors, which witnessed substantial divestment.
Earlier, trading kicked off with minor ups and downs. Selling pressure emerged in early hours and the index dropped to 48,000 points by noon.
At this point, investors began cherry-picking stocks that had fallen to attractive valuations. Late session buying helped erase some of the losses, but still the index ended the day on a negative note.
Read more: Trading volumes soar to fresh peak at PSX
At close, the benchmark KSE-100 index recorded a decrease of 154.68 points, or 0.32%, to settle at 48,147.98.
Arif Habib Limited, in its report, stated that the market slumped in the face of selling pressure, which had emerged on Monday.
"Increase in cement prices per bag helped cement stocks trade in the green whereas Kapco saw its stock price move up on the notification of board meeting to consider an interim dividend," it said.
"On the other hand, TRG Pakistan contributed to the downside in the index due to concern over minimum global tax, as envisaged by the European Union and the US."
JS Global analyst Maaz Mulla said despite starting on a positive note, the market soon slid into the negative territory and the KSE-100 index closed with a loss of 155 points at 48,148. Total traded volume was recorded at 1.04 billion shares.
The coronavirus positivity rate dropped to 3.02% in Pakistan, according to the National Command and Operation Centre (NCOC), he said.
Selling pressure was witnessed in refinery, steel and technology sectors where Byco (-2.1%), Attock Refinery (-2%), National Refinery (-1.4%), International Steels (-1.8%), Ittefaq Iron Industries (-3%), Agha Steel Industries (-1.5%), Amreli Steels (-1.7%), Hum Network (-3%), PTCL (-2.1%) and TRG Pakistan (-3.9%) closed lower.
Activity was seen in the power sector where Kapco (+6.1%) and K-Electric (+1.7%) closed higher.
"Going forward, we recommend investors to view any downside as a buying opportunity in construction and export-oriented sectors," the analyst said.
Overall trading volumes soared to 1.04 billion shares compared with Monday's tally of 936.1 million. The value of shares traded during the day was Rs23.9 billion.
Shares of 422 companies were traded. At the end of the day, 139 stocks closed higher, 268 declined and 15 remained unchanged.
WorldCall Telecom was the volume leader with 400 million shares, gaining Rs0.14 to close at Rs3.64. It was followed by Byco Petroleum with 37.8 million shares, losing Rs0.24 to close at Rs11.25 and Hum Network with 35.1 million shares, losing Rs0.26 to close at Rs8.42.
Foreign institutional investors were net sellers of Rs277.1 million worth of shares during the trading session, according to data compiled by the National Clearing Company of Pakistan.