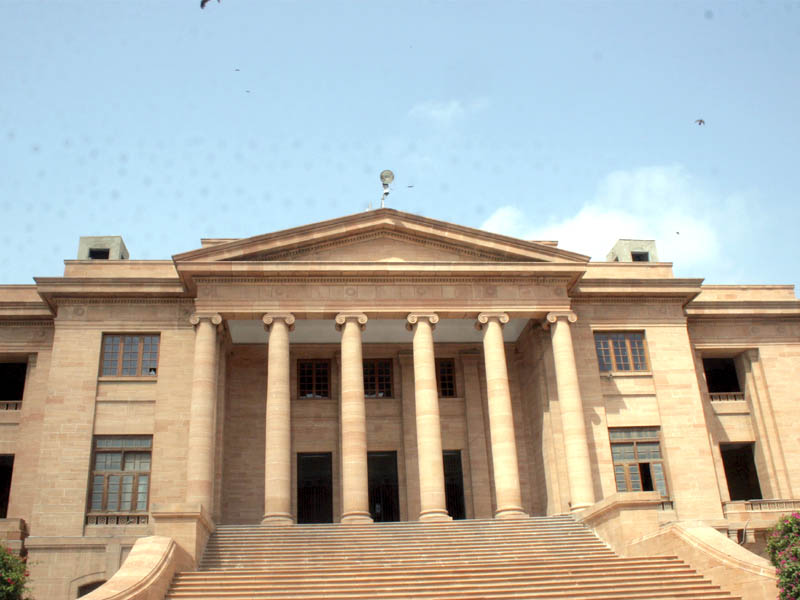 ---
HYDERABAD:
Over seven years after the Sindh irrigation department identified 22 housing schemes being developed inside the Indus River's flood zone in Hyderabad, the Sindh High Court took notice of that letter on Friday.
The letter, written by an assistant executive engineer of Phuleli Bund subdivision to the director of the planning and development control wing of the Hyderabad Development Authority (HDA) on April 11, 2014, was brought to the SHC's notice by two appellants.
The petitioners, Farhana and her sister Ainy Sadia, while pleading their case against the builders raising a commercial plaza, allegedly on their piece of land, attached a copy of that letter.
The irrigation department had back then requested the HDA to stop the ongoing development works of those commercial and residential projects, which they considered unsafe for human habitation.
Read Pakistan slum dwellers map flood risks to stop evictions
The identified schemes are located in Latifabad and Qasimabad talukas close to the left bank of the Indus River. The projects include Bismillah City, Al Rehman City, Kohsar Green city, Al Madina City, Al Raheem City, Shah Latif Residency, Ammar City, Naqash Villas Phases I and II, Pearl Residency, Abdullah Sports City and Complex, Ghausia Town, Alyan City, Kohsar Heaven City, Green Tower City, Sahiban Housing, Tayyabi Housing, Bismillah Garden and Yabi Arcade.
The court put the Sindh Building Control Authority on notice for the next hearing, ordering its regional director, Naveed Asim, to submit a report on the action taken in light of the irrigation department's letter.
Meanwhile, the court tasked the SHC's additional registrar with inspecting the land of the appellants to check for any encroachment by the builders.
The appellants blamed builders, Nasir Pathan, Farhan Musharraf alias Kala and Arif Memon, for forcibly occupying their land in Deh Giddu in Latifabad taluka. According to them, despite a stay order issued by the SHC on June 1, 2018, a commercial building, named Nimrah Plaza, is being built on that land. They claim that their father owned the said land, sprawling across 3.28 acres, since 1980. The additional registrar has been asked to submit a report along with photographs.
COMMENTS
Comments are moderated and generally will be posted if they are on-topic and not abusive.
For more information, please see our Comments FAQ