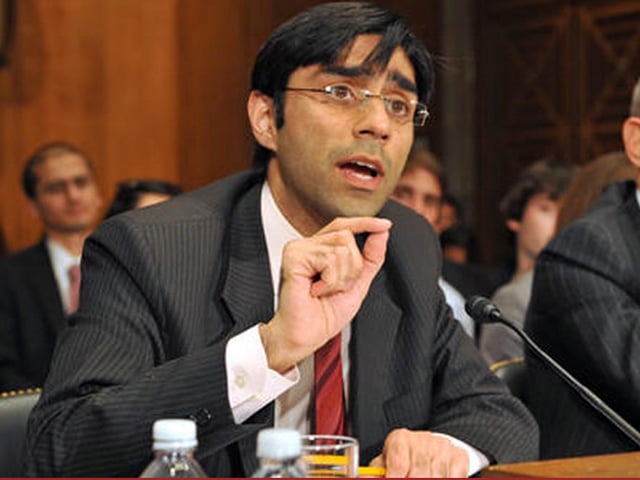 ---
ISLAMABAD:
National Security Adviser (NSA) Dr Moeed Yusuf has said the United States has assured Pakistan that the country will not be made a scapegoat as Washington ends its two-decade long presence in Afghanistan.
NATO troops began their retreat on May 1. In line with US President Joe Biden's announcement, all American troops will leave Afghanistan by mid-September this year, coinciding with the 20th anniversary of the terrorist attacks on Sept. 11, 2001, on New York City and Washington, D.C.
The national security adviser further said that any attempt to shift the blame on Pakistan for 'face-saving' by Washington would be unacceptable.
"The United States has assured us that Pakistan will not be made a scapegoat amidst the withdrawal from Afghanistan, but only time will tell whether [it remains as such] as history suggests otherwise," Yusuf said while speaking to a private news channel.
He cautioned that it was too early to predict whether the US would remain committed to its words". The national security adviser also reiterated that Islamabad desires peace in Afghanistan and wants to maintain bilateral ties with Washington.
Also read CPEC fits perfectly with Pakistan's geo-economic paradigm: NSA Moeed Yusuf
Recalling his earlier meeting with US counterpart Jake Sullivan, Yusuf said that Pakistan had made its priorities clear to the world. During the meeting, Yusuf presented Sullivan with a "Pakistani plan" that envisages the future of the Pakistan-US relationship.
Breaking from the past practice, the plan seeks bilateral cooperation with the US not based on security and defence but economy, trade and business.
Yusuf strongly denied that Pakistan had decided the US to use its airbases and said "it has been very clearly communicated to the Americans so it's not debatable".
He also stressed the need for bringing economic stability in Afghanistan, especially in view of the fact that the country could not do so on its own.
Referring to international media's coverage of Pakistan, the NSA maintained that its coverage of the country has remained biased.
'Serious security challenges'
On Thursday, Pakistan warned that the US and NATO forces' withdrawal from Afghanistan after a 20-year long military campaign entailed "serious security challenges" but stressed that the move also offered a "unique opportunity" for peace and reconciliation.
Also read 'Intra-Afghan accord before US pullout critical for peace'
"The US and NATO forces have already started withdrawal from Afghanistan. This has important implications," Foreign Minister Shah Mehmood Qureshi told a trilateral meeting of Pakistan, Afghanistan and China.
"In our view, while the withdrawal of foreign troops from Afghanistan entails serious security challenges, it also offers a unique opportunity for peace and reconciliation in Afghanistan and moving the country from a perpetual internal conflict to an era of peace and stability," Qureshi added.
Pakistan and other regional countries have long feared that the US withdrawal may lead to the fresh wave of unrest in Afghanistan. In the absence of a peace deal, those fears appear to be turning into a reality.
Regional countries particularly Afghanistan's immediate neighbours are worried that any unrest in the war-torn country will jeopardise their security. It is because of this reason Pakistan along with other countries has been pushing for a political settlement that prevents such a scenario.
Nearly 20 years after invading the country to remove the Taliban from power and pursue Al Qaeda following the September 11, 2001 attacks, last month US President Joe Biden ordered the final withdrawal of 2,500 US service members and 16,000 civilian contractors.