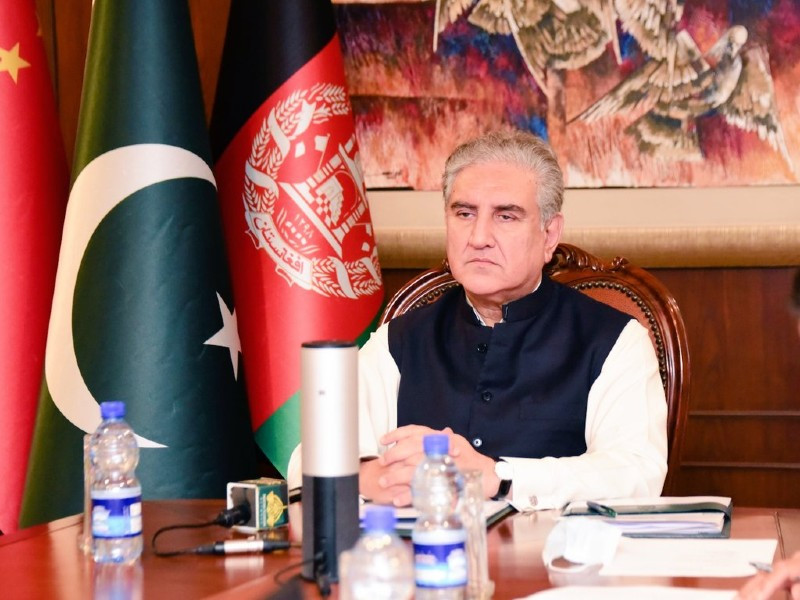 ---
ISLAMABAD:
Pakistan on Thursday warned that the US and NATO forces' withdrawal from Afghanistan after a 20-year long military campaign entailed "serious security challenges" but stressed that the move also offered a "unique opportunity" for peace and reconciliation.
"Our meeting today is taking place at an important timeframe. The US and NATO forces have already started withdrawal from Afghanistan. This has important implications," Foreign Minister Shah Mehmood Qureshi told a trilateral meeting of Pakistan, Afghanistan and China.
The trilateral foreign minister-level huddle was held virtually. It came at a time when the US and NATO forces are withdrawing their forces from Afghanistan.
"In our view, while the withdrawal of foreign troops from Afghanistan entails serious security challenges, it also offers a unique opportunity for peace and reconciliation in Afghanistan and moving the country from a perpetual internal conflict to an era of peace and stability," Qureshi added.
Pakistan has always strived to strengthen bonds w/ China & Afghanistan bilaterally & regionally and we attach great importance to this dialogue enhancing cooperation & coordination. We strongly believe peace, prosperity & economic development of our 3 countries are linked. 🇵🇰🇨🇳🇦🇫 https://t.co/wUqJdu65Jf

— Shah Mahmood Qureshi (@SMQureshiPTI) June 3, 2021
Pakistan and other regional countries have long feared that the US withdrawal may lead to the fresh wave of unrest in Afghanistan. In the absence of a peace deal, those fears appear to be turning into a reality.
Regional countries particularly Afghanistan's immediate neighbours are worried that any unrest in the war-torn country will jeopardise their security. It is because of this reason Pakistan along with other countries have been pushing for a political settlement that prevents such a scenario.
"We strongly believe that peace, prosperity and economic development of our three countries are inter-linked," Qureshi told his Afghan and Chinese counterparts.
Read more: Taliban warn Afghanistan's neighbours against hosting US military bases
"About four years ago, our three countries had conceived this trilateral forum for discussing collaborative efforts to promote peace and stability in Afghanistan and the region, enhancing security and counterterrorism cooperation and deepening regional connectivity and shared economic development through meaningful projects," the foreign minister said.
Since then, he added, the three countries successfully moved forward this forum through a gradual, phased but consistent approach. He further said that Pakistan had always strove to strengthen its relations with China and Afghanistan in the bilateral as well as regional context.
Relations between Pakistan and Afghanistan have hit a road block recently after certain Afghan government officials made unwarranted statements against Islamabad. Islamabad has warned that such utterances would only undermine efforts to improve bilateral ties, something that is seen as critical for any peace deal.
"We should, therefore, explore how our three neighbourly countries can work together to deal with the evolving situation in an effective manner and steer it towards achieving our shared objective of lasting peace and stability in Afghanistan and the region, Qureshi stressed.
He said Pakistan, China and Afghanistan were located in a region which had immense opportunities for fostering mutually beneficial economic and development cooperation.
He added that durable peace and stability in Afghanistan would lead to a conducive environment for harnessing the true potential of regional connectivity and further deepening economic inter-dependence through use of innovation and technological advances.
Also read: Pak, Afghan, China FMs to meet amid Afghan stalemate
"Such an outcome will surely contribute to progress, welfare and better lives for the peoples of our countries," Qureshi noted.
Meanwhile, Foreign Office Spokesperson Zahid Hafiz Chaudhri told a weekly news briefing here that Pakistan believed in an "orderly and responsible" troop withdrawal from Afghanistan, leaving no security vacuum that could be exploited by spoilers.
"In addition, the withdrawal of US forces must coincide with the overall progress achieved in the peace process. In this regard, we have been in contact with all the relevant stakeholders," the spokesperson said.
"As the withdrawal of troops from Afghanistan continues, we re-emphasise the importance of progress in the Afghan peace process. We believe that all parties to the Afghan conflict must remain committed to the ongoing efforts for a negotiated settlement of the conflict," he added.
Chaudhri said Pakistan had consistently maintained that there was no military solution to the conflict in Afghanistan and that a negotiated political settlement was the only way forward. He also highlighted the constructive role of Pakistan in the Afghan peace process.
"We have facilitated the signing of US-Taliban Peace agreement (29 February 2020); the commencement of Intra-Afghan Negotiations (12 September 2020) and the Agreement on Rules and Procedures between the Afghan parties (Doha, 2 December 2020). We have also repeated underscored the need for reduction in violence leading to a ceasefire."
Regarding the presence of any military or airbases in Pakistan, the spokesperson once again said that there was no US air or military base in Pakistan; nor was any such proposal envisaged.
"Pakistan and the US have the framework of cooperation in terms of Air Lines of Communication (ALOC) and Ground Lines of Communication (GLOC) in place since 2001. No new agreement has been made in this regard," he clarified.