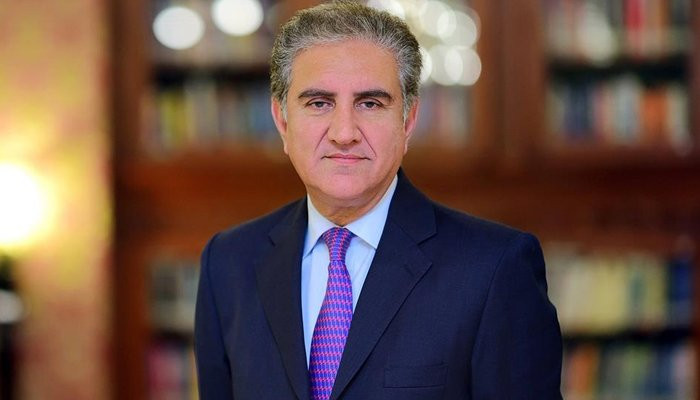 ---
ISLAMABAD:
Pakistan is once again poised to play its role in seeking rapprochement between Saudi Arabia and Iran as Foreign Minister Shah Mehmood Qureshi left for a visit to Iraq on Friday where senior Saudi and Iranian officials had met recently.
In the past too, Islamabad tried to bring the two regional rivals close but those efforts could not make any headway. Pakistan has high stakes in the Saudi-Iran relationship as tensions between the two key Islamic countries have often put the country in a difficult spot to maintain a balance.
"Any rapprochement between Saudi Arabia and Iran is certainly a very positive development for Pakistan," said a Foreign Office official, while speaking on condition of anonymity.
Read: Qureshi arrives in Baghdad on three-day visit
During his Baghdad visit, sources said, Foreign Minister Qureshi would discuss the efforts for easing of tensions between Saudi Arabia and Iran, besides other issues. Iraq has also been playing a key role in this regard and in recent months had hosted talks between the Saudi and Iranian officials.
It was because of those contacts that led to Saudi Crown Prince Mohammed bin Salman issuing a reconciliatory statement towards Iran. Tehran also responded positively to the gesture and said it was open to sort out all issues through talks with Riyadh.
These developments also helped ease friction between Pakistan and Saudi Arabia as Prime Minister Imran Khan during his recent visit to Saudi Arabia was given a warm welcome. Diplomatic sources say it is likely that Foreign Minister Qureshi may visit Iran and Saudi Arabia in the coming weeks.
Meanwhile, the Foreign Office said in a statement on Friday that during his three-day visit to Baghdad, Foreign Minister Qureshi would hold detailed discussions on bilateral cooperation with his Iraqi counterpart.
He would also review cooperation between the two countries in multilateral organisations, in particular the United Nations, its subsidiary organisations, and the Organization of Islamic Cooperation (OIC).
Foreign Minister Qureshi would also exchange views on problems concerning the Muslim Ummah, as well as global and regional issues of mutual interest. He would call on the leadership of Iraq and confer with senior Iraqi ministers on bilateral matters pertaining to respective areas of cooperation.
According to the statement, the issues, pertaining to the management and well-being of the Pakistani Zaireen visiting holy sites in Iraq every year, would also be discussed, as thousands of Pakistani Zaireen visit Iraq with religious zeal and fervour.
"Pakistan and Iraq enjoy long-standing fraternal ties rooted in shared faith, values and culture," the statement said. "The bilateral relations benefit from shared understanding and similarity of views on a number of regional and global issues," the statement said.
Read more: No armed pressure group allowed to dictate govt policy, Qureshi tells EU lawmakers
"The two countries continue to collaborate closely to enhance bilateral cooperation in diverse fields. In addition to growing bilateral political and defence ties, the two countries recently signed an agreement on cooperation between their Foreign Service Academies (April 2021)."
The visit of Foreign Minister Qureshi comes against the backdrop of a number of ministerial-level visits from both sides in the past few months, which signify the importance accorded by both countries to augmenting bilateral relationship for mutual benefit.
The visit is expected to add further momentum to the positive trajectory of brotherly ties between Pakistan and Iraq.
COMMENTS
Comments are moderated and generally will be posted if they are on-topic and not abusive.
For more information, please see our Comments FAQ