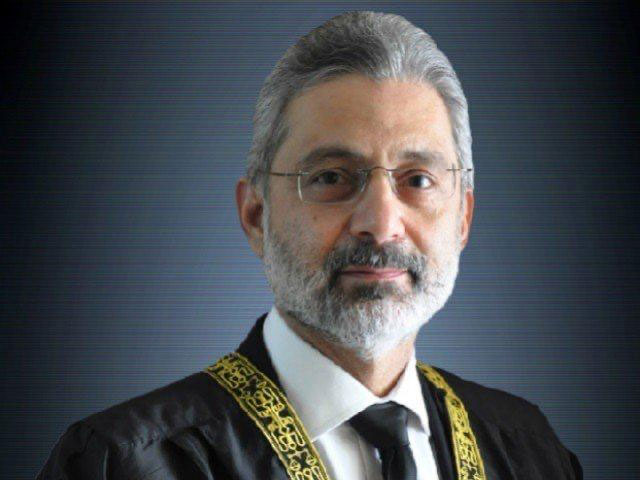 ---
ISLAMABAD:
The Pakistan Bar Council (PBC) on Thursday threatened that lawyers would observe a countrywide strike to protest if the federal government files a second review petition in the Justice Qazi Faez Isa case.
In a joint statement, PBC Council Vice Chairman Khush Dil Khan and Chairman Executive Committee Muhammad Faheem Wali strongly condemned the government's "nefarious" decision and act to file a "curative review petition" to challenge the top court's verdict on the review pleas in the Justice Isa case
The SC registrar office had earlier returned the government petition raising the objection that a second review could not be filed in the case.
Expressing grave concerns over the move, the statement alleged that the case was being pursued on the basis of "ulterior motives", and was aimed at suppressing independent judiciary, adding that the legal fraternity would exert all its force in resisting such attempts.
"The council always strived for the supremacy of the rule of law and the independence of judiciary, as enshrined in the Constitution, and will not allow the government to succeed in their nefarious designs to target the independent judiciary," the lawyers asserted.
They accused the ruling PTI of deliberately undermining the judiciary and democratic process by which the state runs, urging the federal government to refrain from filing second and subsequent review petition against the judgment of the apex court. "Otherwise, the legal fraternity will oppose it tooth and nail and would not hesitate in launching launch countrywide agitation against the government," they added.
"After unprecedented damning critique of the federal law minister in the Supreme Court judgment dated 19.06.2021 [June 6], exposing his complete legal incompetence, any self-respecting federal law minister would have resigned but the minister continues to conspire against the top court by filing a frivolous second review petition," Advocate Faisal Siddiqi said.
On Wednesday, The Supreme Court's registrar office refused to entertain the federal government's review petition against the top court's verdict on the review pleas in the Justice Isa case.
"Against the order of the majority in the Review Petitions of Justice Qazi Faez Isa and others dated 26-4-2021 the Federation of Pakistan on 25-5-2021 preferred a Curative Review Petition on which certain objections were raised by the Office of the Supreme Court," a statement issued by the law ministry read.
"After addressing the office's objections, the matter shall be re-filed in due course of time, in accordance with law," it added.
Sources told The Express Tribune that the attorney general for Pakistan's (AGP) office was not interested in filing a second review.
Even the review petitions filed earlier did not carry the signatures of Additional Attorneys General Chaudhry Amir Rehman and Sohail Mahmood, who were representing the government in the Justice Isa case.
Sources revealed that the AGP's office was unaware about filing of a review petition until Tuesday.