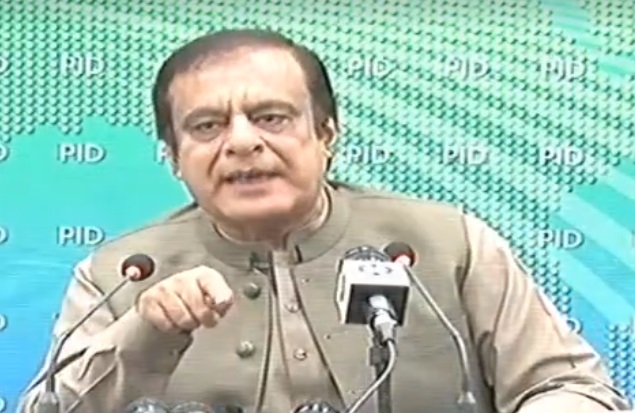 ---
ISLAMABAD:
Federal Minister for Science and Technology Shibli Faraz Shibli Faraz directed the Pakistan Council of Research in Water Resources (PCRWR) to immediately start work on the pilot project related to water at the earliest.
The minister chaired a meeting regarding water-related affairs in the country on Wednesday. It was attended by PCRWR Chairman Dr Muhammad Ashraf and IRSA members, including A Sajjad Imtiaz and Zahid Abbas, along with WMI representatives.
It was decided in the meeting to hold a national conference to discuss water-related challenges faced by the country with the assistance of the science ministry and International Water Management Institute (IWMI).
Following this, an international conference will be organised too. Both events will be held under PCRWR's mandate, the participants confirmed.
Speaking on the occasion, the federal minister said the conferences would focus on deliberation on water-related affairs in consonance with available knowledge and preparation of a research-based agenda for future investments in the water projects.
The minister suggested that the council should establish a data repository while the research work should be transformed into practical shape so that it could be used in the country's progress.
Visit to COMSTECH
During his visit to the COMSTECH Secretariat, Shibli Faraz appreciated its contributions to the socio-economic uplift of the Muslim community through science and technology-driven interventions.
COMSTECH Coordinator General Prof Dr M Iqbal Choudhary extended him a warm reception, along with his team. The coordinator general gave him a detailed presentation on COMSTECH establishment, aims and objectives, past achievements, present programmes and future initiatives, including preparation of science profiles of OIC member states, COMSTECH research publication program, research fellowships, technician training program, COMSTECH initiative for health and innovation in Africa, and OIC technology innovation portal.
The minister appreciated the achievements of COMSTECH and plans devised for the socio-economic development of the Ummah through the application of science and technology.
COMSTECH was established in 1981, in Makkah during the 3rd OIC Summit. It is chaired by the President of Pakistan and co-chaired by the Prime Minister. It was established with the commitment of OIC leadership to achieve inter-Islamic cooperation for science and technology-based development of the Ummah.
Published in The Express Tribune, May 27th, 2021.