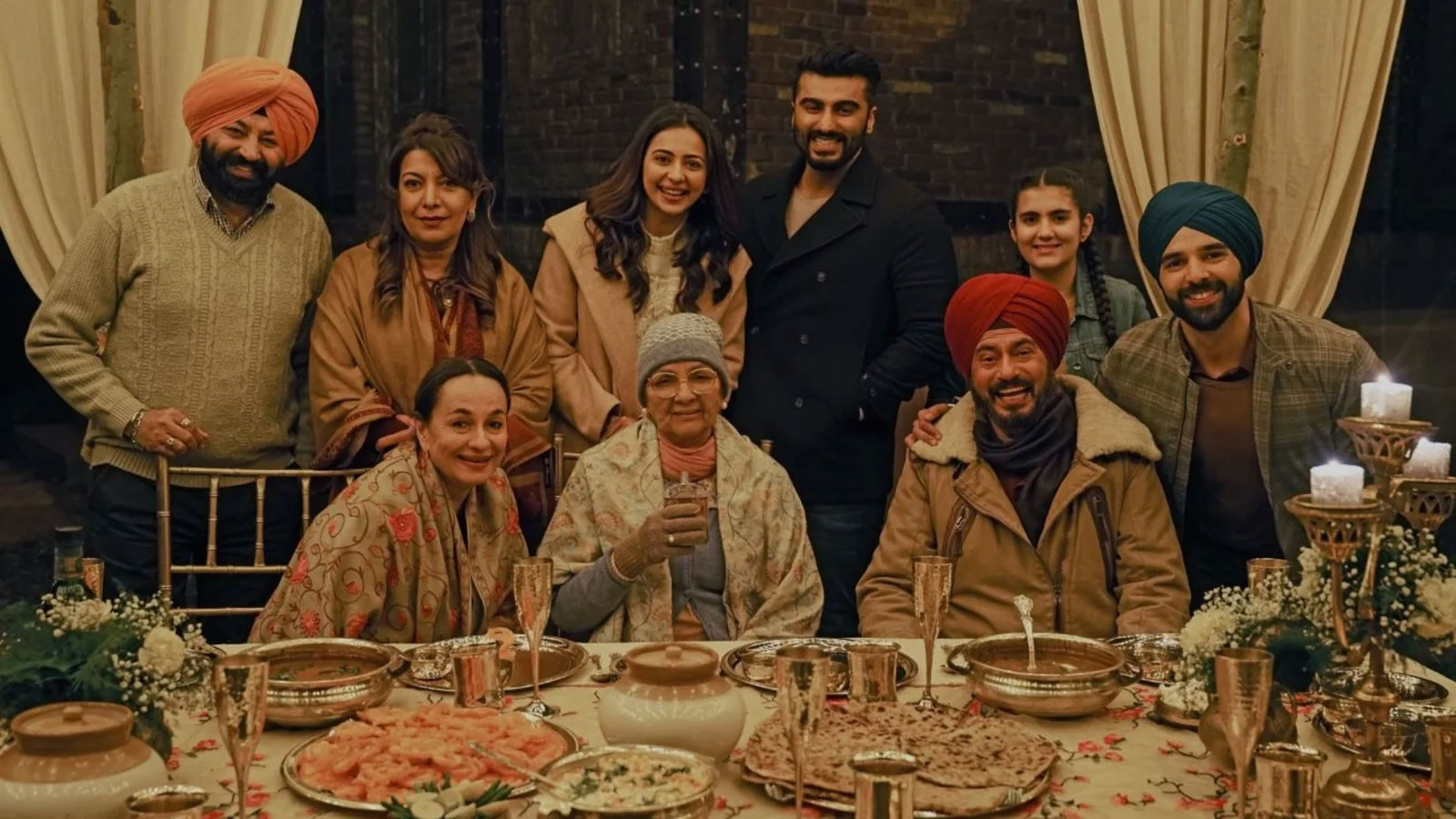 ---
Arjun Kapoor and Rakul Preet Singh's Sardar Ka Grandson has been trending on Netflix following its OTT release last week. The film revolves around the relationship between a grandmother – hailing from Lahore – and a grandson, who has only recently returned from the United States.
While Kapoor plays the grandson, Neena Gupta essays the ailing grandmother who wishes to visit her hometown and see her house one last time. Talking recently to Outlook India, the Ishaqzaade star and Singh revealed that it was their personal relationships with their own grandparents that helped them to relate to their respective characters in Sardar Ka Grandson.
"One might have an issue with their parents, but I can never remember a moment when I had a fight with my grandparents or didn't get along well with them," Kapoor told the publication. He added, "They were like partners in crime and that's how I looked at 'Sardar' and 'Amreek' in Sardar Ka Grandson. I could relate to the film because I was a partner in crime with all my grandparents, from my paternal and maternal side."
Kapoor shared that his grandparents had their roots in Pakistan as well. "They have always pampered me and spoilt me and there is a history of my grandparents hailing from Pakistan too," he revealed.
The Ki & Ka star continued, "So, there was a definite connection that drew me to the film from Prithviraj Kapoor's time and I literally felt that I was travelling with time. It was like a personal journey. Hence, it felt like a personal tick mark in my head to do this film." Similarly, Singh could easily relate to her character in the film as well. "As Arjun mentioned, even my grandparents came from Pakistan during the partition and they were very young at that time," she said, adding, "So, I have grown up listening to those stories as to how the world had changed for them after partition. There was that sinking feeling and they always said, 'How we wish we could go back?'"
Singh recalled that her paternal grandfather longed to revisit Pakistan one day, however, her father was never able to take him as he was serving in the Indian Army at the time. "When I first narrated the story of 'Sardar Ka Grandson' to my father, he said 'dadu' always wanted to do this and just go back and have a look at his home in Pakistan. The family bond that is shown in the film, I think every family understands those equations," said the Dev starlet.
She continued, "My grandfather always wanted to go back to his house in Pakistan, but unfortunately, my father could never take him because my father was working in the Indian Army. By the time my father retired from the army, my grandfather was a little too old to travel. The moment I heard that the story was something like this, it was like joining the dots for me."
Sardar Ka Grandson sees the Indo-Pak partition in a blink-and-miss moment, whilst mentioning the ongoing political tensions in a lighthearted way. The film is now streaming on Netflix and also stars Aditi Rao Hydari and John Abraham.
Have something to add to the story? Share it in the comments below.
COMMENTS
Comments are moderated and generally will be posted if they are on-topic and not abusive.
For more information, please see our Comments FAQ