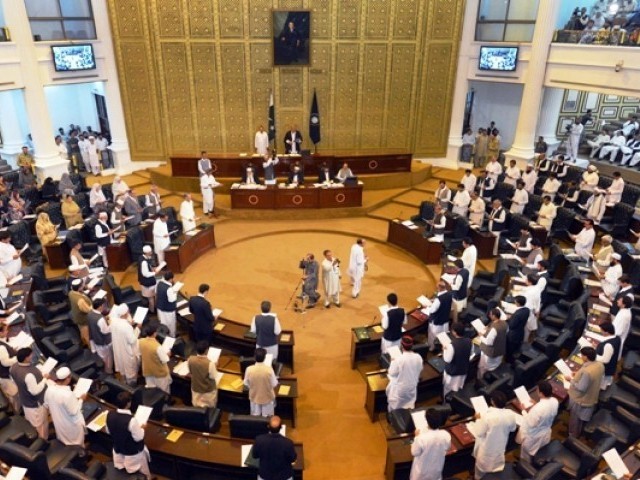 ---
PESHAWAR:
The K-P government has offered the opposition it is willing to form a commission comprising retired judges and bureaucrats to probe the lease of government properties in Khyber-Pakhtunkhwa (K-P) in the past two decades.
The opposition, however, suggested that a parliamentary committee be formed to look into the matter. When both sides failed to reach a consensus then an adjournment motion was approved for debate in the assembly session.
Opposition leader Akram Khan Durrani submitted the adjournment motion, saying that Allah Chowk in Bannu district had been razed without the involvement of Tehsil Municipal Administration (TMA) and the boundary wall of a police station had also been demolished first and then reconstructed without a tender through favourite contractors.
He asked the speaker to allow in-depth discussion on the matter.
Minister for Local Government Akbar Ayub said that in Bannu district thousands of shops had been constructed on government land and when the government razed these shops the traders began protesting against it.
Also read Waqaf properties leased at throwaway prices
He said that the boundary wall of the police station had been reconstructed immediately due to security concerns. He said that the provincial government is ready to probe all the leases of the government property issued in the past 20 years, starting from Bannu.
To this, Akram Durrani said that a parliamentary committee should be formed. PTI's Pakhtunyar said that TMA Bannu was bankrupt since the year 2002 due to the favourtism of government as land was allotted to personal friends and relatives.
He said that the inquiry commission should not be made up of political people because it would not solve the problem.
Earlier the provincial assembly passed a resolution condemning the atrocities of the Israeli forces in the Gaza strip.
The resolution demanded deployment of a peace force of the Muslim World in Gaza. It also demanded a case be lodged against Israel for committing war crimes against innocent civilians. It also called for provision of aid to the people trapped in Gaza.
The resolution was moved by Kamran Bangash of PTI. He said that hundreds of innocent had been killed along with 65 innocent children. He said that the United Nation' forces should be deployed to stabilize the situation.
The assembly also condoled the sad demise of veteran politician Bagum Naseem Wali Khan and paid rich tributes to her struggle for democracy.
ANP's Sardar Hussain Babak, JI's Inayatullah Khan and PML-N's Ikhtiar Wali praised the achievements of Begum Naseem Wali Khan and said that she struggled for the promotion of democracy in the country and led her workers at a difficult time when the political leadership of the party was behind bars.
Published in The Express Tribune, May 25th, 2021.
COMMENTS
Comments are moderated and generally will be posted if they are on-topic and not abusive.
For more information, please see our Comments FAQ