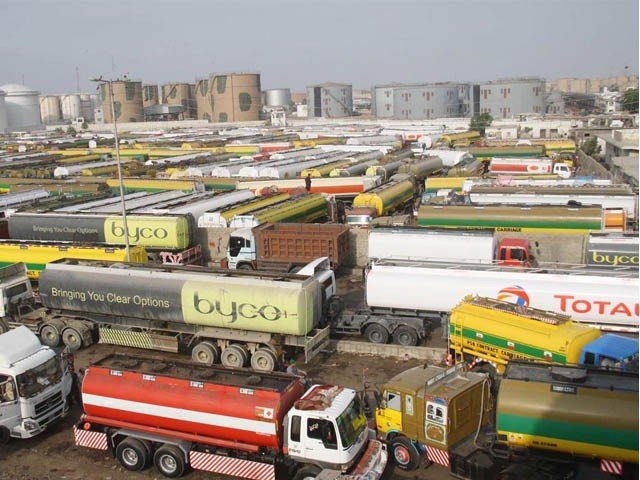 ---
KARACHI:
A meeting of stakeholders decided that from Tuesday onwards not a single oil tanker would be parked in Shireen Jinnah Colony and the tanker trucks will go to the purpose built Zulfiqarabad oil Terminal.
"Police will take action against violators, who park the oil tankers anywhere else except the designated terminal," said Sindh Chief Secretary Sindh Syed Mumtaz Ali said chairing the meeting on Tuesday, which was attended by the representatives of oil marketing companies, oil tankers owners association, Karachi Metropolitan Corporation (KMC) and other relevant senior officers.
The KMC administrator said that the Sindh government has given funds worth Rs583 million while other stakeholders have to give Rs460m for the project.
Shah directed KMC administrator, oil marketing companies, APOTA to arrange their share of Rs460m for the terminal project.
He said that all shops and workshops in Zulfiqarabad Oil Terminal would be restored soon. He directed the KMC administrator to issue a letter regarding the allotment of shop and workshop at Zulfiqarabad terminal within three days. The shopkeepers who have been allotted shops and workshops should start work by depositing the amount, he said.
APOTA leader Mir Shams Shahwani said that even on Tuesday over 600 vehicles were parked at the Zulfiqarabad terminal but the necessary facilities were not available there. Following this, Shah directed the KMC administrator to build all the roads around the terminal and also provide necessary facilities at the terminal. The Zulfiqarabad Oil Terminal is an important project, he said, adding that it was a priority of the Sindh government.
Seeking details of tankers and oil depots from all the oil companies, Shah said that all the oil marketing companies should take care that the ticket system for the containers coming from the terminal to the oil depots in the city.
Additional Chief Secretary Home Muhammad Usman Chachar, Sindh IG Mushtaq Ahmed Mahar, Senior Member Board of Revenue (SMBR) Sindh Allamuddin Bullo, Karachi Commissioner Naveed Ahmed Sheikh, Sindh Advocate General Salman Talibuddin, KMC Administrator Laiq Ahmed and representatives of All Pakistan Oil Tankers Owners Association (APOTA), Karachi Port Trust (KPT) and other relevant stakeholders attended the meeting.
Published in The Express Tribune, May 19th, 2021.