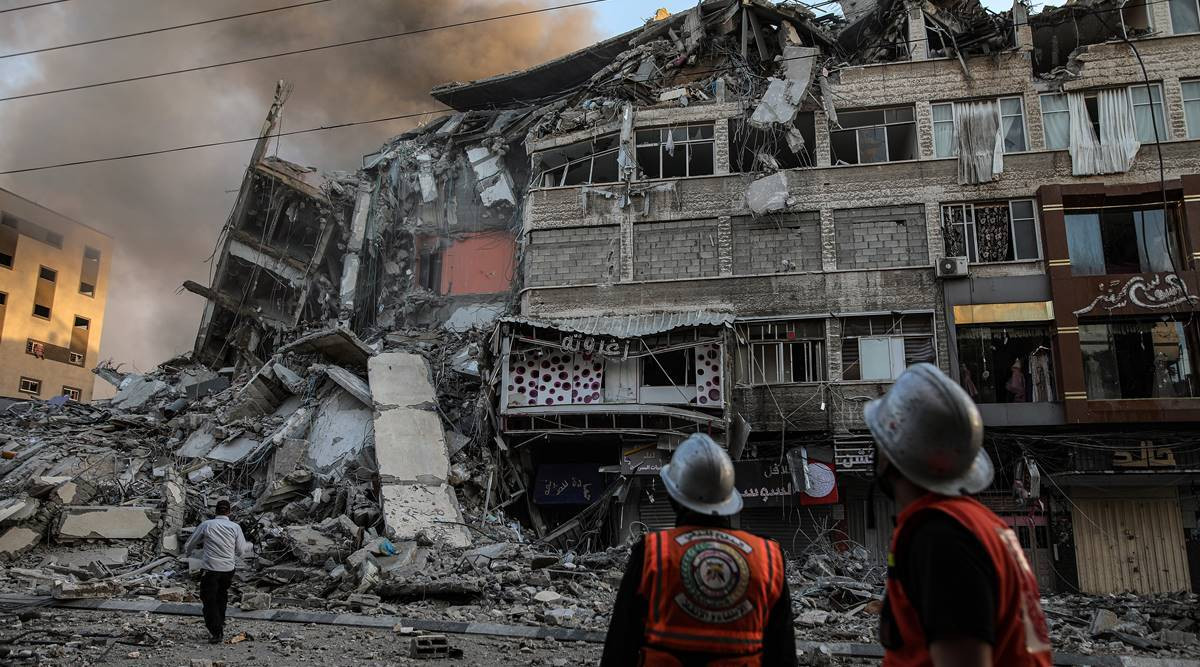 ---
It seems as if wrongfully accusing Bella Hadid of raising an anti-Semitic chant failed to malign her and the Palestinians' image, so now, the Israeli government has decided to turn genocide into a joke. But Twitter isn't laughing.
Where several Palestinians are utilising social media to show the world the ground reality of their suffering, Israel has had to resort to emoticons to give people "some perspective."
The state of Israel's official Twitter handle shared a thread of rocket emoticons to relay how many rockets were allegedly shot at Israeli civilians. "Just to give you all some perspective, these are the total amount of rockets shot at Israeli civilians. Each one of these rockets is meant to kill," read a follow-up tweet by the handle. "Make no mistake. Every rocket has an address. What would you do if that address was yours?" it added.
However, netizens were quick to explain to Israel why resorting to rocket emoticons would backfire, especially in the presence of heartwrenching images of people being bombed, killed and brutalised in Gaza.
Dear Israel, let's not trivialise
👶🏽👶🏽👶🏽👶🏽👶🏽👶🏽👶🏽👶🏽👶🏽👶🏽👶🏽👶🏽👶🏽👶🏽👶🏽👶🏽👶🏽👶🏽👶🏽👶🏽👶🏽👶🏽👶🏽👶🏽👶🏽👶🏽👶🏽👶🏽👶🏽👶🏽👶🏽👶🏽👶🏽👶🏽👶🏽👶🏽👶🏽👶🏽👶🏽👶🏽👶🏽👶🏽👶🏽👶🏽👶🏽👶🏽👶🏽👶🏽👶🏽👶🏽👶🏽👶🏽👶🏽👶🏽👶🏽👶🏽👶🏽👶🏽

This is the total number of Palestinian children killed by Israeli bombing of Gaza just in the past week: 58. 💔

— Usama Khilji (@UsamaKhilji) May 17, 2021
🏠🏠🏠🏠🏠🏠🏠🏠🏠🏠🏠🏠🏠🏠🏠🏠🏠🏠🏠🏠🏠🏠🏠🏠🏠🏠🏠🏠🏠🏠🏠🏠🏠🏠🏠🏠🏠🏠🏠🏠🏠🏠🏠🏠🏠🏠🏠🏠🏠🏠🏠🏠🏠🏠🏠🏠🏠🏠🏠🏠🏠🏠🏠🏠🏠🏠🏠🏠🏠🏠🏠🏠🏠🏠🏠🏠🏠🏠🏠🏠🏠🏠🏠🏠🏠🏠🏠🏠🏠🏠🏠🏠🏠🏠🏠🏠🏠🏠🏠🏠 X 5

Jumlah rumah yang Israel laknatullah musnahkan berbanding "0" pic.twitter.com/nMFMUw0DTV

— マシタ🇵🇸 (@SyifaaAtiyah) May 17, 2021
Facts
Yikes.
You became the monsters you once ran from.

— #FreePalaestine🇵🇸☭🏳️‍🌈 (@RealHtownDude) May 17, 2021
Colonial powers don't have a 'right to self-defence'

Colonial powers don't have a 'right to self-defence'

Colonial powers don't have a 'right to self-defence'

Colonial powers don't have a 'right to self-defence'

Colonial powers don't have a 'right to self-defence'

— Anthony V. Clark (@anthonyvclark20) May 17, 2021
do one for the number of palestinian children you've killed and then delete this account

— Scott Ludlam (@Scottludlam) May 18, 2021
Let this speak for itself
Joke's on who, again?
The ratio on this tweet means you have to give us your account now. Your rules, not mine.

— Q. Anthony (FKA Andray Domise) 🇵🇸 (@andraydomise) May 17, 2021
Israel can meme about rockets being launched at them because at the end of the day they know they have the militaristic upper hand. They wouldn't dare outline how many arms they've raised against Palestinians. I'm glad their grab for sympathy is backfiring. https://t.co/t7mmaynFg7

— Rubén (@xoxorubenangel) May 17, 2021
tweeting about a genocide they're committing like a cookie brand trying to sound relatable on here.. the world is over https://t.co/j4mVPraSWy

— danny (@wlIdatheart) May 17, 2021
Israeli air raids on the Gaza Strip continued early Monday after Israeli Prime Minister Benjamin Netanyahu said his country's bombing of Gaza would continue "in full force," reported Al Jazeera. According to the outlet, at least 42 Palestinians were killed and dozens more wounded in Sunday's bombing of the Palestinian enclave.
Since the violence initiated a week ago, at least 192 people, including 58 children and 34 women, have been killed in the Gaza Strip. Pakistan has expressed "deep concern and anguish" on the situation and stressed the "importance of the US role."
Have something to add to the story? Share it in the comments below.