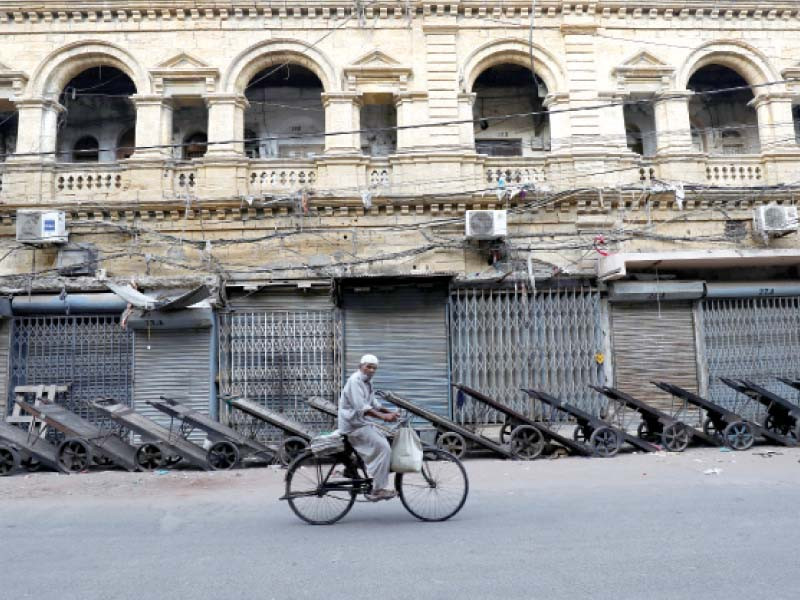 ---
KARACHI:
The old and crumbling buildings can come crashing down during the storm expected in the next couple of days warned the Sindh Building Control Authority (SBCA) quoting report of its technical committee.
SCBA in a press release issued on Saturday warned residents of dangerous buildings to vacate their premises immediately to ensure safety of precious human lives.
According to a spokesperson for SBCA, the warning has been issued in view of the forecast of the Pakistan Meteorological Department regarding thunderstorms, strong winds and cyclone in the city.
As per the press release, the risk of catastrophic events in dilapidated building structures increase manifold due to leakage of water. In addition to a possible collapse, such buildings may also catch fire due to short circuit of electricity in an event of heavy rains.
PHC extends SCBA president's bail in ATC judge killing case
In view of the impending threats, the SBCA has warned occupants of all those buildings declared unusable by its technical committees to immediately vacate the premises and move to safe places in order to protect precious human lives and property. The SBCA has categorically warned against the use of these buildings while notices have already been issued to the management of such dangerous buildings and structures with the warning that they would be solely responsible for any tragic accident and loss caused due to their negligence and carelessness.
The SBCA in its press release has further appealed to residents living in the vicinity of the dangerous buildings and daily passers-by to remain cautious during the rains. The citizens are further requested to take care of any internal and external threats from dilapidated buildings in their surroundings for the sake of civic responsibility and humanity. The SBCA has appealed the citizens to report the any more dangerous buildings in writing or through its official website.
Published in The Express Tribune, May 16th, 2021.