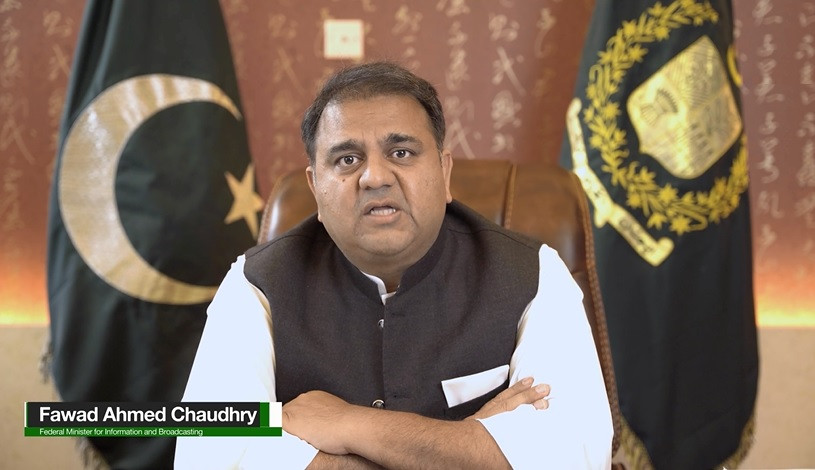 ---
Minister for Information and Broadcasting Fawad Chaudhary urged the masses on Wednesday to strictly comply with Covid-19 standard operating procedure (SOPs) during the upcoming Eidul Fitr to avoid the spread of the pandemic like in India.
The minister's remarks came in a video message during which he warned if we did not comply with the Covid-19 protocols, Pakistan could also face a situation similar to its neighbour (India).
"Stay home and stay safe would be the fundamental moto during these Eidul Fitr holidays," Fawad said adding that instead of visiting relatives on the occasion, citizens should use the internet and phone for communication with their loved ones.
"This is important for our own safety and those our dear ones," the information minister stressed.
Earlier on May 11, it was reported that in an effort to curb the transmission of the novel coronavirus, the country's apex body leading the fight against the deadly pandemic approved guidelines for the upcoming festival of Eidul Fitr.
The National Command and Operation Centre (NCOC) recommended congregations at open spaces, brief sermons by Ulema and Khateebs, mandatory wearing of masks and maintaining social distancing rules.
It already announced a weeklong Eid holiday, closure of shopping malls and tourist spots, and a ban on inter-city and intra-city public transport.
The NCOC added that Eid prayers should be organised at open spaces with Covid protocols. If there is a compulsion to offer the prayers in mosques, windows and doors should be kept open for ventilation.
Read more: CAA takes notice of inbound passengers with fake Covid PCR test reports
It further proposed two to three Eid congregations at one venue with staggered timings to minimise attendance while keeping the Eid sermons brief in order to reduce the prayer timings exposure.
The guidelines discourage the sick, the elderly and children under 15 years of age from attending the prayers.
Wearing of the face or surgical mask has been made mandatory, while congregation organisers have been asked to arrange multiple entry-exit points at the Eid congregation venues to avoid jumbling up of individuals, install thermal screening at entry points and make hand sanitisers available at the entry-exit points.
Worshippers had been urged to perform ablution at home, bring their own prayer mats, observe six-foot social distancing rules at the venue, avoid hugging and handshakes or stay at the venue after the prayers.
The organisers have been told to put up banners at prominent places at the congregation venue, highlighting Covid protocols for worshippers. The guidelines further stipulate that well laid-out parking areas should be prepared for crowd management.