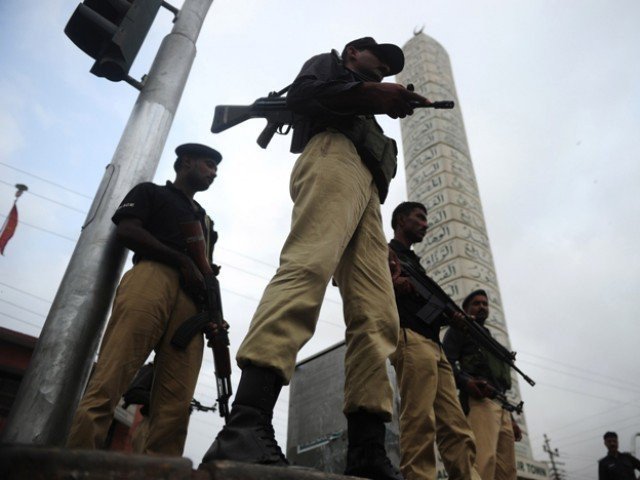 ---
KURIANWALA:
Police on Tuesday registered a case against 10 suspects under four sections including murder and aided murder after the killing of a man and his son due to old enmity. Police also launched raids to arrest the named accused.
The bodies of the man and his son who were shot dead by their opponents on Jaranwala Road were handed over to their heirs after postmortem.
Police said Shami Iqbal, a resident of Chak No 97 RB, had taken a stand in the case registered at Saddar police station that his cousin Inayatullah along with his son GM Ansar was riding a motorcycle after meeting his other son Asim, a death row inmate, when seven armed suspects started following them. They intercepted the victims on Jaranwala Road and opened fire at the man and his son, allegedly killing them at the orders of suspects identified as Afzal and Imran alias Mana.
The suspects also included Faisal alias Kheera, Ashraf alias Fajja, Mansha, son of Mahia, Qurban, son of Mushtaq, Aslam alias Kaka and others who came on three motorcycles near a petrol pump, near Chak No 227RB, Jaranwala Road, and aided the murder.
Saddar police handed over the bodies of both the slain man and son to their heirs after completion of postmortem and other necessary formalities. Police also started raids to arrest the alleged murderers. Meanwhile, the CCTV footage of the killing of the man and his son was retrieved by police.
Reportedly, the CCTV footage showed GM Ansar riding the motorcycle and his father sitting behind him. When the motorcyclists reached Jaranwala Road, the armed suspects who were chasing them shot GM Ansar, as a result of which both the man and his son sustained bullet injuries. The victims fell from the motorcycle and the suspects continued firing, killing them on the spot.
The alleged killers fled from the crime scene.
Incidents of murder over old enmity were not uncommon across the province.
On April 9, four people were killed and three others injured in an ambush on Sandral Road, Khushab, over an enmity.
Raja Mohammad Yaqoob of, a resident of Jhangian, Mohammad Tahir of Dhak, Mohammad Naveed of Bhalwal and Nasr Iqbal of Machhi area were killed in the attack..
Reportedly, the deceased Raja Yaqoob and seven others, including the driver of the car, were going from Jhangian to Joharabad when a group of assailants opened indiscriminate fire on them on Sandral Road.
The police report revealed that in 2016, the deceased Yaqoob's son was killed by members of the Awan group over a dispute over a trivial matter.
In revenge, Yaqoob's other son Raja Zeeshan and his accomplice allegedly killed Gulsher Khan, father of Hasham Khan and fled abroad.
On December 24 last year, two brothers were killed while two other persons including a passerby sustained bullet injuries in a firing incident over old enmity in Khadian area of Kasur.
Three brothers identified as Sabir Dogar, 45, Maskeen Dogar, 40 and Zafar Dogar, 36, a resident of Chugian Chorr, were travelling to meet their relatives when four unidentified armed men riding on motorcycles opened indiscriminate fire at them near old Lorry Adda.
As a result of the incident, the victims Sabir and Maskeen died on the spot while Zafar and a passerby identified as Moulvi Amin, 40, sustained bullet injuries.
On July 27 last year, a 40-year-old man was killed over old enmity in the Missri Shah area of Lahore in the wee hours of the day.
Shahid was in Nawab Shah Chowk area of Missri Shah when unidentified suspects opened fire on him.
Resultantly, the victim suffered serious bullet injuries. He was taken to Lahore Mayo Hospital for treatment where doctors pronounced him 'brought dead'. Police shifted the body to the morgue for autopsy and collected forensic evidence from the scene of crime. Reportedly, investigations suggested that the victim had been murdered over old enmity.
Published in The Express Tribune, May 12th, 2021.