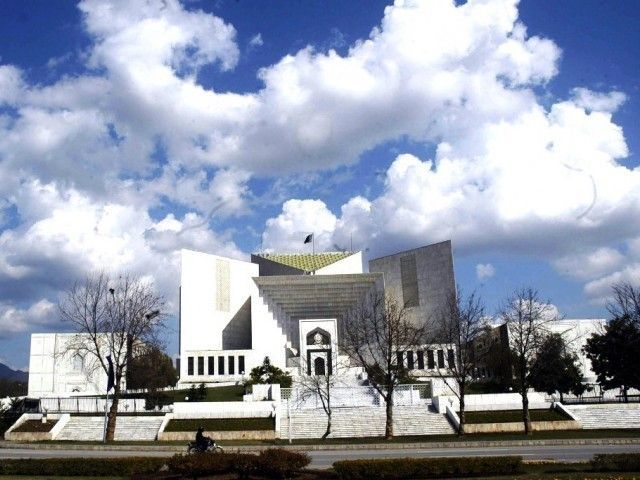 ---
ISLAMABAD:
The number of cases pending with the Supreme Court has reached nearly 49,000 for the first time in the history of the country with the Pakistan Bar Council (PBC) calling for increasing the strength of judges immediately, saying "otherwise the judicial system will be in crisis".
According to the report released by the Supreme Court, the number of cases pending till April 15 is 48,963 of which 37,088 are civil cases while the number of criminal petitions is 6,699. The number of human rights cases is 136 and the number of suo motu notices is 24, it added. During the tenure of former chief justice Iftikhar Muhammad Chaudhry, the number of pending cases was close to 18,000, which has more than doubled in seven years. On the other hand, with the increase in the number of pending cases in the Supreme Court, the petitioners are also facing difficulties.
A petitioner told The Express Tribune that it has been more than two years since he filed an appeal against the high court decision in the Supreme Court but the first hearing of the case has not taken place yet. When The Express Tribune spoke to Supreme Court Bar Association Secretary Ahmed Farooq Rana in this regard, he said that not fixing of cases for hearing in the Supreme Court "is a big issue on which I have also written a letter to the Chief Justice of Pakistan".
READ IHC, district courts' forensic audit completed
"However, no clear steps have been taken to address this issue," the SCBA secretary added. He said that there was no system within the judiciary to hold the judges accountable. "There should also be a mechanism to assess the functioning of the judiciary without affecting its independence." He said the judges should prepare their own roster to bring down the number of pending cases. "It is sometimes observed that the benches of the Supreme Court deal with their cases till 10:30am."
Talking to The Express Tribune, former PBC vice chairman Amjad Shah expressed concern over the situation, saying that it is unfortunate that the number of cases pending in the Supreme Court is increasing every year instead of decreasing. "Therefore, along with the judiciary, the government should also play a role in this regard." He stressed the need to increase the number of judges immediately "otherwise the judicial system will be in crisis".
The senior advocate said, "Our country ranks fifth in terms of incentives for judges [in the world] while the judicial system is in the 120th position in terms of performance." While increasing the number of judges, he opined, if the government is facing a problem of funds, the privileges of judges could be reduced.
COMMENTS
Comments are moderated and generally will be posted if they are on-topic and not abusive.
For more information, please see our Comments FAQ