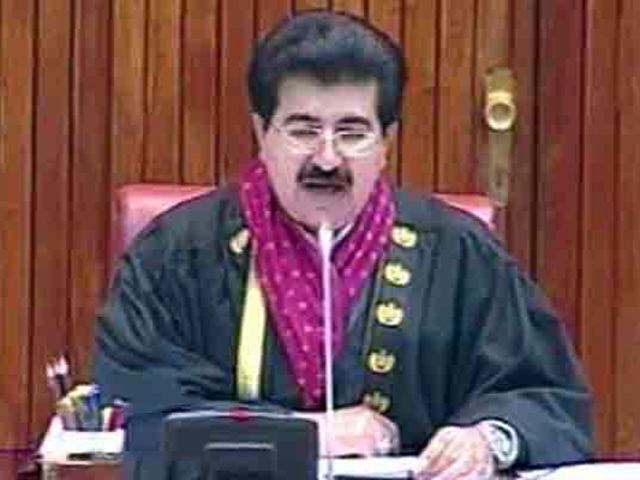 ---
ISLAMABAD:
Senate Chairman Sadiq Sanjrani on Monday urged US House Speaker Nancy Pelosi to play her role in condemning the Israeli attacks on Palestinian worshipers inside the Al-Aqsa Mosque and for a peaceful resolution of the human rights abuses in Palestine.
In a letter to the US speaker, the Senate chairman drew her attention to Israeli forces' recent attacks on Palestinian worshipers inside the Al-Aqsa Mosque. Sanjrani condemned the attack on worshipers inside one of the holiest sites for the Muslims around the world in Ramzan, calling it against the norms of humanity and human rights law.
Also read: Jerusalem violence leads to Hamas rockets on Israel, nine dead in Gaza
He also urged the US House Speaker Pelosi to "play her role" in condemning the attacks and for a "peaceful resolution" of the human rights abuses in Palestine.
"Your attention is drawn to the recent attack on innocent worshippers in the Al Aqsa Mosque, one of the holiest sites for Muslims across the globe during the sacred month of Ramadan by the Israeli Occupation Forces is against all norms of humanity and human rights law," Sanjrani stated.
"Such atrocities on the worshipers are not only condemnable but are not acceptable by any religion," Sanjrani. Subsequently, he stated that "I urge you to play your due role in condemning this brutal act and for peaceful resolution of this issue by putting an end to human rights abuses in Palestine."
On behalf of the people of Pakistan, the Senate, Sanjrani also stated that he would like to renew relations between Pakistan and US.
Hundreds of Palestinians were wounded after Israeli police forcibly removed worshippers from Al-Aqsa Mosque in occupied East Jerusalem. Israeli forces stormed the holiest site on Monday with stun grenades, targeting thousands of Palestinians who gathered in the compound after morning prayers.
The Israeli forces' attacks ahead of a planned march to commemorate Israel's illegal annexation of the city in 1967 have left hundreds of Palestinians, including women and children, injured.
The Palestine Red Crescent Society (PRCS) said that first aid was provided to hundreds of worshippers at Al Aqsa Mosque and to the inhabitants of Sheikh Jarrah, a Jerusalem neighbourhood where Israeli oppression of inhabitants continues and where several families are threatened with evictions.
The PRCS said that 541 wounded Palestinians were treated by its teams, adding that people suffered from rubber-coated metal bullet wounds, tear gas inhalation, and brutal beatings.
On Sunday, Prime Minister Imran Khan took to Twitter to condemn the Israeli police's attack on Palestinian worshippers at Jerusalem's Al-Aqsa Mosque. The premier also offered his support to the Palestinian people and urged the international community to take immediate action to protect Palestinians and their legitimate rights.
The tweet echoed the statement released by the Foreign Office on Saturday condemning the attack: "We pray for the speedy recovery of the injured, reiterate our steadfast support to the Palestinian cause, and once again urge the international community to take prompt action to protect the Palestinian people."