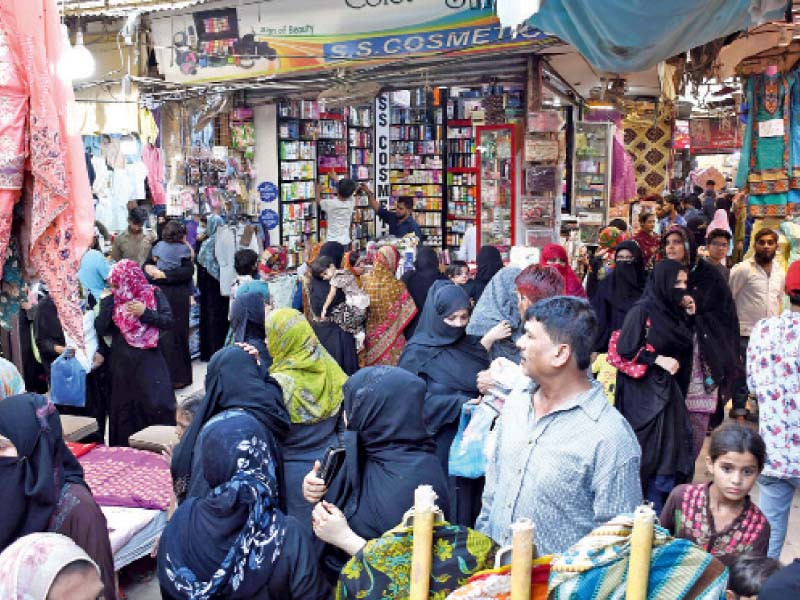 ---
RAWALPINDI/ISLAMABAD:
After blatant violations of precautionary guidelines during Eid shopping, the coronavirus infection rate is once again spiraling in Rawalpindi as it was recorded around 11.10 per cent on Sunday. As many as 115 cases were reported in the district while two people succumbed to the virus in a span of 24 hours, officials informed.
Health experts are citing flouting of anti-Covid standard operating procedures (SOPs), especially since the last Ashra of Ramazan started, as the reason for this spike. District Health Authority (DHA) officials said about 154,227 people have been vaccinated so far in the district.
Around 192,664 suspects have been brought to the district's health facilities so far out of which 23,725 cases tested positive, including 24,848 from Rawalpindi and 1,909 from other districts.
According to the data shared by the District Corona Management centre on Sunday, results of 1,084 people were awaited while 169,637 were declared negative. The data showed that 1,189 people have died so far with 910 from Rawalpindi and 279 from other districts.
"Presently, 136 confirmed patients were admitted to various facilities, including 26 at Holy Family Hospital, 22 at Benazir Bhutto Hospital, 61 at Institute of Urology, 19 at Fauji Foundation Hospital, seven at Hearts International and one at Begum Akhtar Memorial Trust.
READ NCOC reviews mobility control measures during Eid holidays
Meanwhile, DHA Chief Executive Officer (CEO) Dr Fouzia Kanwal said that the authority was concentrating on vaccinating as many people as possible. She added that people could get their Covid-19 vaccine jabs from any of the eight mass vaccination centres in the district.
The official said that all eight vaccination centres were operating in double shifts to pace the process. She further stated that the authority was running mobile vaccination service for citizens aged 80 and above through which they would be administered shots at their homes.
In contrast to its neighboring city, the positivity rate in the federal capital has dropped to 7.78 per cent this week, district health authority (DHA) stated. Islamabad District Health Officer (DHO) Dr Zaeem Zia informed that there was an improvement in the past week as the positivity rate slid down from 9.24 percent from the week prior.
DHO said that 2,082 people tested positive for Covid in the past week while 2,911 had tested positive the week before. Moreover, 408 beds are occupied by coronavirus infected patients in public and private hospitals of Islamabad, DHO added.
Dr Zia stated that 335 patients are depending on excess oxygen while 48 patients facing severe difficulty in breathing are on ventilators. He further informed that 909 beds were earmarked for Covid patients in the healthcare facilities of the federal capital, adding that 501 beds and 80 of 128 ventilators are vacant.
Published in The Express Tribune, May 10th, 2021.
COMMENTS
Comments are moderated and generally will be posted if they are on-topic and not abusive.
For more information, please see our Comments FAQ