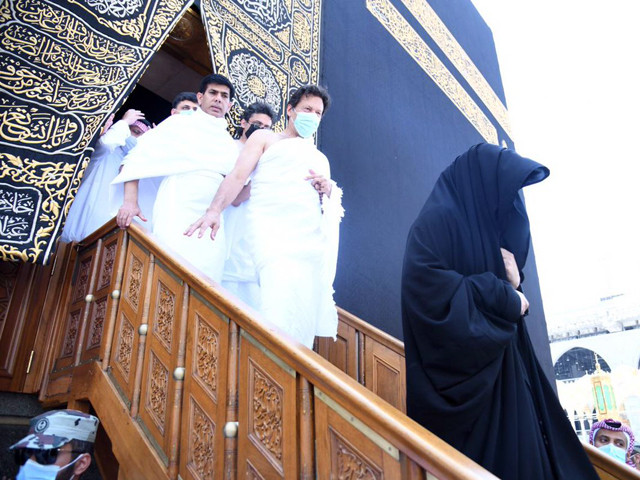 ---
MAKKAH:
Prime Minister Imran Khan along with First Lady Bushra Bibi travelled to the holy city of Makkah on Sunday and performed Umrah, his second pilgrimage since taking office in 2018.
The premier and the first lady were also accompanied by an official delegation.
Interior Minister Sheikh Rashid Ahmed, who is also part of the delegation, tweeted that the door of the Ka'aba was specially opened for PM Imran and the delegation.
He said that the premier and the delegation offered Nawafil prayers inside the Ka'aba. In the video shared by the minister, PM Imran and his wife can be seen kissing the Hajr-e-Aswad.
The prime minister along with his wife performed the obligatory Tawaf and Sai.
وزیرِ اعظم عمران خان- دروہ سعودی عرب

وزیراعظم عمران خان نے عمرہ کی سعادت حاصل کر لی۔

طوافِ سے قبل وزیرِ اعظم کیلئے بیت اللہ کے دروازے کھول دیئے گئے اور زیارتِ خاص کروائی گئی۔ pic.twitter.com/tPJcbTrGFD

— Prime Minister's Office, Pakistan (@PakPMO) May 9, 2021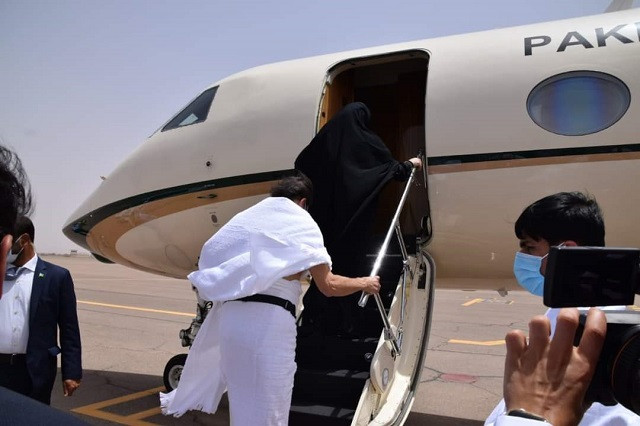 After performing Umrah, the prime minister is scheduled to hold a meeting with the Imam-e-Ka'aba. Besides, the premier will also meet head of the Muslim World League and secretary general of the Organisation of Islamic Cooperation (OIC).
Read Pakistan, S Arabia to bolster strategic ties
The prime minister arrived in Madina on Saturday where he walked barefoot to pay his respects at Roza-e-Rasool (Peace be Upon Him).
On his arrival in the Holy City, the premier was received by Governor of Madina Prince Faisal bin Salman.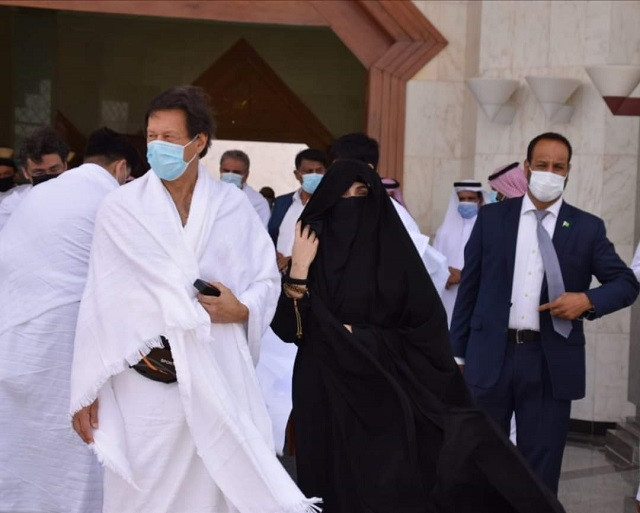 The prime minister was accompanied by his delegation including Foreign Minister Shah Mahmood Qureshi, Interior Minister Sheikh Rashid Ahmed, Sindh Governor Imran Ismail, Khyber-Pakhtunkhwa Governor Shah Farman, Senator Faisal Javed and Punjab minister Abdul Aleem Khan.
Special Assistant to PM on Political Communication Dr Shahbaz Gill and SAPM on Interfaith Harmony Maulana Tahir Ashrafi were also present on the occasion.
PM Imran arrived in the kingdom on Friday on a three-day visit and held delegation-level talks with Crown Prince Mohammed bin Salman besides signing multiple agreements and MoUs to strengthen bilateral cooperation.
Read more Pakistan, KSA relationship marked by close cooperation in all fields: PM Imran
The prime minister met the crown prince in Jeddah and held wide-ranging talks on bilateral, regional and international issues.
"The talks were marked by exceptional cordiality and a commitment to fortify the upward trajectory in the bilateral relationship," said the Ministry of Foreign Affairs (MoFA) in a statement.
The two sides also agreed upon further deepening cooperation in all fields.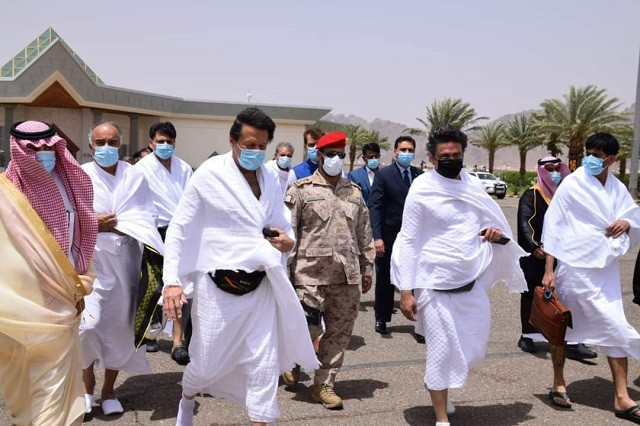 The communique added that the prime minister conveyed sincere regards to the Custodian of the Two Holy Mosques, His Majesty King Salman bin Abdulaziz, and thanked the crown prince for his gracious invitation to him to visit the kingdom.
The premier also expressed his gratitude for affording him the opportunity to visit the two Holy Mosques during the special days of Ramazan.