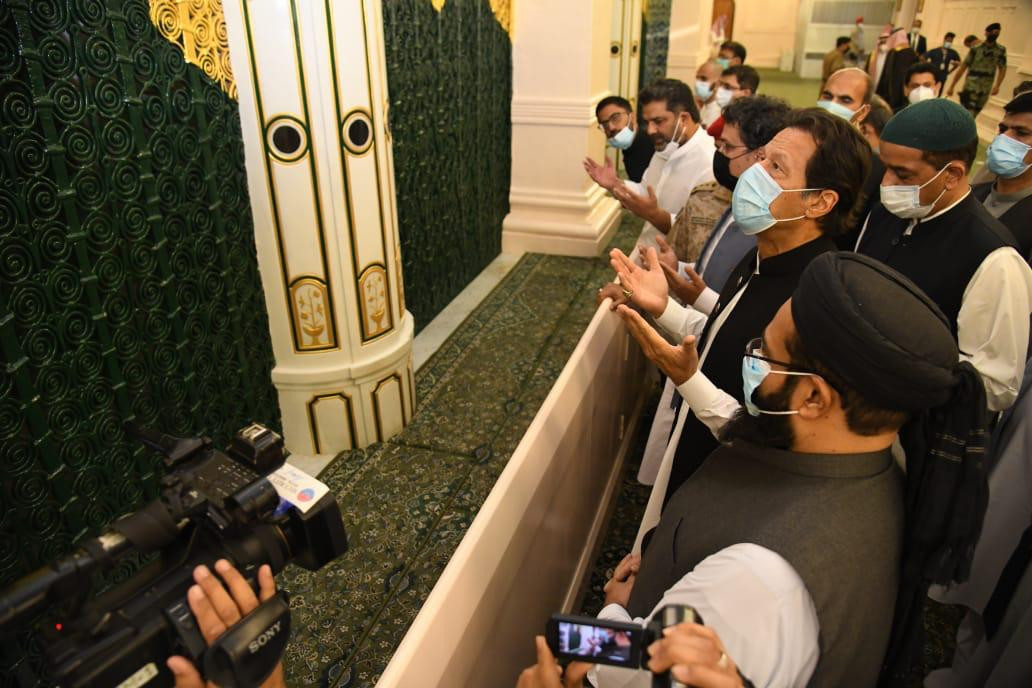 ---
Prime Minister Imran Khan on Saturday arrived in Madina Munawara barefoot to pay his respects at Roza-e-Rasool (Peace be Upon Him).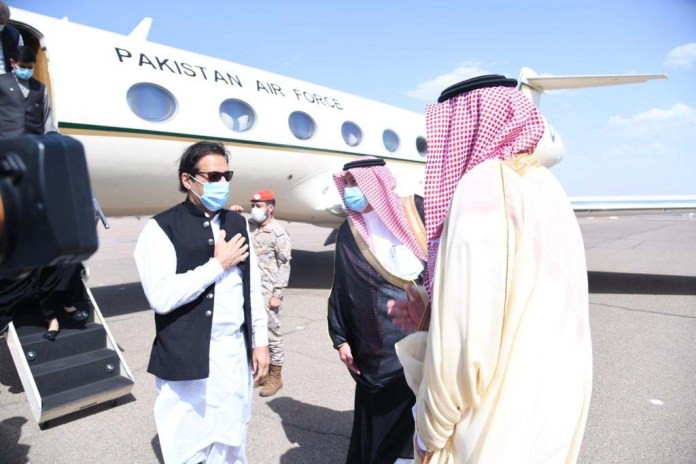 On his arrival in the Holy City, the premier was received by Governor of Madina Prince Faisal bin Salman.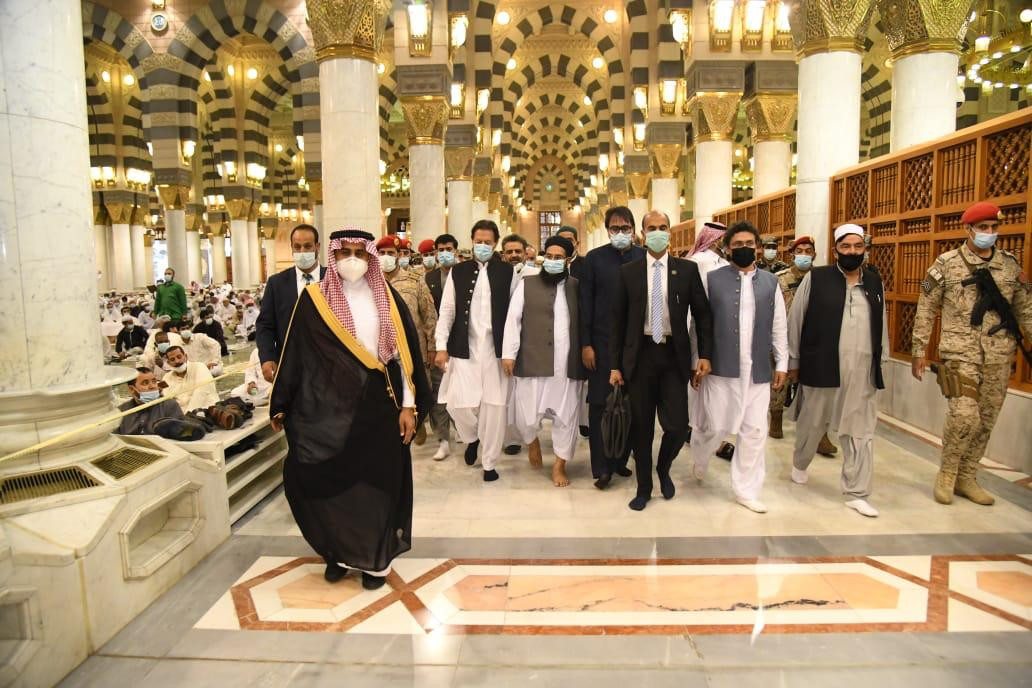 The prime minister was accompanied by his delegation including Foreign Minister Shah Mahmood Qureshi, Interior Minister Sheikh Rashid Ahmed, Sindh Governor Imran Ismail, Khyber-Pakhtunkhwa Governor Shah Farman, Senator Faisal Javed and Punjab minister Abdul Aleem Khan.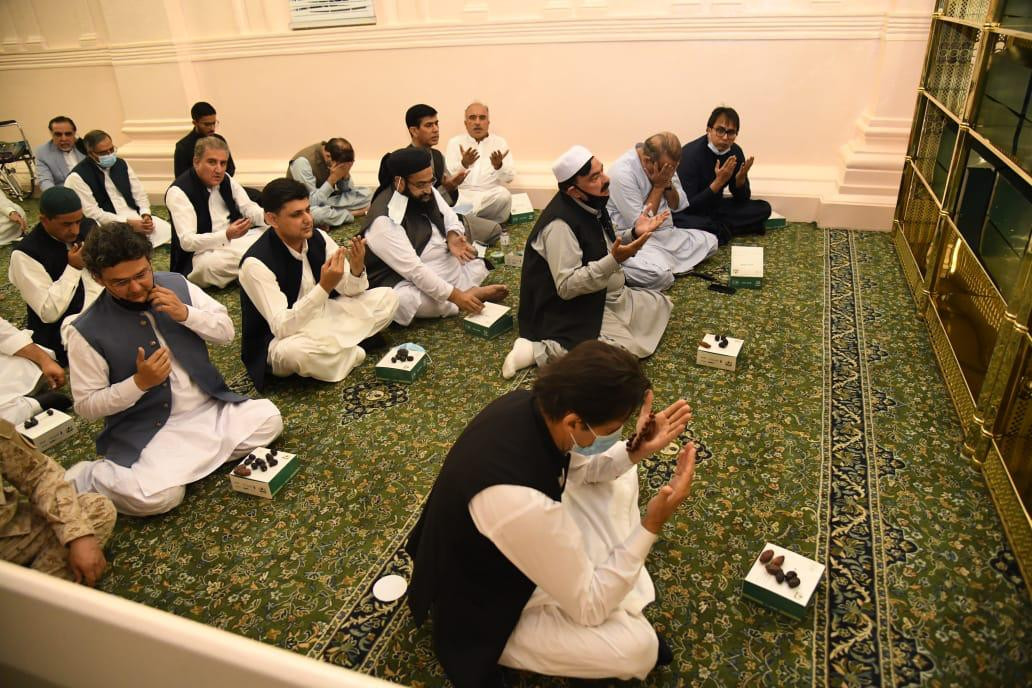 Special Assistant to PM on Political Communication Dr Shahbaz Gill and SAPM on Interfaith Harmony Maulana Tahir Ashrafi were also present on the occasion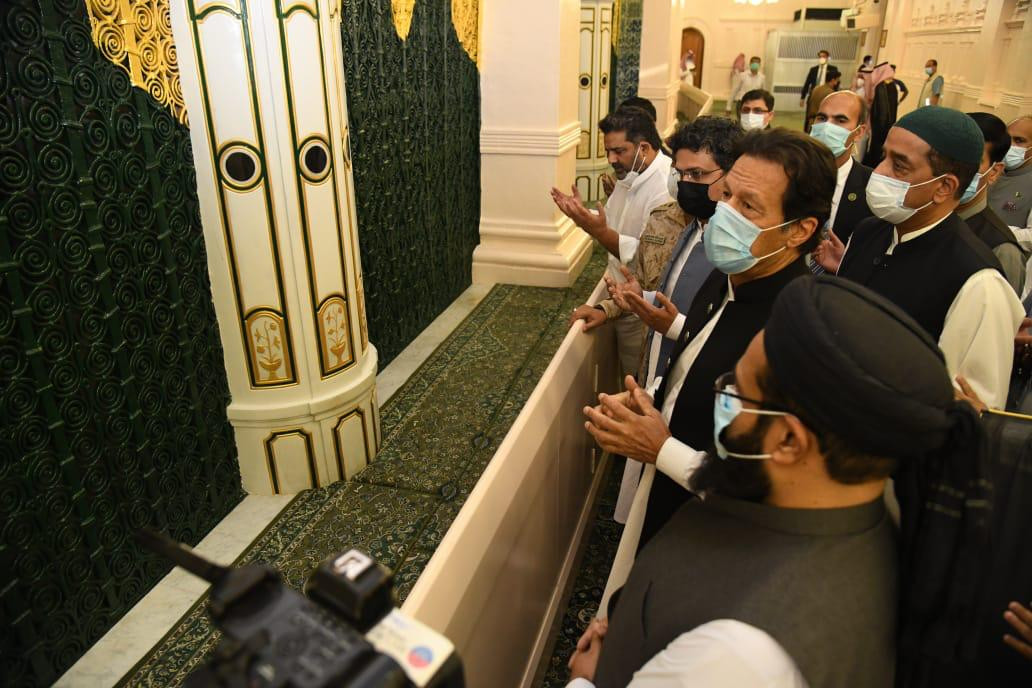 The premier along with the delegation had Iftar at the Prophet's Mosque and offered Maghrib prayers.
سرکار دو عالم محمد مصطفی ﷺ کے دربار میں غلام کی حاضری ادب کا قرینہ کہ جوتے پہننے کی جسارت دربارِ مصطفیࣿ ﷺ میں تو کیا ان کے شہر میں بھی نہیں ۔۔۔ کہ ادب پہلا قرینہ ہے محبت کے قرینوں میں ۔۔۔ pic.twitter.com/1iblXm6DoH

— Ch Fawad Hussain (@fawadchaudhry) May 8, 2021
Minister for Information and Broadcasting Fawad Chaudhry, sharing the picture of a barefoot PM Imran along with his wife Bushra Bibi, said that a servant (Imran Khan) had come to pay his respects to Holy Prophet Muhammad (PBUH) in such a manner that he did not walk in his city (Madina Munawarra) with footwear.
Fawad quoted an Urdu saying " Adab pehla qareena hai muhabbat ke qreenon men".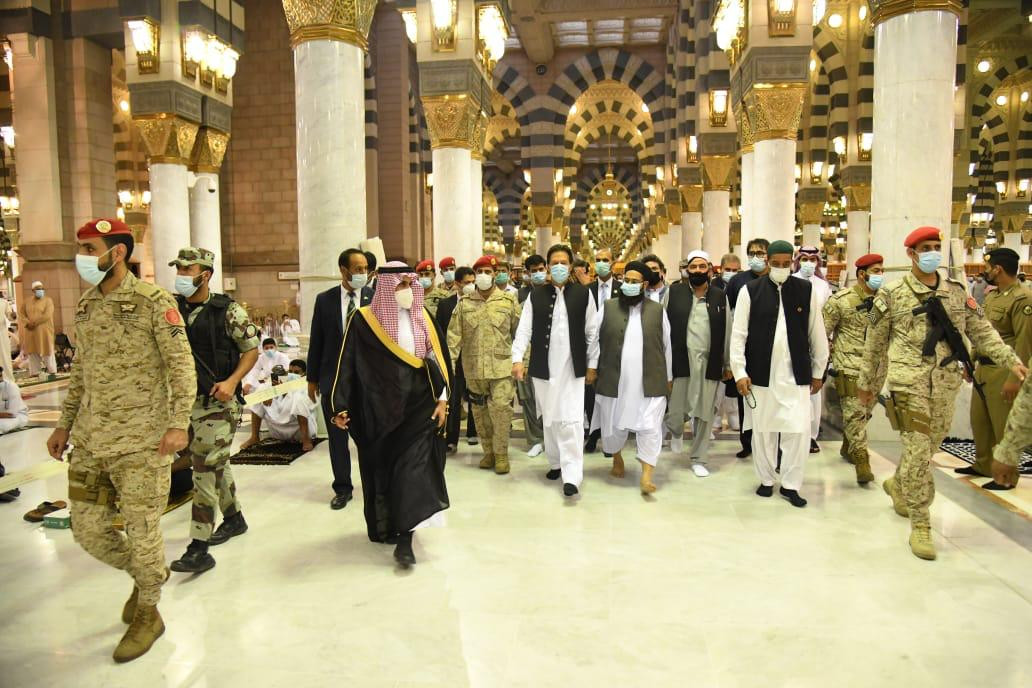 The prime minister arrived in the kingdom on Friday on a three-day visit and held delegation-level talks with Crown Prince Mohammed bin Salman besides signing multiple agreements and MoUs to strengthen bilateral cooperation.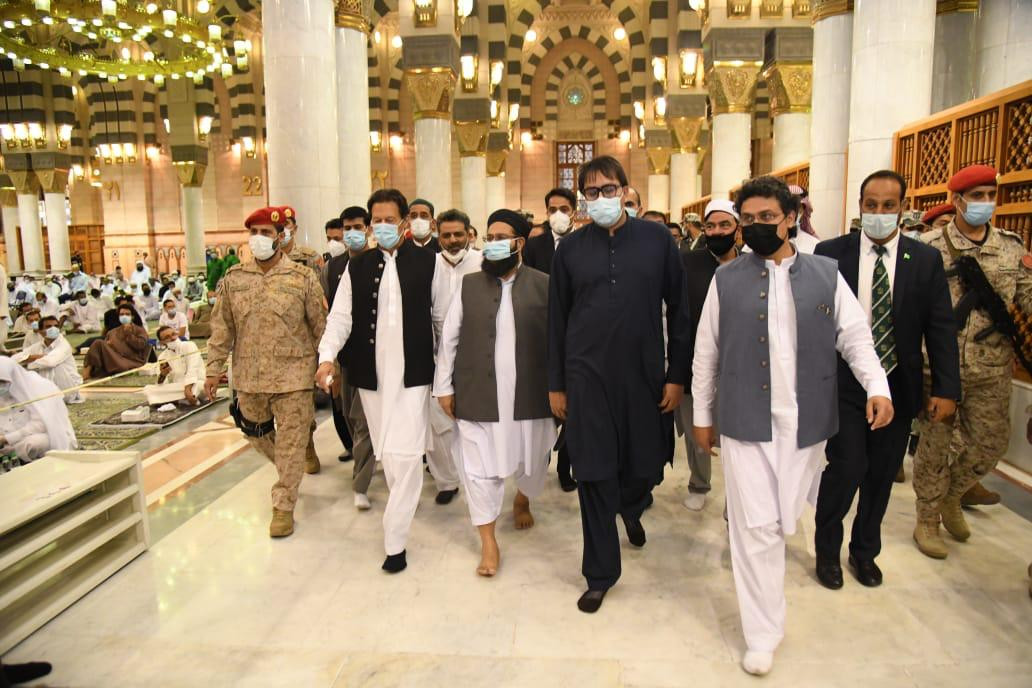 The prime minister met the crown prince in Jeddah and held wide-ranging talks on bilateral, regional and international issues. "The talks were marked by exceptional cordiality and a commitment to fortify the upward trajectory in the bilateral relationship," said the Ministry of Foreign Affairs (MoFA) in a statement. The two sides also agreed upon further deepening cooperation in all fields.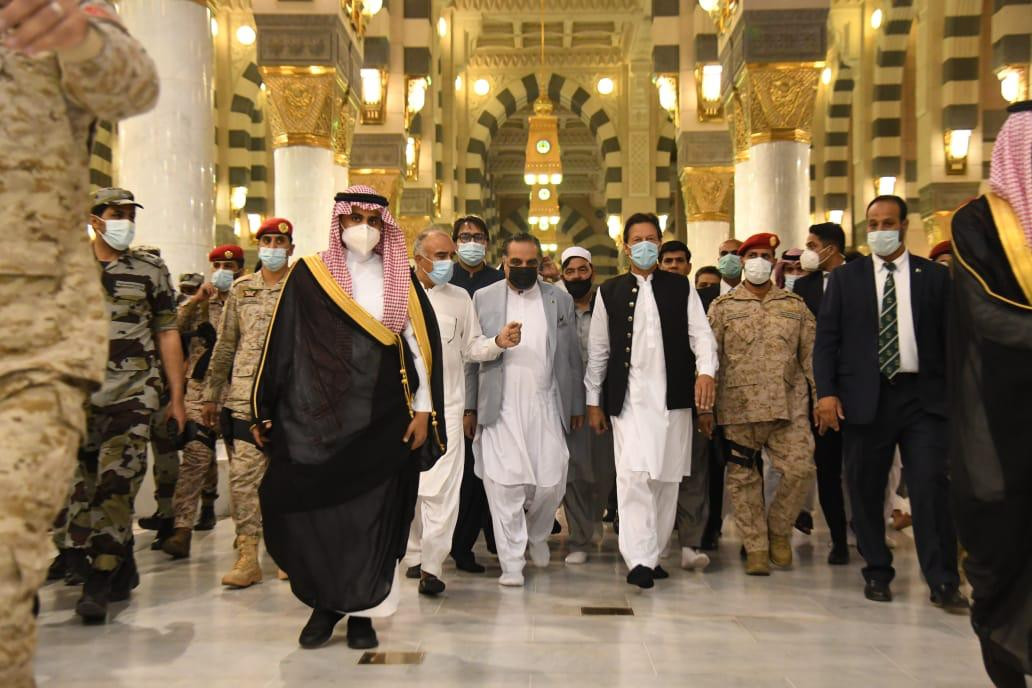 The communique added that the prime minister conveyed sincere regards to the Custodian of the Two Holy Mosques, His Majesty King Salman bin Abdulaziz, and thanked the crown prince for his gracious invitation to him to visit the kingdom.
The premier expressed also his gratitude for affording him the opportunity to visit the two Holy Mosques during the special days of Ramazan.
Read more: PM Imran, Crown Prince Salman commit to 'fortify upward trajectory' in bilateral relations
"The two leaders reaffirmed the strong and historic bonds between the two countries rooted firmly in shared beliefs, common values, mutual trust and longstanding tradition of mutual support," the press release added.
The prime minister reiterated Pakistan's abiding support for the sovereignty and territorial integrity of the kingdom and expressed special reverence accorded to the Land of the Two Holy Mosques by the people of Pakistan.
(With additional input from APP)
COMMENTS
Comments are moderated and generally will be posted if they are on-topic and not abusive.
For more information, please see our Comments FAQ