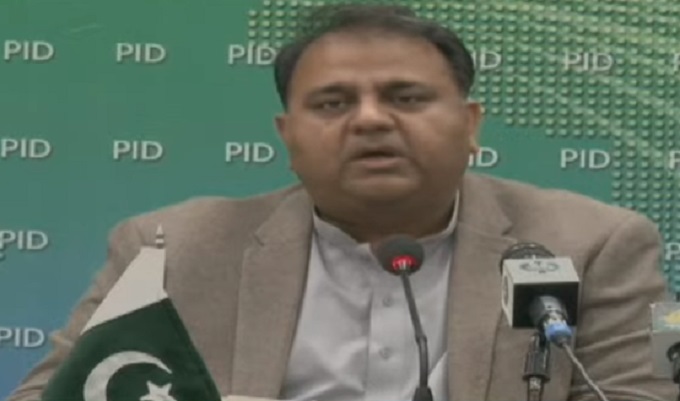 ---
ISLAMABAD:
Minister for Information and Broadcasting Chaudhry Fawad Hussain on Sunday lamented Pakistan Muslim League-Nawaz's (PML-N) "escape" from negotiations on electoral reforms, questioning "why a party that always came to power through conspiracies would talk about reforms."
Fawad was responding to Pakistan Muslim League-Nawaz (PML-N) President Shehbaz Sharif's statement where he had rejected the government's proposal of using electronic voting machines (EVMs) during polls saying "such decisions cannot be made by one individual". In a tweet, the information minister said the PMLN's claim that the reform process had to be carried out by the Election Commission of Pakistan (ECP) instead of parliament proved that they had no understanding of the system and had no interest in reforms.
"PML-N's escape from negotiations on electoral reforms is very unfortunate. Saying that the reforms are to be done by the election commission instead of parliament shows neither they have any understanding of the system nor interest in the reforms. Why would a party that always came to power through conspiracies talk about reforms?" Fawad tweeted. Taking a dig at Fawad over this tweet, PML-N Information Secretary Marriyum Aurangzeb said those who had "abducted" the staff of the election commission should spare the nation of sermons on electoral reforms.
READ Govt to introduce major vote reforms
She was referring to NA-75 Daska by-polls where the election staff at nearly two dozen polling stations had gone missing and the ECP later had to issue a statement saying "it suspected rigging in NA-75 by-election". "Those who are a product of rigged election want to be trusted with electoral reforms. The ones who are in power today because of meddling with the RTS system have the audacity of talking about electoral reforms," she said. "Those who opposed Nawaz Sharif and Shehbaz Sharif's IT initiatives have suddenly become advocates of tech interventions," she added.
"The ones who have literally obliterated the system of Khyber-Pakhtunkhwa over the past eight years are suddenly so anxious to reform the system. Those who preferred political victimization to electoral and economic reforms for three years are suddenly worried about reformation of the system." She alleged that the PTI was desperate to find a way to "rig" elections after "losing every single by-election".