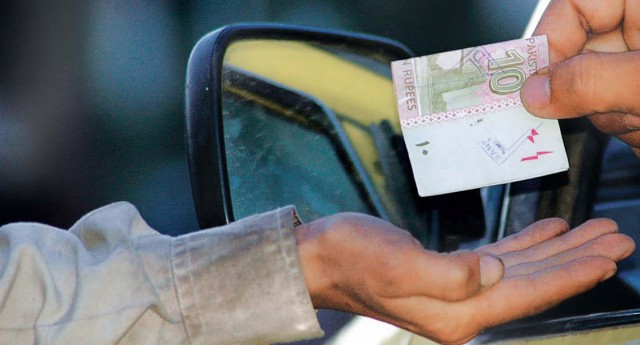 ---
PESHAWAR:
From the start of Ramazan the number of beggars has increased tenfold in the provincial metropolis, who roam freely everywhere to rake in cash without inviting attention from the quarters concerned.
These professional beggars employ different tactics to pocket money from the people who come to markets for day to day shopping.
Talking to The Express Tribune the president of Hashtnagri Bazaar Shopkeepers Association Rasool Khan said that most of the beggars are the nomadic people locally known as Changaryan who flock to the large cities like Peshawar in large numbers during Ramazan and they are a nuisance for the traders and buyers alike.
"These people are not only beggars but are involved in theft too and that is why they are a mess. On top of that, they are present in the marketplaces in large numbers. Their children are cleaning screen shields of the vehicles in the busy squares and asking for charity and the women are roaming the bazaars," he said, adding that because of the theft incidents they have been forced to install CCTV cameras in the shops but even then theft and pick-pocketing were occurring.
It is worth mentioning here that sometime ago the Social Welfare Department and Police started a crackdown against beggars with the help of the district administration and arrested dozens of drug addicts as well as professional beggars who were shifted to rehabilitation centers and treated for addiction.
READ SHC orders large-scale action against beggar mafia
The drive was a minor success as most of the drug addicts resumed drugs but for some time the roads were cleared of them. Traders demand of the government to take care of these beggars as they were also involved in small crimes in the markets.
"These people should be discouraged. Some of them have travelled from far-flung districts to come to Peshawar especially for Ramazan as they collect thousands in charity in the holy month. Government should take care of them and they should be rehabilitated," said another trader Taza Gul.
He added that after the recent Covid-19 infection surge, beggars should not be allowed to roam freely as they could also cause the spread of the deadly infection.
When contacted police said that they usually arrest these beggars but they are too many and avoid places where police could reach.
Published in The Express Tribune, May 3rd, 2021.
COMMENTS
Comments are moderated and generally will be posted if they are on-topic and not abusive.
For more information, please see our Comments FAQ