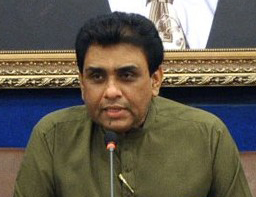 ---
HYDERABAD:
The people of Pakistan have lost trust on fairness of elections and democracy, said Muttahida Qaumi Movement-Pakistan Convener and MNA Khalid Maqbool Siddiqui on Saturday.
Commenting on the recent by-polls in NA-259 in which the MQM-P's candidate trailed far behind the winning candidate, he said the people of Pakistan have lost trust on fairness of the elections and democracy. "The way the elections were conducted in the last few years and the way the results were announced have disillusioned the people."
According to him, democracy as understood by the MQM-P has no space for feudal lords and hereditary politics.
Speaking to the media in Hyderabad, after distributing relief items at Khidmat-e-Khalq Foundation's (KKF) medical complex, Siddiqui reiterated rejection of the population census 2017, saying although Karachi's population has been halved, tax is being collected from all of the citizens dwelling in Karachi. According to him, Hyderabad is also the third or fourth highest tax paying city of Pakistan.
He said that NA-249 constituency was carved out for a special purpose, adding that a small part of the population in that electoral area also supported the MQM-P for whose representation they took part in the by-poll. He said his party is still reviewing why the results of NA-249 were delayed.
READ FAFEN observes violations in NA-249 by-poll
'Take Covid seriously'
He observed that Hyderabad is among the cities which have been highly affected by the Covid-19. He alleged that the government hospitals in Hyderabad lacked facilities in the Covid-19 wards. "Neither have the hospitals made abundant arrangements of oxygen nor are there ventilators in required numbers," he said.
Siddiqui emphasised on the need for taking the coronavirus seriously. He blamed that Pakistan Peoples Party-led Sindh government for making no enhancements to the health system of Hyderabad since it came to power in 2008.
Decrying restrictions on KKF
Siddiqui lamented that his party's welfare arm continuously remained under restrictions over collecting funds. "The banners of KKF have been removed from Karachi but those of the jihadi and banned outfits are still in place," he deplored,
The MQM-P chief recalled that the KKF received a national award for serving people affected by the earthquake in 2005. He claimed that despite confronting many odds and suppression at the hands of the state, KKF volunteers did not lose courage and they are still zealous to serve humanity.
Responding to a question about reported annoyance of Prime Minister Imran Khan with the cabinet members from MQM-P, Siddiqui said the government could not continue without his party.
Published in The Express Tribune, May 3rd, 2021.
COMMENTS
Comments are moderated and generally will be posted if they are on-topic and not abusive.
For more information, please see our Comments FAQ