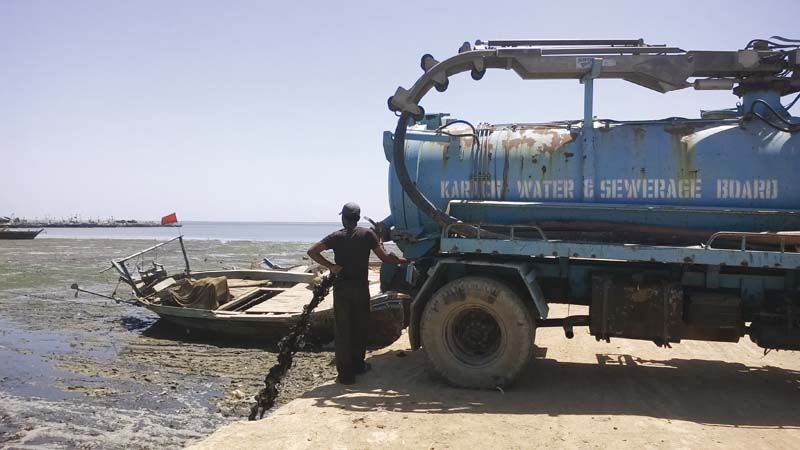 ---
KARACHI:
An executive engineer of Karachi Water and Sewerage Board (KWSB) has lodged a complaint against Pakistan Tehreek-e-Insaf (PTI) MNA Faheem Khan, a PTI local leader, Shamshad Khan, and around 150 others for torturing KWSB officials and holding them in illegal confinement.
The KWSB staff was roughed up for trying to stop the country's ruling party members from committing water theft, said KWSB Executive Engineer Irfan Ullah, speaking to the media outside the Industrial Area police station.
Ironically, while the public representatives had no shame or remorse in publicly breaching a pipeline to spud an illegal connection and beat up any one confronting them on this illegal act, the police, responsible for enforcing the law, were shy of registering a case against them, the public servant told the media.
"The SHO of Industrial Area Police Station has only received my complaint, he is reluctant from registering a first information report (FIR) about government officials being tortured, humiliated and held hostage by a leader and supporters of a political party, besides the act of water theft and obstructing state officials," Irfan said.
Sharing details, the executive engineer said that the KWSB staff was present in Korangi for its routine duty of opening water valves when they got to know that some people were present at Nasir Jump area with an excavator to breach the 33-inch waterline in order to extract an illegal connection.
Irfan said that he and Assistant Engineer Kashif Syed Kashif Hussain reached the spot to see around 150 men and an excavator present there. He said that the KWSB officials saw MNA Faheem Khan a local leader Shamshad Khan supervising the work on illegal connection.
Hussain went forward and told the crowd to stop the work, instead of showing respect of law, Shamshad and his men started beating him. After torturing, they held Hussain hostage, Irfan said adding that the assistant engineer was released on intervention of MNA Faheem.
Irfan said that he went to lodge an FIR of physical battery on an on-duty government officer and water theft against MNA Faheem, Shamshad and their supporters, however the DSP concerned and the SHO of the Industrial Area police station made him wait for hours and finally only received a written complaint.
Irfan said the officers told him that he will register an FIR after consulting senior officers.
Meanwhile, MNA Faheem commenting on the situation said that he was told that KWSB has shut the valve severing water supply to an area in his constituency and he had gone to the said spot to get the valve open.
Faheem had earlier made headlines when he had appeared in a video along with three MNAs of PTI in the viral video of Ali Haider Gilani, son of former PM Yousuf Raza Gilani.
Ali Haider was allegedly explaining to the lawmakers how to waste their votes in the Senate elections. Faheem had confessed to being in the video and had claimed he was the lion of Prime Minister Imran Khan.
Published in The Express Tribune, May 3rd, 2021.
COMMENTS
Comments are moderated and generally will be posted if they are on-topic and not abusive.
For more information, please see our Comments FAQ