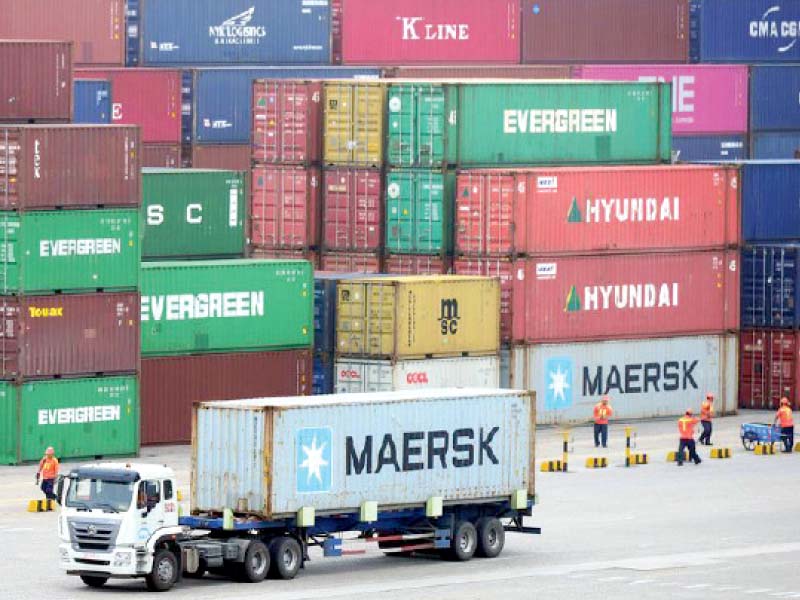 ---
KARACHI:
Exports from Pakistan continue to show an upward trend as they increased 14.37% in March 2021 over the value reported in February 2021 and 30% over the value reported in March 2020, as reported by the Pakistan Bureau of Statistics (PBS).
Export growth was reported across all major categories. Exports of the food group increased 16.5% month-on-month in March 2021. This was dominated by exports of Basmati rice, which increased 73% month-on-month. Similar growth rates were also reported for fish and fish preparations.
Textile group exports increased 9.85%, dominated by the increase in exports of cotton cloth and bed wear, both growing more than 15% month-on-month.
Other manufacturing groups reported an increase of 40.7% month-on-month, with almost 100% increase in exports of chemicals and pharmaceutical products. Exports of other chemicals increased 257% month-on-month in March 2021.
All the aforementioned products showed at least $50 million worth of exports in March 2021.
Read: Exports over $2b for sixth successive month
On the other hand, imports were valued at $5.67 billion in March 2021, up 23.02% month-on-month and 71.13% year-on-year.
All major product categories listed in the data provided by the State Bank of Pakistan (SBP) showed an increase in import value in March 2021 over the value reported in February 2021.
Given that Pakistan was hit by the first wave of the pandemic in March 2020, which resulted in a nationwide lockdown and a collapse in trade value, there will be a sharp increase in the year-on-year growth for several products. However, the sharp rise of $1 billion in imports in March 2021 over February 2021 needs further scrutiny.
Within the food group, imports of palm oil increased 26.7% month-on-month as they surpassed $275 million.
Within the machinery group, imports of mobile phones increased 27.7% month-on-month. Although the increase in import figures is attributed to the regularisation of mobile phones under DIRBS, the continuous month-on-month increase suggests that there is more to this trend. It is likely that increased need for digitalisation during the pandemic and the soaring growth of exports in the IT sector, as reported earlier, may be a contributing factor in this trend.
There was a resurgent demand for imports of motor vehicles as both completely built-up units and knocked down units showed month-on-month growth rates of 30%. There was also an increase in imports of parts and accessories.
Imports of the textile group increased 12% month-on-month with imports of raw cotton as well as synthetic fibre also growing. Imports of petroleum products increased 66% in value and 50% in quantity. Furthermore, imports of iron and steel were up 67%.
The quantum index of large-scale manufacturing (LSM) industries between July 2020 and February 2021 recorded year-on-year growth rates for food and beverages, pharmaceuticals, chemicals, non-metallic and automobile industries.
Several of these industries have recovered from stagnant growth. The increase in imports is likely to be driven by the growth in LSM, which indicates an increase in consumer demand.
Exchange rate
There was approximately 4% gain in the rupee-dollar exchange rate in the first quarter of 2021. According to market-to-market revaluation of PKR to USD, the former gained approximately Rs6 to the dollar.
The SBP reported a 20% surge in the monthly growth rate of export receipts as the receipts crossed $2.6 billion in March 2021. This was the highest reported value since June 2011.
Pakistan has reported more than $2 billion in the inflow of export receipts since November 2020. However, with the appreciation of the rupee in recent months, the increasing trend may slow down or come to a halt.
The rupee had recorded a sharp appreciation between August and November 2020, but that did not dampen exports, which continued to increase post-appreciation in the latter half of 2020.
With the impact of the pandemic changing from that experienced in the prior waves as cases and deaths increase in India and other South Asian countries relative to other nations, it may have a varying effect on trading patterns of Pakistan.
Container costs
A recent policy brief by Unctad notes the historically high container freight rates across developing regions. Shipping costs between Shanghai and South America were 443% higher in early 2021 than the median for that route.
It adds that improved trade facilitation and digitalisation of trade procedures will be critical to reducing costs, tracking and tracing of containers and monitoring of port activities as well as improved competition between logistics companies will be extremely important.
As Pakistan's exports are not only price sensitive but also low in product sophistication, it is likely that the country's exporters will have to factor in the rising container costs. The Sustainable Development Policy Institute (SDPI) recently published a research report titled "Supporting Export Competitiveness amid Covid-19 in Pakistan".
The report highlights the increase in trade costs during the pandemic, particularly in terms of increased compliance with SOPs and transportation and logistics costs. Exporters also reported increased trade protocols that require compliance with non-tariff measures (NTMs).
Read more: PM Imran praises import, export single-window act
This increased the sunk costs as firms required greater information and had to adopt new practices.
Networking and communication costs increased as firms had to introduce new channels such as e-commerce and create a virtual environment to connect with customers. Firms that had access to better internet infrastructure fared relatively better.
In essence, there was a paradigm shift in trade, both internationally and domestically, as digital communication channels had to be embraced. This gave an edge to firms with better adaptability.
In the summary, the SBP and PBS have reported a rise in the respective values of exports beyond $2.6 billion. The challenge is not only to sustain the increase, but also account for the pandemic-related conditions that have hit the South Asian region the hardest.
The government must ensure greater facilitation, particularly at a time when unpredictability faced by the exporters is likely to be increasingly burdensome.
The writer is a PhD in International Economics
Published in The Express Tribune, May 3rd, 2021.
Like Business on Facebook, follow @TribuneBiz on Twitter to stay informed and join in the conversation.
COMMENTS
Comments are moderated and generally will be posted if they are on-topic and not abusive.
For more information, please see our Comments FAQ