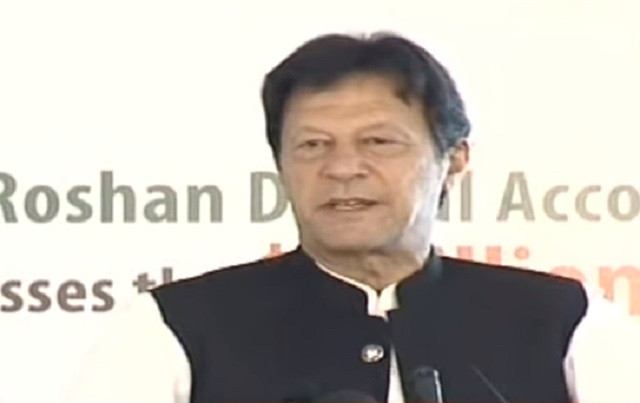 ---
ISLAMABAD:
Prime Minister Imran Khan announced on Thursday that a high-powered investigation has been ordered into the misconduct of the embassy staff in Saudi Arabia with the Pakistani laborers and workers.
Speaking at a ceremony to inaugurate Roshan Apni Car and Roshan Social Work services under the Roshan Digital Account, he said those found involved in extorting and mistreating Pakistani laborers will be given exemplary punishments.
The premier expressed to overseas Pakistanis for sending in record remittances of $1 billion through the Roshan Digital Account, saying an enormous potential still needs to be tapped.
"Pakistan's problem is that no one paid attention to increasing the exports, and that became the biggest obstacle in the country's progress."
Terming the lack of long-term planning ironic, the premier said that until our exports surpass our imports, we only have one option and that is to tap the enormous potential of overseas Pakistanis.
"We should brainstorm on how to close in on the gap through the remittances," he maintained.
"Although we have broken all records related to remittances, it is just the tip of the iceberg as a lot still needs to be done."
PM added that the strategy should be to not let the current account fall in deficit as it pressurises rupee and affects the growth rate, foreign investments, and economic growth.
He observed that incentivising the construction sector and low-cost housing was picking up pace.
"Banks will have to impart training to lend out loans to the people," he added.
Read Farmers being strengthened to bring agricultural revolution: PM Imran
Overseas Pakistanis' confidence in the domestic economy is on the rise, as the volume of their foreign currency deposits with local banks and their investments in a number of schemes through the initiative surpassed a major milestone of $1 billion.
These inflows have played a significant role in strengthening Pakistan's foreign currency reserves to around four-year high of over $16 billion, improving the country's capacity to make international payments, including the import bill as well as foreign debt repayments, and stabilised the rupee-dollar parity at around Rs153.