 ---
KARACHI:
In Karachi's Baldia Town area, barefoot children, carrying jerry cans, jumping over uncovered manholes without skipping a beat and racing their peers on narrow, uneven and dirty roads is the norm. All around, there are remnants of schools, parks and playgrounds with broken boundary walls that seem to be propped up by piles of garbage - an equally commonplace sight across the NA-249 constituency.
However, it is the availability of water that remains the overriding concern for the roughly 800,000 people living in this sprawling constituency that includes Baldia Town, Ittehad Town, Mohajir Camp, Saeedabad, Rasheedabad, Orangi Town and Qaimkhani Colony.
The water issue dominates the litany of promises - including the revamp of education and healthcare facilities - made by candidates as this neglected area turns into a political battleground for a by-election that will take place today (Thursday). The national assembly seat fell vacant after the resignation of Pakistan Tehreek-e-Insaf's (PTI's) Faisal Vawda, who defeated Pakistan Muslim League-Nawaz's Shehbaz Shairf in a closely contested election in 2018, which was marred by accusations of rigging.
Read: PPP urges ECP to defer NA-249 by-poll
Candidates
While there is no clear favourite, one thing is certain: Faisal Vawda's performance has adversely affected the PTI's vote bank, with residents accusing him of abandoning the area.
"He offered us bottled water when we pointed out to him that our taps were running dry," one angry local told The Express Tribune, claiming that the then minister visited the area only thrice during his tenure.
The PTI's current candidate is Amjad Afridi, a local businessman who has one unsuccessful political campaign to his name and very little political capital. His only hope is to convert Prime Minister Imran Khan's waning popularity into votes, which locals that The Express Tribune spoke to called 'a slippery slope'.
Pakistan Muslim League-Nawaz's Miftah Ismail is a strong contender as the area includes a significant Punjabi-speaking population, while the party is also popular among Kashmiris and Seraiki speakers. But the former finance minister's campaign missed out on a potential fillip after the party's charismatic vice president Maryam Nawaz cancelled her visit to the constituency due to Covid-19 concerns. Ismail, despite being a prominent and successful businessman, remains a political novice, which, according to locals, would undermine his chances of success.
Pak Sarzameen Party (PSP) chief Mustafa Kamal has emerged as one of the strongest candidates - and probably the frontrunner - owing to strong canvassing and campaigning in the area. His political pedigree, including his successful stint as Karachi mayor, also plays in his favour. At corner meetings and public gatherings, as witnessed by this reporter, PSP's events not just dwarfed those of its rival for the Urdu-speaker vote, the Muttahida Qaumi Movement-Pakistan (MQM-P), but other parties as well.
"We had provided a dedicated line that carried six million gallons of water from the Hub Reservoir to Baldia Town. Now, there are 25 hydrants on that line and 178 illegal connections," he told The Express Tribune when asked about the water problem.
MQM-P's Muhammad Mursaleen, meanwhile, appeared less acquainted with the area's problems at the party's relatively deserted campaign office.
The Pakistan Peoples Party (PPP) is fielding Qadir Khan Mandokhel, considered a weak candidate by residents, which they say is validated by the PPP's efforts to have the by-election postponed.
The Tehreek-e-Labbaik Pakistan (TLP) was one of the surprise performers in the last general election, bagging the third-highest votes in this constituency. However, conflict over tickets is likely to split the vote between the party's candidate Nazeer Kamalvi and Ahmed Bilal Qadri, the son of slain Sunni Tehreek chief Saleem Qadri, who is now running as an independent candidate. However, he remains affiliated with the Pakistan Sunni Tehreek.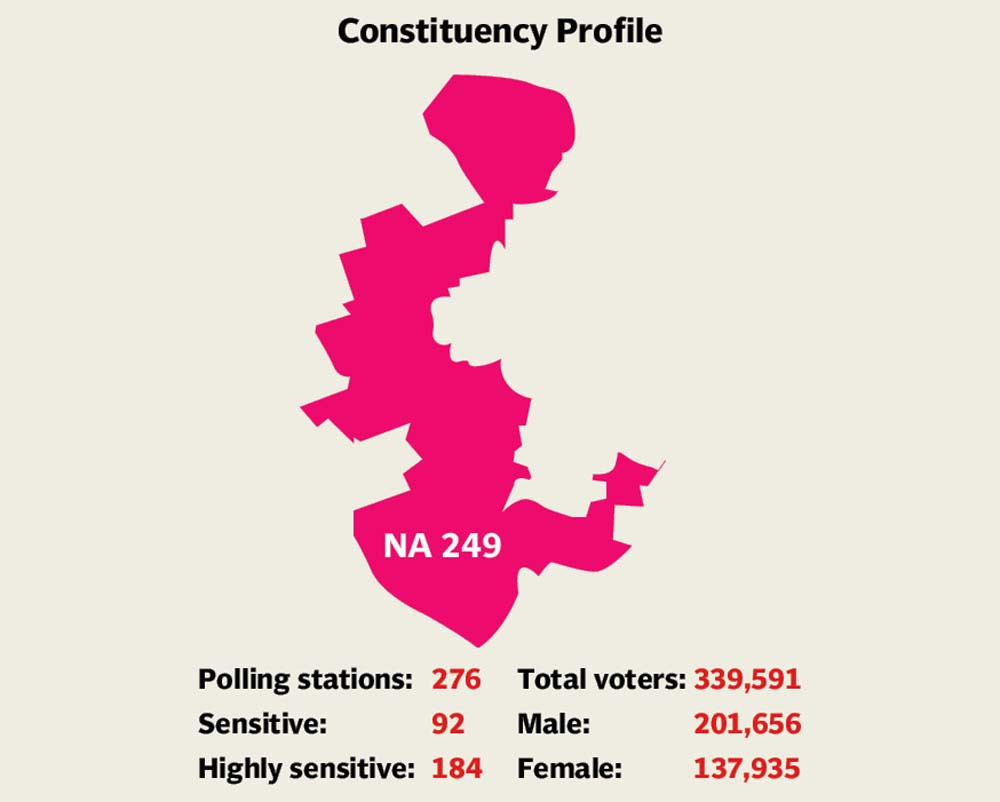 Delimitation
The NA-249 constituency, Karachi West-II, was created following delimitation in 2018 and the merger of areas that were part of two other constituencies: NA-239 and NA-240. This had changed the ethnic mix in the constituency that was previously dominated by Urdu-speakers and supporters of the Altaf Hussain-led Muttahida Qaumi Movement.
Now, it includes a mix of diverse ethnicities comprising Pashtuns, Mohajirs, Punjabis, Seraikis, Baloch, Sindhi, etc. The people are mostly from low-income groups, although there are pockets of affluence. The area is religiously conservative and is also home to several imposing seminaries, some of which were once considered notorious as a refuge for militants.
According to the Election Commission of Pakistan, there are 339,591 voters in the constituency - 201,656 male and 137,935 female voters. A total of 276 polling stations have been set up for the polling day, with all of them declared 'sensitive' and Rangers deployed outside all the polling stations.
Read more: ECP bars public office bearers from visiting NA-249
Election Day
Traditionally, voter turnout is much lower during by-polls as opposed to on the day of the general election. With Ramazan going on, high temperature and Covid-19 concerns, it is expected to be lower.
"It all boils down to getting your voters to the polling station. If we can mobilise our supporters, we will emerge victorious," says PSP's Anis Kaimkhani amidst the hustle bustle at the party's crowded camp office.
Will the PSP's cadre of grassroots workers and experience in mobilisation trump PML-N's candy-armed Miftah Ismail or will the PTI pull off yet another Houdini act?
Published in The Express Tribune, April 29th, 2021.
COMMENTS
Comments are moderated and generally will be posted if they are on-topic and not abusive.
For more information, please see our Comments FAQ