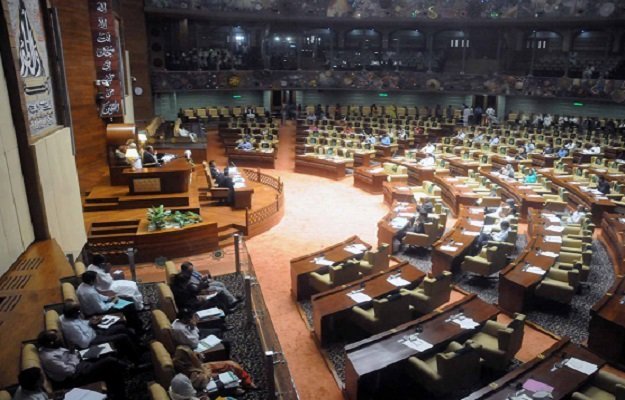 ---
KARACHI:
The Sindh government has moved the Election Commission of Pakistan (ECP) for the deferral of the NA-249 by-poll, which is slated for April 29, on grounds of the third wave of the coronavirus.
In a letter sent to the chief election commissioner on Tuesday, the provincial government stated that the country was hit by a third wave of the coronavirus pandemic and the caseload was increasing day by day in various cities.
Consequently, the burden on hospitals continues to increase, the letter stated.
Read: ECP bars public office bearers from visiting NA-249
The Sindh government further pointed out in the letter that the Covid-19 positivity ratio had exceeded the 3 per cent mark in Karachi and Hyderabad, climbing to 7.8 per cent.
Hence, public gatherings, corner meetings and rallies can lead to the further spread of the virus and loss of lives, the provincial government raised concern.
The Sindh Health Department will struggle to tackle the situation in case situation worsens, the letter read, adding that the ECP was requested to postpone the NA-249 by-poll.
Earlier, the provincial health department, in a letter addressed to the Sindh chief secretary, had expressed concern that campaigns for the NA-249 by-election could lead to a surge in Covid-19 cases.
South African, Brazilian and UK strains of the virus have been detected in various big cities of the country and after mutations, these have become more contagious, the health department had informed the chief secretary, also highlighting that inter-city travel as one of the major reasons for the increase in coronavirus cases.
Read more: Maryam Nawaz to visit Karachi on April 24, PML-N to flex muscle in NA-249
The sudden change in virus tally within a week's span is indicative of the growing Covid-19 threat, the letter stated.
It added that ensuring compliance with pandemic-related standard operating procedures during election campaigns in the densely populated areas of NA-249 was not possible.
Keeping in view the situation, the health department too had suggested the by-poll's deferral. The NA-249 seat had fallen vacant after Pakistan Tehreek-e-Insaf's Faisal Vawda stepped down as a lawmaker to assume the role of a senator.
Published in The Express Tribune, April 21st, 2021.
COMMENTS
Comments are moderated and generally will be posted if they are on-topic and not abusive.
For more information, please see our Comments FAQ