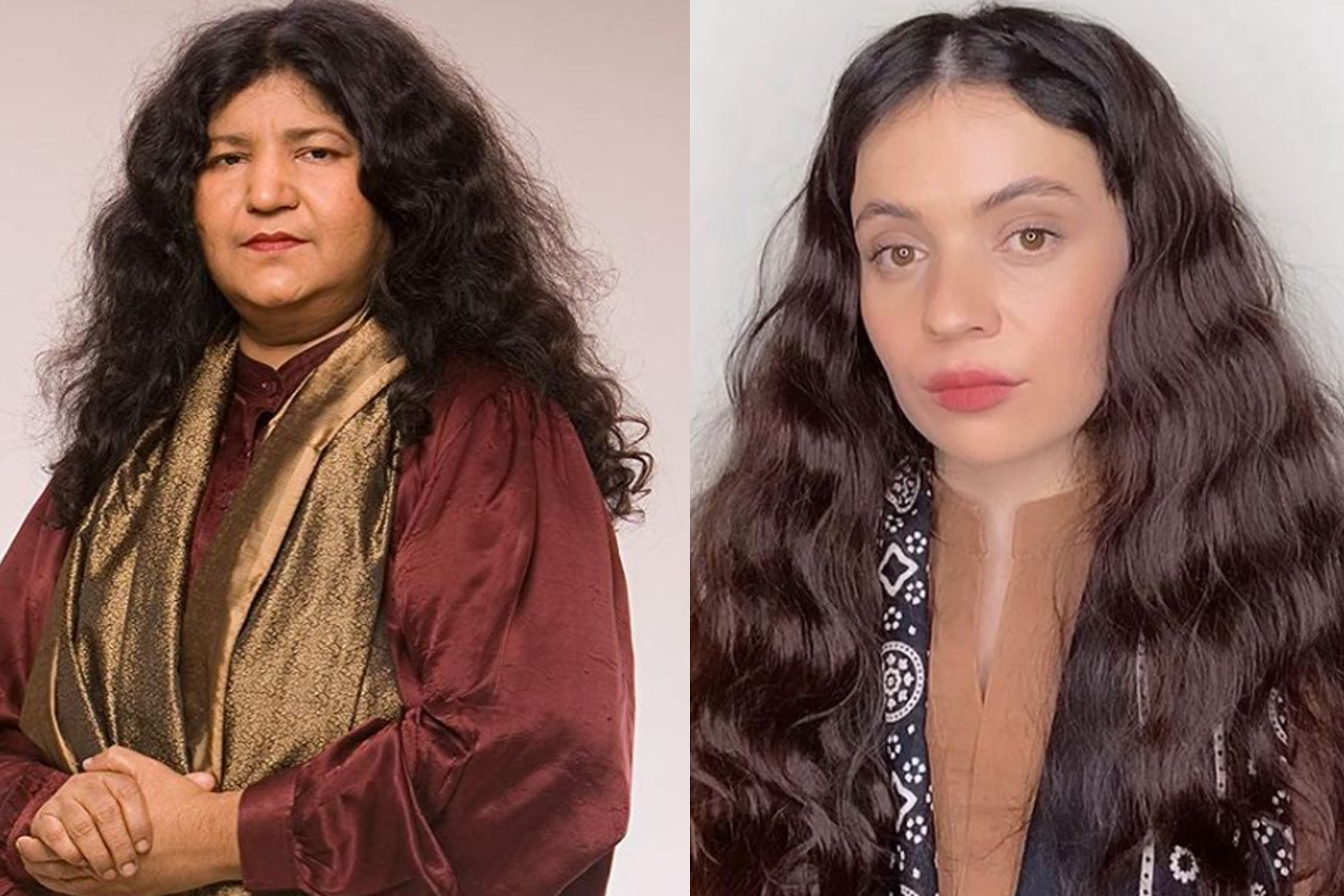 ---
It's safe to say that these days social media is positively bursting at the seams with creativity (if you know where to look!). Artists from all walks of life take to Instagram and Twitter to showcase their talent, and it's easy to be left awestruck by the sheer amount of inventiveness beaming out of your phone screen.
Izat Bibi, a blogger and makeup artist who identifies as Wakhi Pakistani American, is one such creative. Her imaginative makeup looks inspired by influential women from Pakistani History (from the 1940s onwards) have left us reaching for our makeup brushes in an attempt to recreate all these iconic makeup and fashion moments from the past! What started off in honour of Aurat March in late February has quickly turned into a viral sensation. Equal parts educational and fun, here are some of our top picks from all the looks she has posted so far:
1. Madam Noor Jehan:
No talk of Pakistani makeup and fashion history is complete without the mention of the iconic singer and actor Madam Noor Jehan. Izat Bibi recreated Malika-e-Tarannum's signature look, paired with an updo adorning large pink flowers tucked into the bun and loose curls gracefully falling around the face. She incorporated the heavily made-up eyes and a pair of striking overlined lips with perfection, topping off the look with a gorgeous emerald green saree with a matching silk choker.
2. Fatima Jinnah
This one is the first transformation look Izat posted, and it's safe to say that it is easily one of her best! She recreated the Madar-e-Millat's look with incredible finesse, her pictures oozing old-school class. Keeping the makeup understated, since Fatima Jinnah was not necessarily known for donning bold colours, Izat Bibi chose a nude lip and paired it with soft eyeliner for some definition. She paired the makeup with Fatima Jinnah's classic gharara, complete with a starched dupatta draped gracefully over her head, adorning her neck with a string of pearls to really pull it all together.
3. Nazia Hasan
We absolutely adore this look! Incredibly wearable yet so distinctly inspired by Nazia Hasan, this is one look we will definitely be recreating the first chance we get. Izat paired a blue turtleneck with a pair of dungarees to recreate a look from one of Nazia's stellar performances. She added a pair of thick braids with hair left loose around the face to truly capture that quintessential Nazia feel. She kept the makeup on the lighter side, adding a pair of false eyelashes to recreate the Disco Deewane singer's girly charm.
4. Abida Parveen
We love how Izat encapsulated Abida Parveen's essence with this look. The world-famous singer has a very distinct sense of style which was recreated flawlessly. Izat kept the makeup to an absolute minimum, a clear nod to Parveen's choice of staying bare-faced for the most part. Her hair was left open, tousled and wavy, falling freely over her shoulders. She chose to wear a loose-fitting brown kurta in true maestro's fashion, tying the look together with an ajrak draped around her neck.