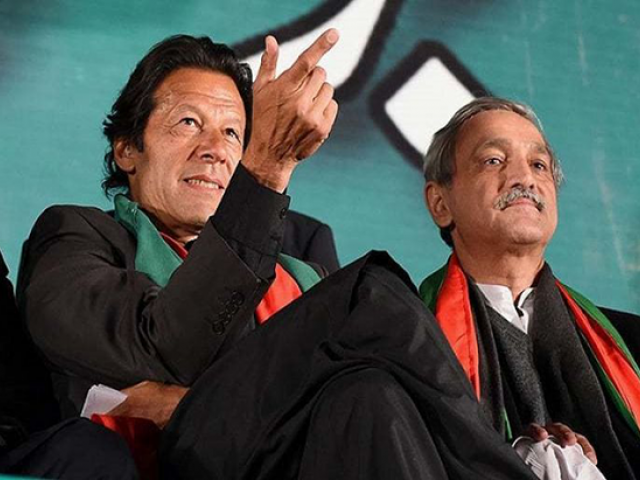 ---
ISLAMABAD:
A group of 33 disgruntled PTI lawmakers – who have rallied around ruling party's beleaguered former secretary general Jahangir Tareen – will meet Prime Minister Imran Khan today [Tuesday] to share their concerns with regard to the investigations carried out against Tareen.
Tareen has confirmed the development but clarified that he will not be part of the delegation.
These lawmakers include 11 National Assembly members (MNAs) including Minister for State and Frontier Regions Sahibzada Mehboob Sultan.
The MNAs include Raja Riaz, Sami Gillani, Riaz Mazari, Khwaja Sheeraz, Mobeen Alam Anwar, Javed Waraich, Ghulam Lali, Ghulam Bibi Bharwana, Faizul Hassan Shah and Sahibzada Ameer Sultan.
A total of 22 ruling party lawmakers from the Punjab Assembly (MPAs) are also part of the group that is now tagged as the PTI's "Hum Khayal" Group.
Also read: Jahangir Tareen to be prosecuted as per law: Shahzad Akbar
These include two provincial ministers – Nauman Langrial and Ajmal Cheema and four provincial advisers – Abdul Hai Dasti, Ameer M Khan, Rafaqat Gillani and Faisal Jabuwana.
Other MPAs are Khurran Laghari, Aslam Bharwana, Nazir Chohan, Asif Majeed, Bilal Waraich, Umar Aftab, Tahir Randawa, Zawar Waraich, Nazir Baloch, Umer Tanveer Butt, Amin Chaudry, Chaudhary Iftikhar Gondal, Ghulam Rasool Sangha, Qasim Langah, Saeed Akbar Niwani and Salman Naeem.
Tareen was once considered a close friend of Prime Minister Imran Khan. However, the PTI's former secretary general was side-lined after an inquiry report about a sugar crisis accused him of benefiting from a steep hike in prices of the commodity in January 2020.
As the Federal Investigation Agency (FIA) intensified its probe into Tareen's alleged role in the sugar crisis, a number of PTI lawmakers started rallying around him with speculations about emergence of a possible forward bloc in the PTI.
According to reports, an iftar dinner organized last Wednesday for the like-minded lawmakers at Tareen's residence was cancelled at the eleventh hour after the Prime Minister's Office green-lighted a meeting between the premier and Tareen.
The sugar inquiry commission – led by the FIA – had accused sugar mill owners of earning illegal profits worth billions of rupees through unjustified price hikes, benami transactions, tax evasion, misuse of subsidy and purchasing sugarcane off the books.
The commission had also pointed out that the country's top politicians – including PML-N's Shehbaz Sharif, PTI's Jahangir Tareen and Khusro Bakhtiar, PML-Q's Moonis Elahi and PPP's Asif Ali Zardari – were also among the beneficiaries of the crisis.
It is widely believed that despite being out of the power corridors, Tareen still wields significant influence over a good number of MNAs and MPAs. Meanwhile, in the recent past, the group loyal to the PTI stalwart has been critical of the governance-style of Punjab Chief Minister Usman Buzdar.
Also read: FIA admits it wrongly accused Tareen of using fake account
In an apparent reference to Tareen, PM Imran while talking to reporters in Sargodha last week said he was ready to meet and listen to the grievances of party's lawmakers but added that sugar price was increased by Rs26 per kilogramme which robbed the nation of Rs130 billion.
Since it was the government's job to protect the interests of people, he said, the government conducted an inquiry which revealed that a cartel of sugar mills was fleecing the people and evading taxes.
Last week, PTI MNAs and MPAs, who accompanied Tareen to the banking court in show of support, had warned the premier, saying "if the things remained unchanged, if humiliation of Jahangir Tareen continues with the same pace, then we can take any extreme decision".
"We believe that Jahangir Tareen is being humiliated through such cowardly moves, nothing could be earned through such ways… this matter should be brought to its logical conclusion," demanded PTI lawmaker Raja Riaz.
"We are warning Prime Minister Imran Khan for the last time, if the things are not wrapped up then they may get out of control." Tareen, while addressing the press conference, had said he did not commit any wrongdoing and earned all money through legal means.