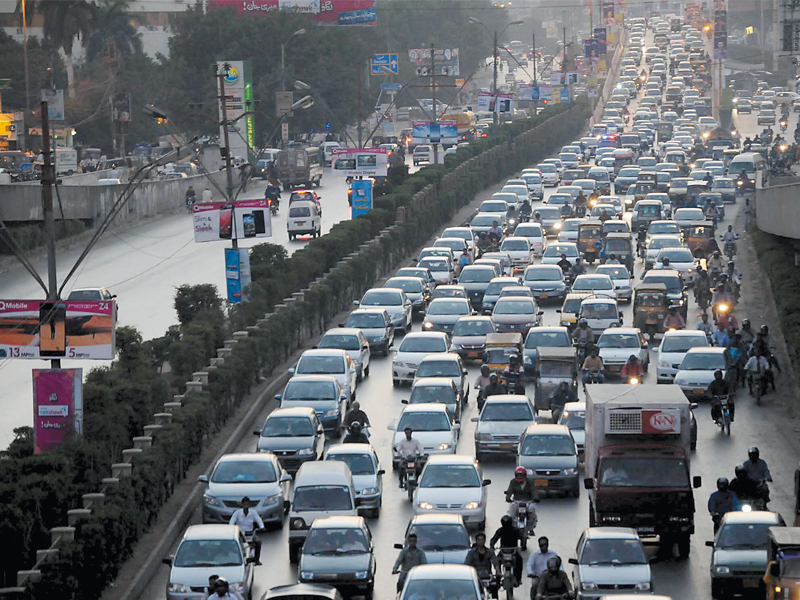 ---
RAWALPINDI:
A traffic survey of major roads of Rawalpindi has been completed. Vehicles moving on Murree Road and Airport Road were counted for 24 hours during the survey. The survey conducted after five years found a threefold increase in the number of vehicles.
Traffic Survey 2021 will identify various engineering problems on major roads and suggest the construction of underpasses at two locations on Murree Road and immediate commencement of construction on the Lee Expressway project.
A senior city traffic police officer, speaking on condition of anonymity, told The Express Tribune that the last survey conducted to count vehicles moving on major roads in Rawalpindi was in 2017. The latest survey is meant to address engineering problems in roads and make changes in the construction of new roads and infrastructure. However, recommendations made in the 2017 survey were not implemented. Various proposals were under consideration to deal with traffic problems and congestion, for which a new survey was deemed necessary. Experts from traffic police and other departments completed a survey of Murree Road and Airport Road.
According to a comparative review of the 2017 and 2021 surveys, traffic on the major roads of Rawalpindi has increased threefold. According to the 2017 survey, 75,000 vehicles used to pass through Ammar Chowk on Airport Road in 24 hours, while 300,000 vehicles pass through Ammar Chowk daily in 2021. Excessive increase in the number of vehicles has also increased traffic problems. According to the survey on Murree Road, 275,000 vehicles used to enter Murree Road from Mureer Chowk daily in 2017, while 2021 survey observed 600,000 vehicles enter Murree Road from Mureer Chowk in 24 hours.
The official said motorcycles, rickshaws, animal-driven carts and handcarts were not counted during the survey which was only monitoring vehicles movement.
The official sai no infrastructure was built on Murree Road from 2017 to 2021 and road engineering problems were not rectified due to which traffic jams have become a norm. Travelling on Murree Road is nothing short of a pain.
In the light of the survey, traffic authorities propose to construct underpasses at Mureer Chowk and Liaquat Bagh Chowk as soon as possible while the authorities have also proposed to start immediate construction of Leh Expressway.
Published in The Express Tribune, April 25th, 2021.
COMMENTS
Comments are moderated and generally will be posted if they are on-topic and not abusive.
For more information, please see our Comments FAQ