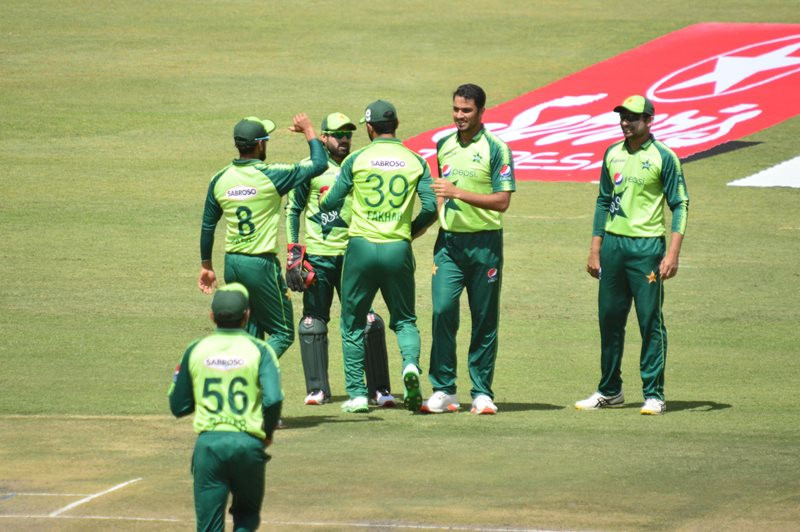 ---
KARACHI:
When Babar Azam tried to smash one ball over the cover boundary with a significant amount of runs needed to beat Zimbabwe in the second T20I, and considerably less balls remaining, every cricket fan in the country only had one thought in mind – what if this was a T20 World Cup match?
Pakistan were stunned in the second T20I on Friday by a lowly Zimbabwe, who before the series against the Men in Green weren't even sure about their final eleven.
The 19-run defeat, although very disappointing, has a lot of lessons in it and if looked at smartly, can help Pakistan iron out the flaws in their T20I cricket before they face all the big guns in this year's T20 extravaganza.
Mediocre middle-order
Twitter was right in declaring that 'Pakistan's tail started after the number four position' and the recent performances by them is a clear sign that they were not wrong.
Apart from the consistently firing and occasionally failing top-order, which consists of Babar Azam, Mohammad Rizwan, Fakhar Zaman, there is no other established and mature batsman in the batting line-up.
Some may make a case for Mohammad Hafeez to be included in the list, but his failure to bring the Pakistan Super League form into international cricket is a worrying sign for the country before the T20 World Cup.
Other than them, Pakistan gave chances to Danish Aziz, who has shown that he is just another domestic star who withers under pressure in the international arena.
Haider Ali has been the biggest star-turned-flop for Pakistan in the recent times and half of the blame for his failure rests on the shoulder of the management who haven't provided him with consistent chances on a set number.
Later in the batting line-up, Faheem Ashraf is considered to perform for Pakistan as an all-rounder but if one looks closely at his numbers in limited-overs cricket, especially in T20Is, he isn't the Ben Stokes that the Men in Green need.
The point here is not to criticise players for being unable to score runs when needed, instead they lack the cricketing brain needed to manoeuvre the situation according to its demands. This takes us to our next point.
Lack of power-hitting
Fakhar Zaman is undoubtedly the only cricketer in the current Pakistan line-up who can swing his bat with force and clear any boundary in any ground. He lacks the much-needed consistency, but has the guile to take the game away from the opposition on his day.
Take him out of the line-up and you are left with Ashraf, Aziz and Hafeez as the big-hitters for Pakistan. And if recent form and the second T20I against Zimbabwe is any proof, then we can safely say that Pakistan still haven't found their muscle-monster who can bludgeon bowling ups.
With the boundaries square of the wicket set at nearly 70-plus meters, Pakistan batsman were caught well-inside the boundary by Zimbabwe fielders, a clear indication that they can't hit over 60 meters if asked to smash six balls out of the park.
While it may be too late to find power-hitters and prepare them, Pakistan can make their batsmen do a crash course on the skill if they want to get anywhere near the T20 World Cup silverware this year.
Inability to use their brains under pressure
Be it batting or bowling, cricket is more a game of focus and control than sheer brute force.
One can bowl at 90mph but if the line and length are not right, the ball can easily race past the boundary. One can hit as hard as Shahid Afridi, but that doesn't ascertain that it will clear the ropes.
On Friday, Pakistan were firstly guilty of not going out with a plan to chase a paltry 119-run target. Truth is they rarely exhibit that skill of planning and execution, so it has become a redundant point to ponder over.
However, in the second T20I, what Pakistan majorly lacked was the ability to read the situation and use their brains instead of their muscles.
With a run-a-ball target to chase and big boundaries in sight, they could have merely ran their way to victory by converting singles into doubles and triples. Instead, they went for the impossible and tried to smash and thrash their way to victory.
All in all, Pakistan have a higher probability of bouncing back and winning the third T20I to bag the series against Zimbabwe. However, instead of feeling good about it, they should hit the training setup the very next day to rectify all the mistakes that they made against minnows Zimbabwe.
But if history is any indication of the future, they will celebrate and forget only to wait for every bad thing to happen again.