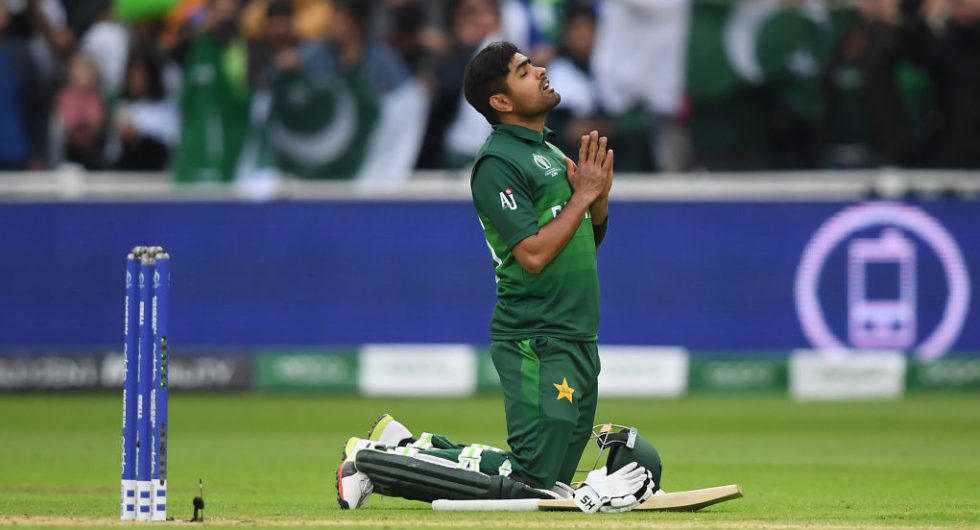 ---
KARACHI:
Pakistan have been considered cornered tigers for a good part of their cricketing history. Whenever they are pushed into adversity, they bloom and leave everyone astounded to say the least.
The silverware of the 1992 World Cup, winning the World T20 in 2009 and the latest endeavour where Pakistan was the lowest-ranked side in the 2017 Champions Trophy, but won the tournament after losing humbly to India in the opener are a testament to the fact that whenever you count them out, they will jump right in with a bang.
With such a cricketing culture in place, it is a surety that the cricketers produced by Pakistan would also have the same characteristic in their personalities.
They blossom when someone tries to smother them, they break their shells when they are considered weaklings and they thrive in the face of adversity and criticism.
Babar Azam on Wednesday scored an uncharacteristic but majestic century when Pakistan needed someone to do the near-impossible – chase a 200-plus target in T20Is, a feat the Men in Green have seldom pulled off.
Earlier, after the second T20I, Babar had been criticised by anyone and everyone for his slow, nearly run-a-ball fifty en route a 140-run total, which South Africa chased with ease.
Former Pakistan pacer Shoaib Akhtar asked what would India skipper Virat Kohli or West Indies swashbuckling batsman Chris Gayle do with fifty balls. His condescending tone and remarks were uncalled for, considering Babar has been the most consistent batsman for Pakistan in the past four to five years in all formats.
Nearly one and a half day later, Babar told, actually showed Akhtar, what Kohli and Gayle may not be able do with those 50 balls.
Babar hit 15 fours and mere four sixes to score 122 off just 59 balls in over an hour of batting to break South African second-string bowling side's confidence, and give Akhtar an apt reply.
While Rizwan's unbeaten 73-run contribution should not be ignored, Babar can be accredited for creating the mood with skilful stroke-making and pin-point shots between gaps for the successful chase of a 204-run target. At no point during his innings he had to resort to rash hitting, but instead relied on his 'strengths' of playing balls on their merit and scoring more boundaries than maximums to take Pakistan home safely.
Now the premise that Pakistan team and Pakistan players only come to the party when there is a challenge involved holds true for the majority, but Babar is that one unusual rarity that occurs in the Pakistan cricket cosmos in nearly a million years -- to be honest, it never happened before.
Babar, like other Pakistani cricketers loves to reply to criticisers with exceptional performances, but more importantly he knows that one is not supposed to become complacent when there is no calling.
He would treat South Africa Kagiso Rabada and Zimbabwe's Blessing Muzarabani with the same respect and would play every match and every innings like a World Cup final. This mere characteristic has enabled him to perform better than any other batsman you have ever seen bat at the age of 26 for Pakistan.
With the T20 World Cup fast approaching this year, for the first time in their recent history, Pakistan will be looking towards a batsman rather than a bowler or an all-rounder to help them lift the trophy. He showed on Wednesday that he can do it single-handedly, imagine what he would be able to pull off with a little support from the other 10 guys.
People are praying for Babar to continue this hot run of form with the bat till the T20 World Cup, while the right thing to hope for would be that he continues to stay away from the pits of complacency. High praise or at times weaker oppositions can do that to you, but Babar has proven that he is above it, let's hope he stays there.