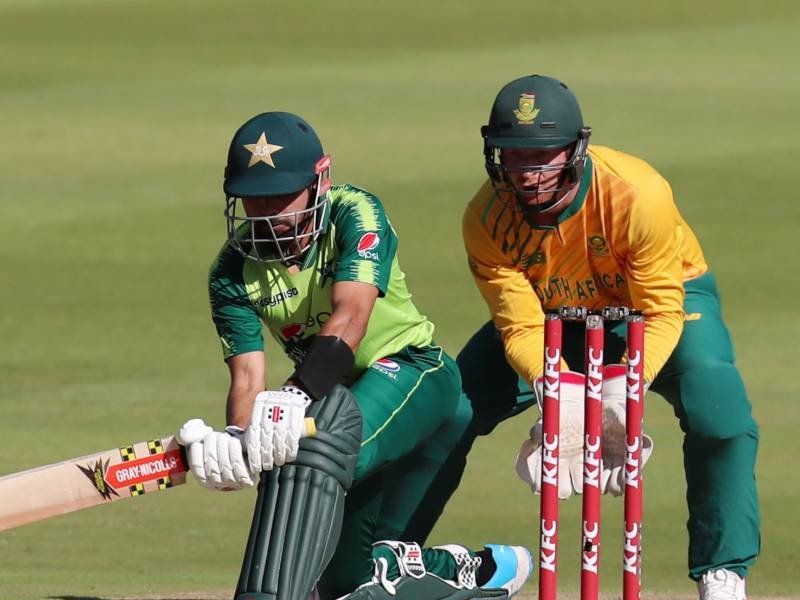 ---
KARACHI:
Pakistan have played some of their best cricket during their ongoing tour of South Africa, where they won the three-match ODI series 2-1 and then went on to start the four-match T20I series with a win.
However, in the second match of the series, they looked out of ideas against a second-string South Africa bowling side, which lacked the likes of Ngidi, Rabada and Nortje.
With such a weakened bowling attack causing problems for a first-choice Pakistan side, it has become quite clear that the Babar Azam-led unit is still not strong enough to beat anyone and everyone when the T20 World Cup starts at the latter end of 2021.
Inconsistency and lack of temperament is the word here as five batsmen were caught while attempting to hit the ball out of the park.
Here are the three talking points from the second T20I between Pakistan and South Africa.
Useless criticism on Babar
Social media was angry over Babar for scoring a run-a-ball fifty when the team needed a big innings from the captain.
However, Babar's innings could be categorised more as a sensible knock rather than a lazy one. If he hadn't contributed those carefully scored 50 runs, then the Pakistani bowlers wouldn't have gotten any fighting chance to save the second T20I.
Although Babar needs to improve his power-hitting at the latter end of the innings in both T20Is and ODIs, there is still no doubt that he is the most consistent batsman in Pakistan's line-up. Instead of uselessly criticising him for not scoring a six on every ball, we should be thankful that after so many years, we finally have a batsman as consistent as him.
How to ruin a batsman's career
Haider Ali is turning into a classic case of exceptional promise but zero delivery. The kid came into limelight courtesy some great hitting and, on occasions, classy stroke play, however Pakistan did what they do best with any budding talent – ruined his career.
Haider may have made his name using big shots, but if Pakistan wanted to make a star, the next Babar as some say, out of him, they shouldn't have restricted him to one format only. Haider should be allowed to improve his temperament, his innings building strategy and his conversion of fifties into hundreds through ODI and Test experience.
Right now it clearly seems that he is told to go out and hit every ball out of the park rather than develop an innings for Pakistan. Such threatening roles for upcoming players ruin their career more often than not.
Haider is on that same path of destruction. Someone needs to stop him, calm him down and help him learn the art of constructing a well-paced innings, even if he's playing a T20 match.
Can Pakistan trust their batting?
The first point in everyone's mind when we talk about Pakistan cricket team's weakness is batting. Even though Pakistan's fielding sometimes makes their batting look better, but the perennial dilemma for the Men in Green has always been whether their willow wielders will deliver when needed.
With the T20 World Cup nearly here and with another one to follow in 2022, Pakistan will be licking their lips at the sight of the trophy. Fakhar Zaman's recent form, Muhammad Hafeez's renewed aggression with the bat, Babar's consistent runs, Muhammad Rizwan scoring heavilyt at the opening spot means Pakistan now have multiple match-winners in their line-up, focus on batting match-winners.
However, the second T20I against South Africa was a sign that the batting heroes still haven't found consistency in their performances. They now have more good days, but still the number of bad days is significant.
The next two T20Is will help us understand where Pakistan stand in regards to the upcoming T20 World Cup. Let's hope and pray we go into the tournament with confidence in our batting, rather than on the back foot.