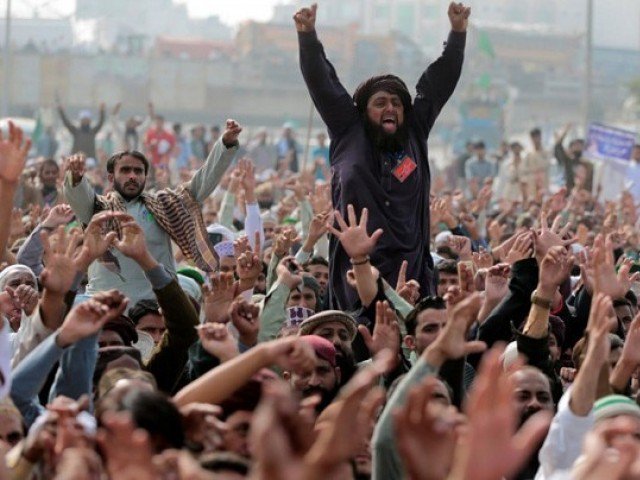 ---
The chief of the now proscribed Tehreek-e-Labbaik Pakistan, Saad Rizvi, was reportedly released from custody on Tuesday.
A party spokesperson has confirmed the release if Rizvi. However, the government has not yet confirmed the development.
Earlier today, Interior Minister Sheikh Rashid announced that after a successful round of negotiations, the TLP has agreed to end its protest across the country after the government agreed to table a resolution regarding the expulsion of the French ambassador in the National Assembly today.
"After detailed discussions with TLP it has been agreed that the government will table the resolution in the National Assembly today," said the interior minister in a video message.
Read: Govt to move SC for TLP dissolution
Rashid further said that according to the agreement, TLP will end its protests across the country including at Jamia Masjid Rehmatul-lil-Alamin.
"Cases registered against TLP supporters under the fourth schedule will also be dismissed and further rounds of talks will take place," the minister had added.
Earlier, it was reported that the deadlock between the government and the ultra right-wing TLP continued as the party demanded the resignation of the interior minister, the expulsion of the French ambassador to Pakistan, and the immediate release of party chief Syed Saad Hussain Rizvi as well as the workers.
During the third round of talks between the banned party's senior leaders and the government delegation late Monday night, deliberations once again halted as the government had refused to accept their demand of the interior minister's resignation and expulsion of the French ambassador.
Interior Minister Sheikh Rashid, Minister for Religious Affairs Noorul Haq Qadri, Punjab Governor Chaudhry Sarwar, Punjab Law Minister Raja Basharat and senior officials of the law enforcement agencies (LEAs) participated in the negotiations with the proscribed party's leaders.
TLP, yesterday, released all abducted officials of law enforcement agencies (LEA) following two rounds of talks among central leadership of the banned outfit and the government party.
The party had staged violent protests for three straight days across the country over the arrest of their leader.
Armed with sticks, canes and in some instances guns, they went on a rampage, causing loss of life and damaging properties worth millions of rupees.