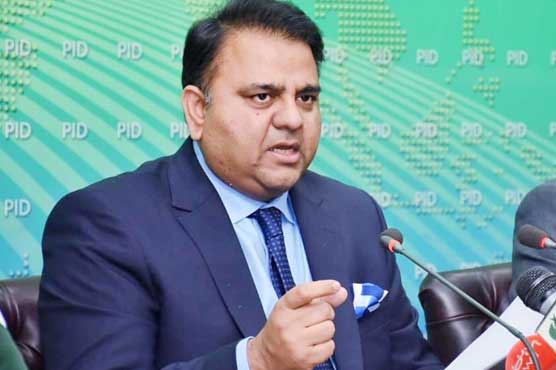 ---
Information Minister Fawad Chaudhry on Monday said the second round of talks between the government team and the banned Tehreek-e-Labbaik Pakistan (TLP) had concluded.
Punjab Governor Chaudhry Sarwar and Law Minister Raja Basharat represented the government, he said in a tweet.
The minister said the third round of talks with the proscribed organisation would begin at 10pm (today), which will be attended by Federal Minister for Religious Affairs Noorul Haq Qadri and Interior Minister Sheikh Rashid Ahmed.
کالعدم تحریک لبیک اور حکومت پنجاب کے درمیان مذاکرات کا دوسرا راؤنڈ کچھ دیر پہلے اختتام پذیر ہوا، گورنر پنجاب چوہدری سرور اور وزیر قانون راجہ بشارت نے حکومت کی نمائندگی کی تیسرا راؤنڈ رات کو دس بجے ہو گا جس میں وزیر داخلہ شیخ رشید اور وزیر مذھبی امور نور الحق قادری شریک ہوں گے،

— Ch Fawad Hussain (@fawadchaudhry) April 19, 2021
Meanwhile Prime Minister Imran Khan has revealed that "external forces" tried to exploit violent Tehreek-e-Labbaik Pakistan (TLP) protests by spreading fake news on social media platforms.
"We have reviewed 400,000 tweets, 70% of which came from fake accounts," he said while addressing the nation earlier today.
The premier added that 380 Indian contacts were also detected in several WhatsApp groups spreading fake news regarding the law and order in the country.
"Don't play into the hands of our enemies," he said while conveying message to the recently banned outfit.
Also read: 70% tweets on TLP issue came from fake accounts, reveals PM
Moreover, traders across the country have decided to keep markets shut after Mufti Muneebur Rehman, the former chairman of Ruet-e-Hilal Committee, late Sunday called for a nationwide strike after police action in Lahore against TLP workers.
He also asked political parties to support his call.
JUI-F chief Maulana Fazlur Rehman and JI Chief Sirajul Haq later backed the call and asked their supporters to conduct a peaceful protest.
Late Sunday, Rashid announced that after a successful round of negotiation with TLP, the proscribed outfit had released 11 policemen taken hostage from Lahore a day earlier.
"First round of negotiations have been successful which have led to TLP releasing the policemen it had held hostage. The second round of negotiations will begin after sehri," the federal minister had said in a video message.
A deputy superintendent of police along with 10 other policemen was apparently taken hostage and tortured by workers of TLP in Lahore on Sunday.
According to the Punjab Police, the incident happened after workers belonging to the TLP attacked the Nawankot police station early in the morning.
Rashid further said that the negotiations were successfully carried out by the Punjab government and expressed hope that matters would be resolved in the second round of talks.
TLP ban
On Thursday, the government had decided to approach the apex court seeking the dissolution of the TLP after the federal cabinet outlawed the group under the country's anti-terrorism law.
The cabinet's approval of a summary to ban the TLP came in the wake of thousands of its activists and supporters staging violent protests for three straight days across the country over the arrest of their leader.