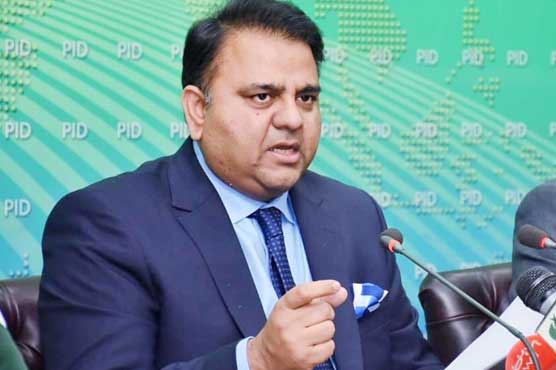 ---
Hours after Tehreek-e-Labbaik Pakistan (TLP) workers tortured and abducted a deputy superintendent of police in Lahore, Minister for Information and Broadcasting Fawad Chaudhry on Sunday said that the government believed in negotiations but it cannot be blackmailed.
Fawad, in a statement, said that the operation was conducted in Lahore after police and Rangers personnel were abducted at gunpoint.
The minister said the state will never be blackmailed by banned armed groups, Radio Pakistan reported.
He further said that Prime Minister Imran Khan raised his voice on every forum for the respect and sanctity of the Holy Prophet (PBUH).
Read more: Court sends 28 accused of rioting on judicial remand
The statement comes at a time when a deputy superintendent of police was apparently taken hostage and tortured by workers of the proscribed TLP in Lahore.
According to the Punjab Police, the incident happened after workers belonging to the TLP attacked the Nawankot police station early in the morning.
In a short video doing the rounds, the Nawankot police station DSP, who identified himself as Mohammad Umer Farooq, can be seen appealing to the government to resolve the matter through dialogue.
"Three people to my right have so far been martyred whereas scores are injured," he said before he requested the government to try and resolve the situation amicably. "We are all Muslims, and our common enemy is France who committed blasphemy," the DSP says in the video.
The Punjab Police confirmed the DSP's kidnapping in a statement put out on its official Twitter account.
TLP ban
The government on Thursday, April 15, decided to approach the apex court seeking the dissolution of the TLP after the federal cabinet outlawed the group under the country's anti-terrorism law.
The cabinet's approval of a summary to ban the TLP came in the wake of thousands of its activists and supporters staging violent protests for three straight days across the country over the arrest of their leader.
Armed with sticks, canes and in some instances guns, they went on a rampage, causing loss of life and damaging properties worth millions of rupees.
Read more Opposition calls for probe into origins of TLP
After imposing the ban, the government also decided to circulate another summary among members of the federal cabinet for the dissolution of TLP on April 16, saying the matter would then be taken to the Supreme Court.
"We tried our best to solve the issues [with TLP] through negotiations but they had extremely dangerous intentions and weren't agreeing to go back on their agenda for April 20 [march]," Interior Minister Sheikh Rashid, accompanied by Religious Affairs and Interfaith Harmony Minister Noorul Haq Qadri, explained at a news conference in the federal capital.