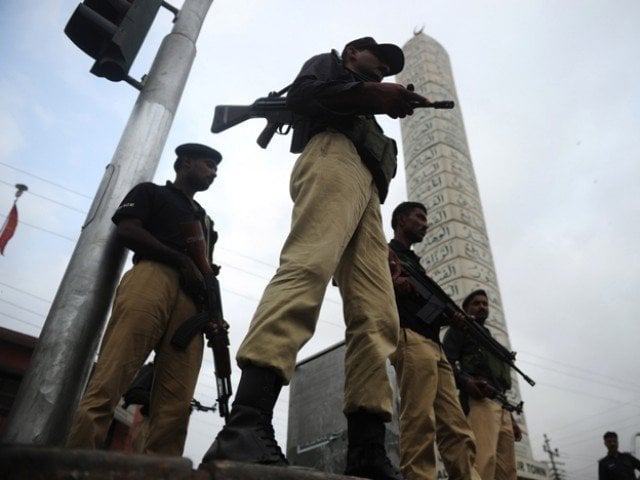 ---
ATTOCK/ ISLAMABAD:
Police along with other law enforcement agencies rounded up more than 60 members of a banned outfit during a crackdown launched in the district, said a police spokesman on Saturday.
Attock District Police Officer (DPO) Syed Khalid Hamdani said police were fully prepared to maintain a peaceful environment in the district. He said no one will be allowed to create anarchy and challenge the writ of the state.
The official added that all efforts were being made to ensure the safety of the people and maintain law and order.
Later in the day, he along with other police officers paid visits to various parts of the district to review security arrangements and deployment of the cops.
Two held for motorcycle theft
The Karachi Company police held two suspects for motorcycle theft in Islamabad.
The police said five stolen motorcycles worth hundreds of thousands of rupees were found in their possession.
A police spokesman said that Senior Superintendent of Police (SSP) (Operations) Dr Syed Mustafa Tanveer had assigned a task to all Zonal Superintendents of Police (SPs) to accelerate efforts against suspects involved in motor vehicle theft.
Following the directions, SP (Saddar Zone) Capt (retd) Hamza Hamayun had constituted a special team under the supervision of Deputy Superintendent of Police (DSP) Malik Abid Ikram, including Karachi company Station House Officer (SHO) Sub-Inspector Bilal Ahmed and Sub-Inspector Imran Haider.
The team apprehended two men identified as Shahzad and Imran Akmal. During a preliminary investigation, the police claimed that the suspects had admitted to stealing motorcycles from various areas of Islamabad.
Further investigation was underway, the police spokesman added.
Published in The Express Tribune, April 18th, 2021.