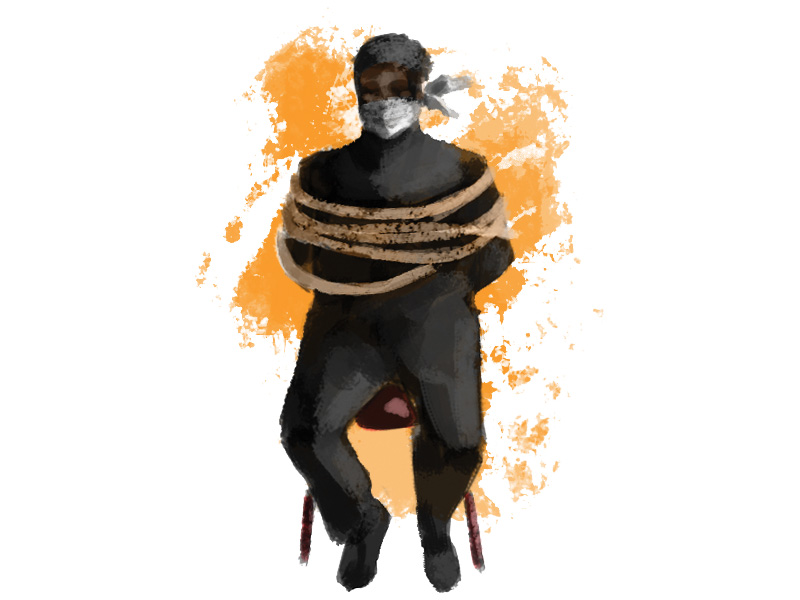 ---
DIJKOT:
A young man was tortured after abduction over resentment after he tried to stop nine people from harassing girls in Factory Area on Friday.
Police arrested three suspects including Fahad Riaz, Usman Ali and Hasnain, who shaved off the victim's head and obtained their remand from Civil Judge Fayyaz Al Hassan's court.
According to the police report, nine people kidnapped the youth and tortured him when he forbade them from harassing girls on Rehmania Road. They also made a video of him after shaving his head and made it viral on social media.
Police deployed at Ayub Research Centre check post arrested the three men and started searching for the remaining suspects. Shahida Parveen, a widow and resident of Ayub Colony in Factory Area lodged the complaint.
She stated, "The suspects Fahad Riaz, Usman, Sulaiman, Hasnain, Saeem and Bilal were intoxicated and harassing the girls on Rafiqabad Rahmania Road when my son Wasif, a matric student who was sitting nearby, forbade them."
She added that the suspects developed a grudge against him. They threatened him first and later abducted him from Rehmania Road when he was on his way home from work.
They tortured him, shaved his head and shared a video of the incident on social media.
After the video went viral, Factory Area police registered a case against the suspects under different sections of PPC including 148 (Rioting, armed with deadly weapon), 149 (Every member of unlawful assembly guilty of offence committed in prosecution of common object) and 337-V which says, "Whoever uproots all the hair of the head, beard, moustaches eyebrow, eyelashes or any other part of the body shall be liable to arsh equal to diyat and may also be punished with imprisonment of either description for a term which may extend to three years."
The police check post in-charge Rana Rizwan Javed raided various places to arrest the suspects, arrested Fahad Riaz, Usman Ali and Hasnain and started searching for Suleiman, Saeem and Faizan alias Bhai.
In an earlier incident, nine people are booked for abducting and torturing two people in Khurrianwala. The victims were allegedly kidnapped for not paying extortion money. Gulberg police have registered two cases against nine suspects, including an alleged drug dealer who brutally tortured the two victims, including a motorcycle mechanic.
According to the police report, a driver Rana Fayyaz, a resident of Liaquatabad No. 2, stated in his complaint registered at Gulberg Police Station that his son Samiun Shehzad works as a salesman in a motorcycle workshop, from whom the suspects demanded extortion.
Fayyaz said,"When he refused, the drug dealer Falak Sher alias Sherry, Shahid alias Shadon, Owais Ali, Zubair, Ramzan Gujjar and Ashraf, Sifat Bajwa and others came on motorcycles at 9pm on April 13 and kidnapped him."
He added that they took the victim to a house near Agricultural University Firdous Colony, stripped him and tortured him, due to which he was severely injured. The complainant said the suspects made nude videos of his son, which was made viral on social media, and humiliated him. They called his home from his mobile phone and demanding Rs800,000 for his release.
Published in The Express Tribune, April 18th, 2021.