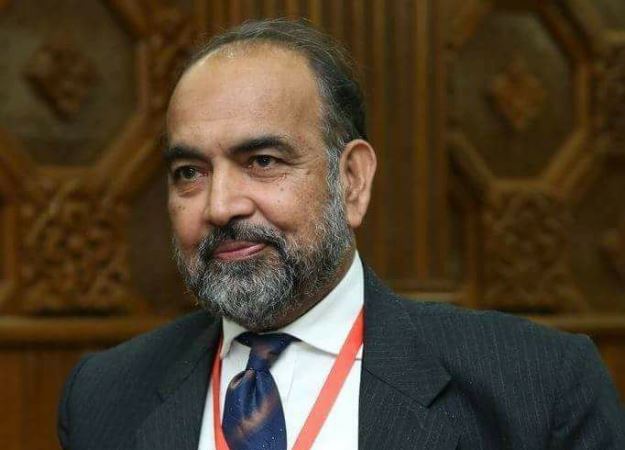 ---
ISLAMABAD:
With the nomination of 11 new members on Friday, the Council of Islamic Ideology (CII) reached its maximum strength, paving the way for Dr Qibla Ayaz, one of those appointed, to be its chairman.
President Dr Arif Alvi approved the reappointment of Dr Ayaz as chairman of the Council of Islamic Ideology (CII).
Ayaz had served as the chairman of the CII from 2017 till 2020. The president approved the appointments on 12 vacant seats of the CII under Article 228 of the Constitution, according to a press release issued by the President House.
The president also appointed Dr Umair Mahmood Siddiqui of Karachi University, Pir Abul Hassan Muhammad Shah of Bhera Sharif, Hassan Haseebur Rehman, Maulana Hameedul Haq Haqqani as members of the Council.
Other Council members appointed by the president included Allama Muhammad Hussain Akbar, Syed Ziaullah Shah Bukhari, Pirzada Junaid Amin, Hafiz Tahir Mahmood Ashrafi, Mufti Muhamamd Zubair, Syed Habib Irfani and Maulana Nasim Ali Shah.
The Council of Islamic Ideology is a constitutional body that advises the legislature whether or not a certain law is repugnant to Islam, namely to the Qur'an and Sunna.
Dr Qibla has held several important positions in the University of Peshawar, including the Dean of Faculty of Islamic and Oriental Studies.
He has been lauded for bridging the gap between religious scholars and modern researchers.
As per the law, the CII should have a minimum of eight and maximum of 20 members, including its chairman.
The basic criterion for the appointment of CII members is that they should represent various schools of thought, having knowledge of the principles and philosophy of Islam as enunciated in the Holy Quran and Sunnah or having an understanding of the economic, political, legal or administrative problems of Pakistan.
It is considered that at least two of the members of the council have to be sitting or retired judges of the Supreme Court or high court and one member should be a woman, while at least four members should be scholars who have remained engaged in Islamic research or instruction for at least 15 years.
With additional input from News Desk APP
COMMENTS
Comments are moderated and generally will be posted if they are on-topic and not abusive.
For more information, please see our Comments FAQ