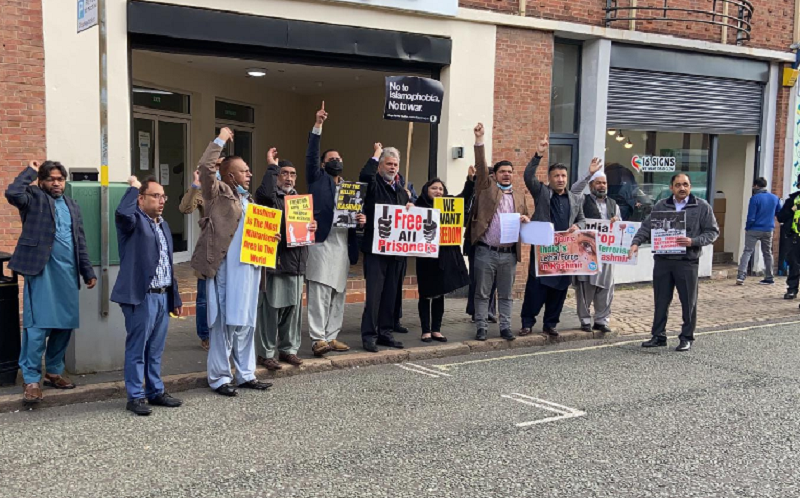 ---
BIRMINGHAM:
The Tehreek -e-Kashmir (TeK) UK chapter on Friday staged a protest demonstration in front of Consulate General of India in Birmingham against the rising human rights violations in Indian Illegally Occupied Jammu and Kashmir (IIOJK).
TeK President UK Raja Fahim Kayani led the anti-India protest.
While addressing the protesters, Kayani said that last week at least seven Kashmiris were martyred by the Indian army in IIOJK.
"These killings have become a regular occurrence and those responsible are never brought to justice. Since IIOJK was stripped of its statehood in 2019 the situation has worsened for the Kashmiris enduring the occupation," he added.
The Kashmiri leader demanded that Indian Prime Minister Narendra Modi's invitation to the G-7 meeting should be cancelled. "If the visit goes ahead we will be part of the contingent that will be protesting against the Modi's visit," he added.
"Modi's attendance at the G-7 group of countries will give him an international profile that he does not deserve and would make Britain complicit in his crimes against humanity. It must be noted that while he was chief minister of [Indian] Gujrat, he was refused entry to the US because of his involvement in the 2002 riots that left over a thousand dead," he said.
Kayani said the Modi government is responsible for the suppression of Kashmiri's right to self-determination.
In August 2019 amid a harsh crackdown, the Modi-led government stripped IIOJK of its statehood and scrapped its semi-autonomous status.
Kayani said Britain has a special responsibility as the colonial power to play its role to help the Kashmiris achieve their right to self-determination.
While Modi denies Kashmiri people their right to self-determination his presence in Britain during the meeting of G-7 countries must be opposed, he emphasised.
The other speakers present at the demonstration also condemned the human rights violations in IIOJK and demanded to implement of UN resolutions on Kashmir to make South Asia peaceful.
COMMENTS
Comments are moderated and generally will be posted if they are on-topic and not abusive.
For more information, please see our Comments FAQ