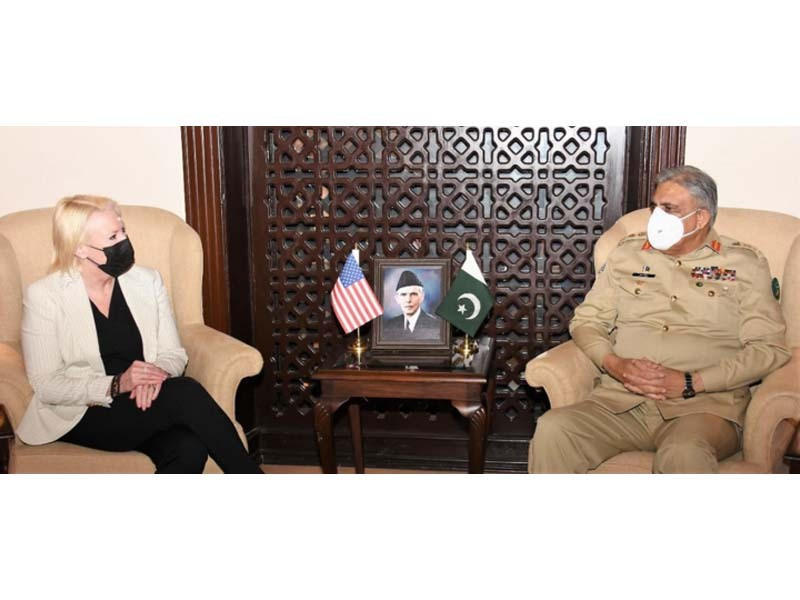 ---
Chief of Army Staff (COAS) General Qamar Javed Bajwa has welcomed US President Joe Biden's announcement of troop withdrawal from Afghanistan by September this year.
The statement comes after Angela Ageler, US Charge d' Affairs to Pakistan, called on General Qamar, a statement issued by the Inter-Services Public Relations (ISPR) said on Thursday.
During the meeting, matters of mutual interest and overall regional security situation including recent developments in Afghan peace process were discussed in detail, it added.
"The COAS welcomed President Biden's announcement of withdrawal of US forces from Afghanistan by September 2021," the ISPR handout read.
He further reiterated that a prosperous, stable and peaceful Afghanistan is in the best interest of Pakistan in particular and region in general.
Also read: 'Pakistan to extend all possible support for durable peace in Afghanistan', Imran tells Erdogan
The military's media wing said Gen Qamar also expressed hope for greater Pak-US bilateral cooperation in all domains in future.
The visiting dignitary appreciated Pakistan's sincere efforts for bringing peace and stability in the region, specially the Afghan reconciliation and also assured of US continued assistance for the common cause of peace in Afghanistan.
Earlier in the day, the Foreign Office called for progress in the peace process before all foreign forces leave Afghanistan in a first formal reaction to President Biden's announcement to end the longest foreign war in American history.
While the Biden administration said troops withdrawal cannot be conditioned based any more, Islamabad believes that drawdown has to be accompanied by progress in the peace process.
This means that Pakistan in so many words want the foreign forces to stay on till some tangible progress is made in the peace efforts.
"In our view, it is important that the withdrawal of foreign troops from Afghanistan coincides with the progress in the peace process," the FO said in a formal reaction to the Biden's decision to complete the troop withdrawal by September 11.
COMMENTS
Comments are moderated and generally will be posted if they are on-topic and not abusive.
For more information, please see our Comments FAQ