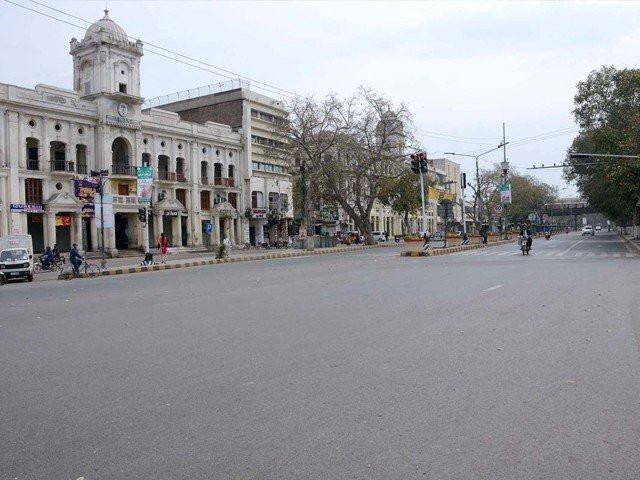 ---
ISLAMABAD:
In line with rising Covid-19 infections and the start of the month of Ramazan, the National Command and Operation Centre (NCOC) decided to broaden Covid-19 restrictions across Pakistan and ensure strict regulation of SOPs.
The decisions taken at a special session of the meeting held on Tuesday (April 13) were to come into effect today (April 14). The session was headed by Federal Minister for Planning, Development, Reforms and Special Initiatives Asad Umar.
As per the decision taken at the meeting, no mobility would be allowed except in cases of emergencies.
Moreover, businesses will remain shut on Saturday and Sunday at the national level, whereas market timings would be from Sehr till 6pm.
According to the NCOC, all kinds of gatherings (indoor and outdoor) are banned, including social, cultural, political, sports and miscellaneous events.
"Indoor dining will remain closed. Outdoor dining will be allowed from Iftar till midnight i.e 11:59 pm with strict Covid SOPs. Takeaways will be allowed. Provincial / district administration to focus on strict implementation," the NCOC said.
Read more Pakistan to make single-dose Covid vaccine
The forum further added that Taraweeh prayers will be organised in open spaces as far as possible. The civil administration at every tier was encouraged to engage with religious clerics and community leaders for assistance in the enforcement of Covid SOPs during Ramazan, the NCOC added.
Complete closure of cinemas and shrines will continue to be enforced, whereas a complete ban on contact sports, festivals, cultural and other events as well as of amusement parks will be observed. However, walking, jogging tracks will remain open with strict adherence to Covid SOPs.
"It was decided at the meeting that the working hours of all private and public banks across the country would be from 10 am to 4 pm on Monday to Thursday, while the banks would be open from 10 am to 1 pm on Friday. In addition, all private and government offices will have a 50% work-from-home policy," the NCOC added.
Regarding inter-city public transport, it was decided that it would operate at 50 per cent capacity, whereas, its ban for two days (Saturday and Sunday) would continue to be enforced till midnight April 25 /26 April. The restriction will be reviewed on April 20.
The forum also discussed stringent measures for tourist spots in Gilgit-Baltistan, Khyber-Pakhtunkhwa and Azad Jammu and Kashmir as well as tourist places elsewhere. Testing sites at entry points and selected locations were also decided to be established.
Other protocols decided by the NCOC included railways to operate at 70% capacity, whereas additional trains will be run during Ramazan to avoid overcrowding/manage increased passenger load.
The NCOC also decided strict administrative measures to be taken at the community level with respect to masks. Media's participating was also sought for running awareness campaigns as well as highlighting punitive actions.
The NCOC is to review the implementation of SOPs on Ramazan 10 (April 23).