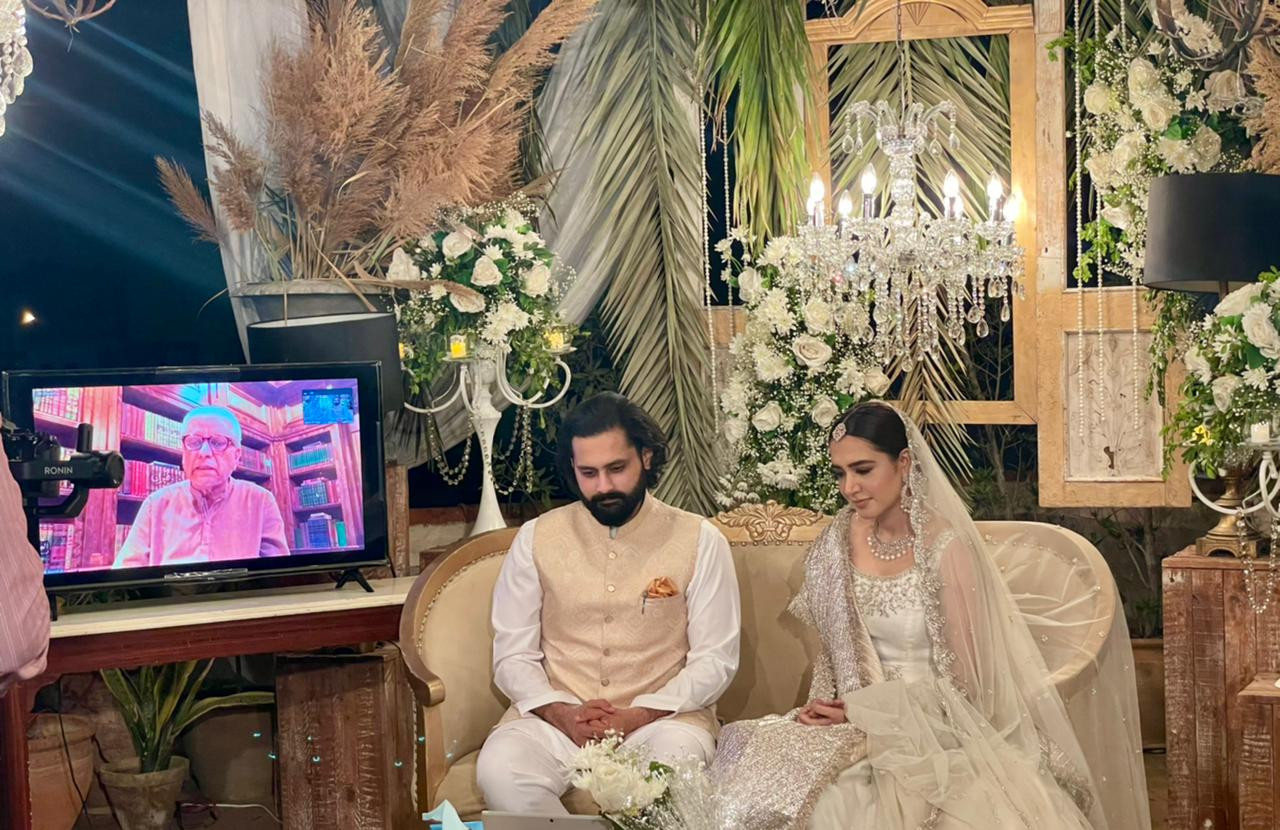 ---
Congratulations are in order for Mansha Pasha and Jibran Nasir who tied the knot in an intimate ceremony on Saturday. The couple, who announced the engagement in 2019, got married in a small nikkah ceremony among their loved ones.
The private affair took place in Karachi. Mansha looked gorgeous in a stunning Zuriador ivory and gold ensemble while Jibran looked suave in a colour coordinated outfit. An insider tells The Express Tribune that the couple's nikah was done in the presence of immediate family.
The Laal Kabootar star shared pictures of the event on Instagram.
A small gathering was held where Ghamidi Saheb via zoom was able to do the couple this honour. "Jibran and Mansha hope to celebrate with their extended family members and with their friends and colleagues in a bigger event, post-covid," a source confirmed. "For now, the couple would ask for your duas and well wishes."
The couple has always been very vocal about supporting one another. Earlier, in an interview with Iffat Omar, Mansha shared how the couple fell in love.
"It just happened. We were good friends and after some time we developed an understanding. Both of us were into it, so it happened," Mansha had put it simply. Talking about what specific traits of the social activist pulled the actor towards Jibran, she revealed that while there are many, one, in particular, triumphed all. " He (Nasir) doesn't make false promises. This is very important to me. By the grace of God, whatever he has promised me as of yet he has fulfilled it," the star exclaimed.
Additionally, Jibran has also been very much supportive of her career, to the point that at times he would want Mansha to take every challenge.
"He's very supportive, Alhamdulilah. In fact, we are always discussing prospective projects for me. A lot of times he wants me to take up everything. I eventually have to stop him," she chuckled. "All in all he is very supportive. He enjoys it. The stuff he is unable to see, he ends up listening about it from me."
Have something to add to the story? Share it in the comments below.