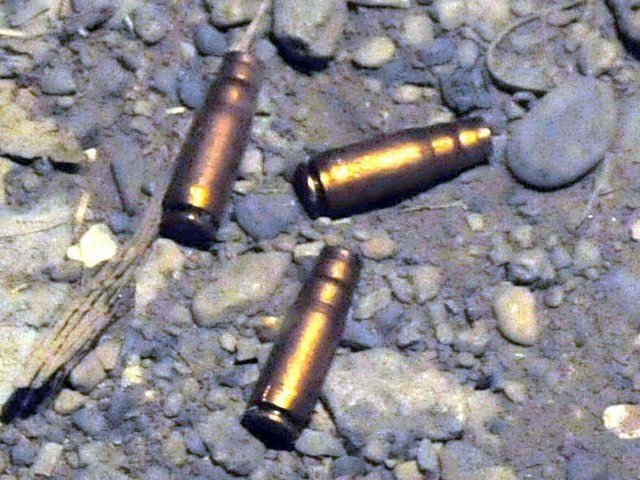 ---
HYDERABAD:
Coming about as a horrific and grisly reflection of tribal vendettas prevailing in rural Sindh, eight persons of two tribes were killed in two neighbouring districts in Larkana division on Saturday.
In the first savage assault, two men, a woman and three children of the same family, belonging to Katohar tribe, were killed, allegedly, by person from Jalbani tribe.
The incident occurred in Kalu Katohar village in Garhi Khairo, Jacobabad district.
The slain persons of Katohar tribe have been identified as 55-years-old Muhammad Bachal, his 30-year-old son Ghulam Sarwar, 29-year-old daughter-in-law Morzadi and Sarwar and Morzadi's children, six-year-old Shahzeb, three-year-old Raja and one-year-old Abdul Jabbar. The bodies were shifted to the taluka hospital for post-mortem.
Only one boy belonging to the family survived the attack while all other family members were killed in the indiscriminate armed assault at their residence.
The boy has been kept in the police custody.
The attackers easily escaped after the incident.
The Jacobabad SSP could not be contacted for comments on the matter.
The police reached the crime scene reportedly several hours later and no FIR was registered for the killings till the filing of this report.
The second attack took place in retaliation in Noor Muhammad Jalbani village of Qambar-Shahdadkot district.
Two men of Jalbani tribe were killed in the attack, while a woman sustained minor injuries.
The assailants were allegedly from the Katohar community.
In the vengeful attack, Muhammad Bux Jalbani and Mumtaz Jalbani and their three livestock were killed.
The bodies were shifted to taluka hospital, Shahdadkot for post-mortem.
The incident's FIR had not been registered till the filing of this report.
The two villages remained tense after the killings, with both sides taking up arms to prevent any renewed assault. The police have also been deployed in both the villages.
As many as 16 persons have been killed in clashed between the two tribes thus far. The deceased include eight persons from Katohar tribe, six from Jalbani tribe, one from Umrani tribe and a passerby.
Published in The Express Tribune, April 11th, 2021.
COMMENTS
Comments are moderated and generally will be posted if they are on-topic and not abusive.
For more information, please see our Comments FAQ