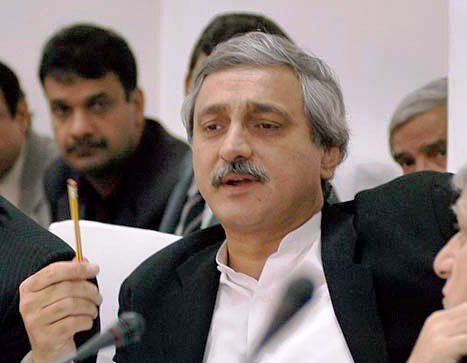 ---
LAHORE:
Pakistan Tehreek-e-Insaf (PTI) leader Jahangir Tareen said on Wednesday that those who attempt to humiliate others will soon be unveiled.
"Those people who plot designs to humiliate others [will] be unmasked so that everyone would know about them", Tareen said.
He was talking to media persons outside the banking court's premises where he and his son Ali Tareen appeared to attend proceedings on their pre-arrest bails in three different FIRs registered against them by Federal Investigation Agency (FIA).
Also read Jahangir Tareen spurns Shehla Raza's claim he may join PPP
The court adjourned the hearing till April 10 for further arguments in the case. The next date was fixed as the banking court judge was unavailable during the hearing.
The duo is facing allegations of fraudulently misappropriating shareholders' money and involvement in money laundering.
"PTI's top leadership should take this initiative now to unmask such elements," he added.
"Is your case so week that you had to use media for conducting my trial," he asked.
"It is regrettable that we are here seeking justice from Tehreek-e-Insaf," he remarked.
Also read Tareen, son granted bail in three FIA cases
Earlier, Tareen approached the court along with provincial ministers and MPAs of PTI, who pledged to support him.
Raja Raiz, provincial minister Numan Langrial, Lala Muhammad, MPA Tahir Randhawa and several others PTI lawmakers were present on the occasion.
Talking to media person, Raja Riaz advised Prime Minister Imran Khan to "not lose a friend like Tareen as he had a role in forming the government.
Referring to the recently acquired vote of confidence, Riaz said it were the efforts of Tareen that made it possible. The lawmakers also said that some people within the ranks of PTI were damaging the party.