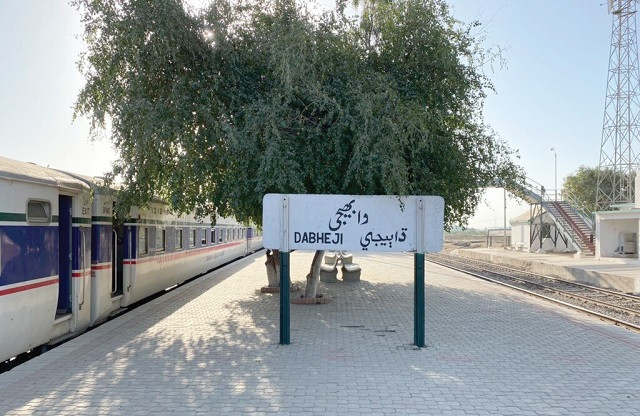 ---
KARACHI:
It was Friday night when Zahrah, a 24-year old Karachi-based filmmaker, realised that she was missing a pen drive with all her footage from a trip to Makli. It was just a couple of specific drone shots that would have taken her a grand total of few minutes to reshoot. However, the shortest journey to Thatta meant booking a car, covering some 93 kilometre on the road and paying thousands in fare to a private cab driver, if one even agreed to take her on such short notice.
"I was fretting thinking of ways to get myself the cheapest ride. I'd even asked my friend if they'd want to come along and make this a road trip. It'd be much safer than travelling alone and I'd get to split the fare too, I thought," said the filmmaker.
"My very visible state of dejection had luckily caught the eye of my auntie, who'd recently taken her children to Makli. She told me of a local train that runs daily from Karachi's Cantt Station to Dhabeji Station in district Thatta, and costs a nominal sum of rupees thirty. I'd never been on a local train before, so I was a bit iffy about how the experience but then again, what other options did I have?," she added.
Read: 'Safari Train to promote tourism'
According to the itinerary Zahrah's auntie had given her, she was to catch a train called Dhabeji Express from platform number two, bright and early at 7:00 AM from Cantt Station. It would then zip her through multiple stops in the city, before pulling the chain at Dhabeji Station, from where it's some 40-minutes by car to Makli. The next train from Dhabeji, which runs at 4:00 PM, was to then shuttle her back to Cantt Station. These were the only two timings the train went back and forth in a day, so punctuality was going to be of the essence during this journey.
Ironically however, it was the train that was a few minutes late. Luckily for Zahrah and her friends, who'd arrived at the station just a hair before 7:00 AM, they now had enough time to grab some tea and biscuits from a nearby tuck shop to pacify their growling stomachs.
When the train finally rumbled on platform number 2, it wasn't anything close to what the filmmaker had imaginedshiny, white and not a single loose bolt or broken window. "It looked too good for Rs 30, or maybe as Karachiites we were just not accustomed to seeing well-kept public transport," exclaimed, Aisha Ahmed, a friend of Zahrah's.
Surprisingly, the train's interior also seemed as pristine as its exterior- sleek metal-framed seats lined its several bogies, an arsenal of fans circulated cool air in each compartment and huge LCDs and display panels flashed relevant information like time and approaching stations.
"What was the most surprising however, was that it seemed like we were the only passengers on board, discount some policemen who I'm not sure were travelling or on-duty, a few boys and a family. It was an oddly peaceful journey, something we'd never associated with train rides," Zahrah recalled.
At some point during the journey, the girls asked the ticket collector, if this was what the train's usual gentry looked like.
"It's looks much fuller today, with you and your friends on board. Otherwise it's just a handful of people if at all," he kindly responded.
Read more: Delays in restoring train services irk Senate panel
What the young filmmaker and her friends noticed has been a long-standing issue for Dhabeji Express, which has struggled to stay in business amid lack of passengers over the last decade. Owing to which, the budget-train targeted at daily-commuters, has also been suspended on several occasions in the past, only to be relaunched and continue to run on losses.
Speaking about the train's lack of popularity, Zahrah found it confounding that not many people seem to know about this train or see it as a means of touring the historic most corners of Sindh. "It's a lot more budget-friendly and convenient than driving to these places or hiring a car. It took us barely 1.5 hours to get to Dhabeji Station, from where we were able to book a local tour van for just Rs2,000, which came down to Rs400 each for the five of us. It took us to Makli- where I quickly shot my footage- then, Haleji Lake, Shahjehan Mosque and Banbhore Archaeological Site, before dropping us back to the station by 4:00 PM for our train back home, which costed another Rs30 and concluded our day trip," she told narrating her experience.
"More young people should take this train and consider exploring Sindh. If the railway authorities promote this as a tourism opportunity, I'm sure Dhabeji Express will start amassing the passengers it needs. All my friends are already excited and want to do another trip soon," she added.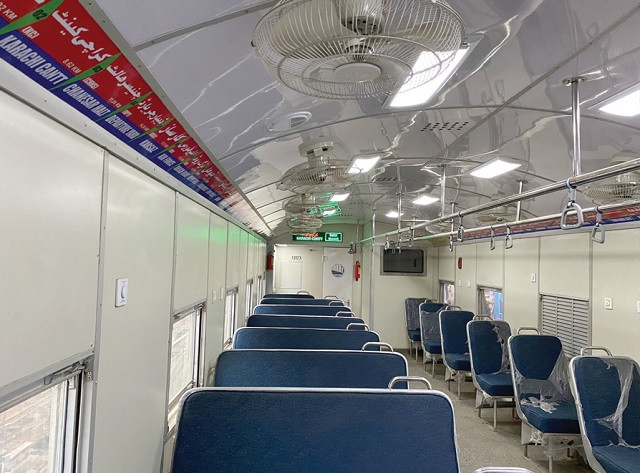 The sleek metal-framed seats, fans circulating cool air and huge LCDs in the train took the filmmaker and her friends by surprise. They found the Dhabeji Express too good to be true with its pristine interior - not a single loose bolt or broken window. PHOTOS: EXPRESS