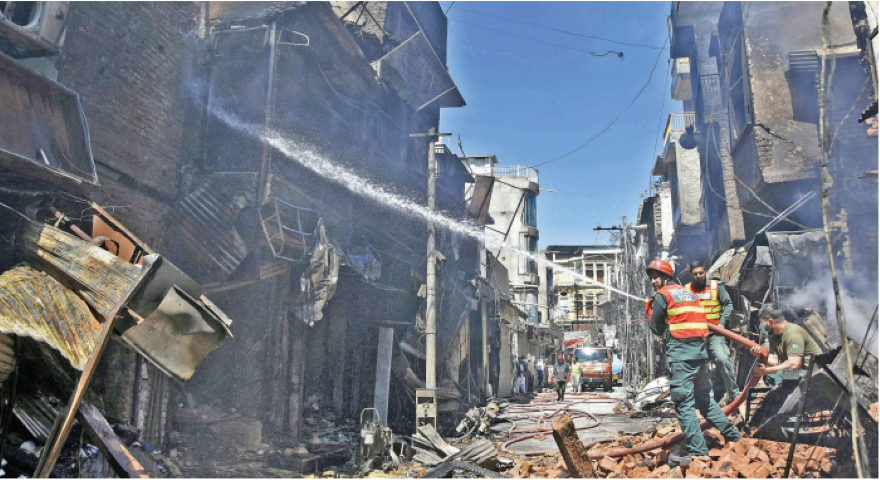 ---
RAWALPINDI:
The Punjab Markazi Anjuman-e-Tajiran (PMAT) and Rawalpindi Chambers of Small Industries (RCSI) on Saturday warned of holding a protest demonstration if the government did not take measures for immediate rehabilitation and compensation for the affected traders whose shops were gutted in a fire two days ago in the Rawalpindi Urdu Bazaar.
PMAT President Shahid Ghafoor Paracha addressed a press conference at Urdu Bazaar with RCSI President Sheikh Nadeem. He said three days had passed since the tragedy but neither the government nor the administration has initiated proceedings to calculate the damage caused by the fire.
He said a committee of affected traders had been formed which would assess losses which they would convey to the government.
Paracha alleged that Wapda was responsible for the fire since the utility's power lines were passing in a haphazard manner over the market and were the cause of short circuits. He added unless the power lines issue was resolved such incidents could happen again.
He said an investigation into the incident should be initiated by the government.
Paracha demanded that the affected traders should be addressed as they had lost everything in the fire. He added that all traders' organisations of the city stood with the traders of Urdu Bazaar.
He said that if the loss incurred by the affected traders was estimated, local traders' organisations would set up a fund in which traders would contribute so that affected trader's businesses could be revived.
Talking to media on the occasion, RCSI President Sheikh Nadeem said the government did not seem to care about traders who were taxpayers. He demanded that the government start a rehabilitation plan for affected traders immediately.
Sheikh said the process of cooling the blaze-affected area had been going on for three days. However, fires were still breaking out in different spots as debris was being removed. Meanwhile, several buildings had collapsed while many more were like to follow suit.
At least 23 shops burnt to ashes and two buildings collapsed as a result of a fire in Rawalpindi's Urdu Bazaar on Thursday. Moreover, more than 20 motorcycles were gutted by the fire while a 60-year-old man sustained burn injuries. Seven institutions, including Pakistan Army, took part in the fire extinguishing operation.
Rescue 1122 spokesperson said they received a call at 12:58 pm after which the firefighting teams rushed to the location.
He said 12 fire tenders, five ambulances, two special rescue vehicles and another vehicle took part in the operation to put out the fire.
Rescue 1122 spokesperson said that 60-year-old Younus sustained burn injuries and 27 percent of his body burned after he was shifted to Holy Family Hospital (HFH).
Published in The Express Tribune, April 4th, 2021.
COMMENTS
Comments are moderated and generally will be posted if they are on-topic and not abusive.
For more information, please see our Comments FAQ