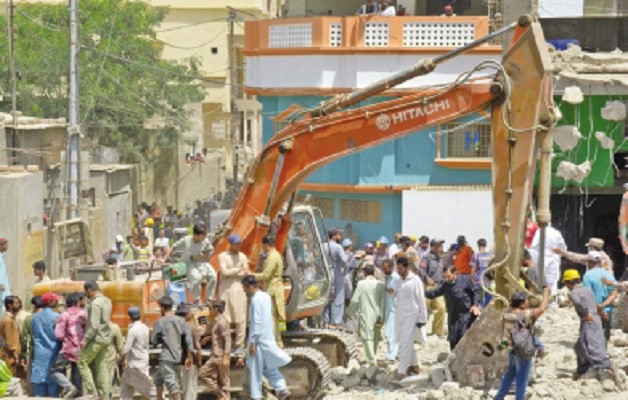 ---
KARACHI:
Four labourers were injured when a three-storey building collapsed near the Sindh Government Qatar Hospital in Orangi Town on Friday while an anti-encroachment operation was under way in the area.
The affected building caved in while an anti-encroachment team of the Karachi Metropolitan Corporation (KMC), led by KMC anti-encroachment director Bashir Siddiqui, was demolishing structuresalong Orangi nullah. As a result, four KMC labourers were stuckunder the rubble.
Three of the labourers were retrieved by rescue workers and the police a short while later. However, the fourth labourer, remained trapped under the rubble for around three hours. Heavy machinery was employed to rescue him.
The injured labourers were identified as Khair Muhammad, 55, Khayal Muhammad, 50, Hazir Muhammad, 50, and Shoaib, 18. Among them, Shoaib sustained severe injuries on his legs and his condition was said to be critical at the time of filing of this report. Area residents held the KMC responsible for the incident.
Read: Demolition drive, protest and political strife in Karachi
"They [the KMC] have a faulty strategy for the demolition drive and the situation would have been different had heavy machinery been used for razing structures," said a resident.
Later, Siddiqui said while speaking to the media that all the needed medical treatment would be provided to the injured.
A Provincial Coordination and Implementation Committee meeting, chaired by Sindh Chief Minister Syed Murad Ali Shah, was told last month that 1,103 structures had been identified for removal along Orangi nullah's embankments in West district, where it covered a length of six kilometres (kms).
At the time, soft encroachments along the nullah's length had been cleared and the razing of other structures was to begin that month, the meeting was informed. Besides, the meeting was told that 193 structures had been removed along the nullah's length in Keamari district, where it extended over 1.6kms.
COMMENTS
Comments are moderated and generally will be posted if they are on-topic and not abusive.
For more information, please see our Comments FAQ