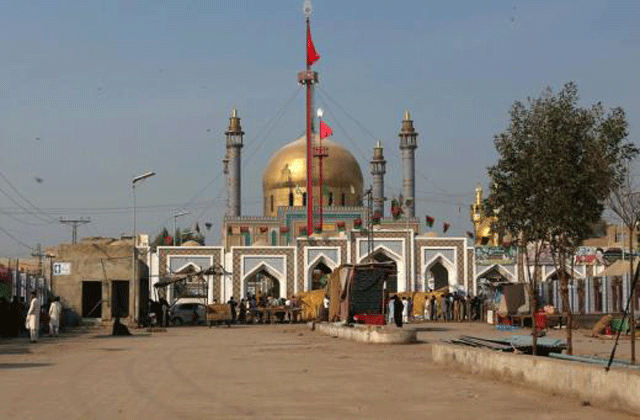 ---
HYDERABAD:
The premises of Lal Shahbaz Qalandar in Sehwan, Jamshoro district, turned into a battleground between the devotees and the police as the former tried to forcefully enter the shrine despite its closure due to Covid-19. Thousands of devotees gathered from Sindh and Punjab to mark the annual Urs of Qalandar even though the Sindh government had, after officially announcing to hold the Urs ceremony, cancelled the event in view of the rising number of coronavirus cases across the country.
At least two policemen were injured and three police motorcycles were set ablaze as the devotees broke through the shrine's main gate, pelting stones and bricks on the force. However, the police prevented the devotees from entering the shrine, which had all its gates padlocked.
Read: Reopen shrine, say Sehwan residents
The clash continued for over 90 minutes until police reinforcements and Sindh Rangers personnel controlled the situation and forced the devotees out of the premises. No arrests were made till the filing of this report according to police sources.
There was reportedly a thin deployment of the police at the shrine as the relevant authorities appeared remiss that the gathering of tens of thousands of devotees in the small town could create a law and order situation.
Although there was a ban on providing lodging to the visiting devotees at the rest houses and private residences, which are usually offered on rent, the ban has not been enforced as the people from outside the town had found accommodation.
A local journalist told The Express Tribune that around 30 per cent to 40 per cent of the people who visit Sehwan during the Urs celebrations every year are present in the town this year as well.
Jamshoro SSP Javed Baloch also reached Sehwan to supervise the action.
Published in The Express Tribune, April 2nd, 2021.